Chris Hemsworth's Sweet Gesture Toward Natalie Portman Before Thor's Kissing Scene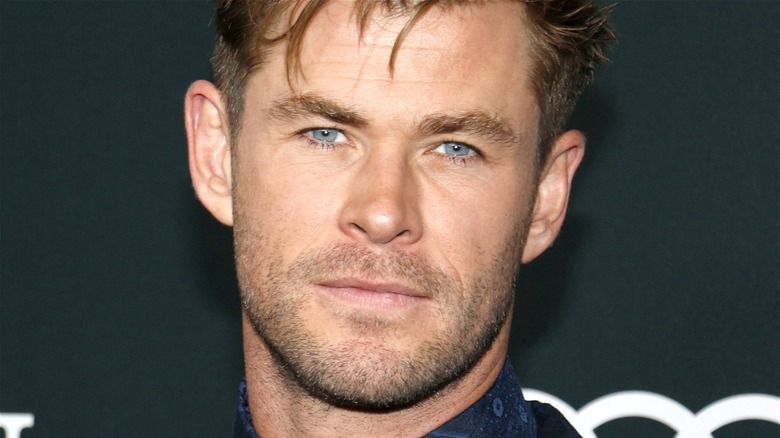 Tinseltown/Shutterstock
"Thor: Love and Thunder" brings back the central relationship of the character between the God of Thunder (Chris Hemsworth) and Jane Foster (Natalie Portman). The two clearly had the hots for one another throughout the first two "Thor" films, but something obviously happened between them between then and now. Jane Foster doesn't show up at all in "Avengers: Age of Ultron," despite that massive party that transpired at Avengers Tower, and by the time "Thor: Ragnarok" rolls around, they've broken up (with everyone seemingly knowing). 
With "Thor: Love and Thunder," the two meet up once again during an epic battle taking place in New Asgard. It's been a while since they've seen each other (over eight years by Thor's count), and it shows. The two exchange awkward side glances at one another and don't really know how to navigate this new realm of being friendly without being boyfriend/girlfriend.
However, things weren't awkward between the actors playing them. They may not be an item in real life, but it's clear there's a lot of respect between the two, as evidenced by an adorable anecdote Natalie Portman shared while promoting the movie.
Chris Hemsworth went without meat before his kiss with Natalie Portman
There needs to be a lot of trust between actors before a kissing scene, and Chris Hemsworth proved what a stand-up guy he is before filming one with Portman for the latest Marvel flick. According to an interview Portman and Tessa Thompson, who plays Valkyrie in the film, did with UK's Capital FM, Hemsworth didn't eat meat before his big kiss with Portman. The actress is vegan, so Hemsworth wanted to be respectful to her before locking lips. 
As Portman stated, "He's really nice. The day we had a kiss scene, he didn't eat meat that morning because I'm vegan. And he eats meat like every half hour. Like, that was so thoughtful. That's not something I'm angry about or care about, but he was just being thoughtful. He's just a very nice person." Thompson agreed the gesture was incredibly thoughtful: "I didn't even know he could go without eating meat. He's just like eating bison in the morning. That's so sweet."
It just goes to prove that Hemsworth is one of the best Chrises in Hollywood right now. He's a quality man who would probably be worthy of lifting Mjolnir in real life.