The Family Guy Character You Likely Forgot Ray Liotta Played
Ray Liotta was known for a variety of tough guy roles throughout his career, most notably mobster Henry Hill in the Martin Scorsese-directed 1990 classic "Goodfellas." His other praised roles included hard-as-nails Detective Henry Oak in 2002's "Narc" and a street cop who becomes obsessed with a couple after saving them in the underrated 1992 hit "Unlawful Entry." 
Liotta did far more than the tough guy thing, though. He could jump from genre to genre, onto the small screen or the big, and he always brought it. Liotta even had a lengthy resume as a voice actor, taking on characters in everything from 2007's "Bee Movie" from Jerry Seinfeld to an episode of "SpongeBob Squarepants." He also voiced the lead character, Tommy Vercetti, in the video game "Grand Theft Auto: Vice City," a role the actor said in 2021 (while promoting "The Many Saints of Newark") he gets recognized for often, a testament to the actor's instantly-identifiable and iconic voice (via Esquire). 
Despite that famous voice, there is one voice acting role from "Family Guy" that many fans likely forgot the "Goodfellas" star played, partly because it was so early in the show's run, long before it became a pop culture phenomenon with legions of dedicated fans. 
Ray Liotta played Zack in the episode Brian Does Hollywood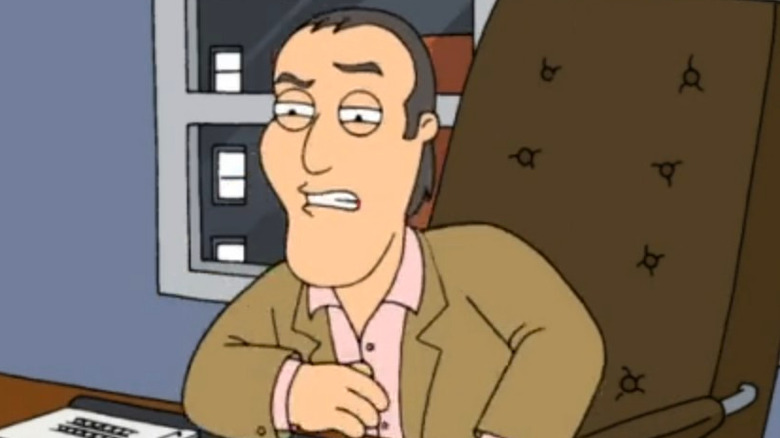 Fox/Disney/Amazon
Ray Liotta played the character of Zack in Season 3 Episode 2 ("Brian Does Hollywood") in "Family Guy." The 2001 episode aired before the show got the ax from Fox, only to be revived years later thanks to massive DVD (remember those?) sales (per the New York Times).
Zack is a sleazy producer who convinces Brian Griffin (Seth MacFarlane) to get into porn directing with shockingly little convincing. This comes after Brian decides it's time to head to Hollywood to become a famous screenwriter. He instead finds himself waiting tables and mercilessly pitching his scripts to celebrities while he serves them food. While Brian constantly struggles on the show to achieve his writing dreams, directing porn seems to go fairly well for him as he continues getting work and even receives a Woody Award by the episode's end. The problem for him is keeping it a secret from his family back in Quahog, Rhode Island, headed by Peter (also MacFarlane) and Lois (Alex Borstein). 
Liotta slipped into the role of a sleazy porn producer with ease and the fact that he was willing to jump on the "Family Guy" train so early in its run was proof that the actor was always willing to take risks. Judging by his filmography, those gambles can pay off often.