Here's Why House Of The Dragon's Iron Throne Is So Dangerous On Set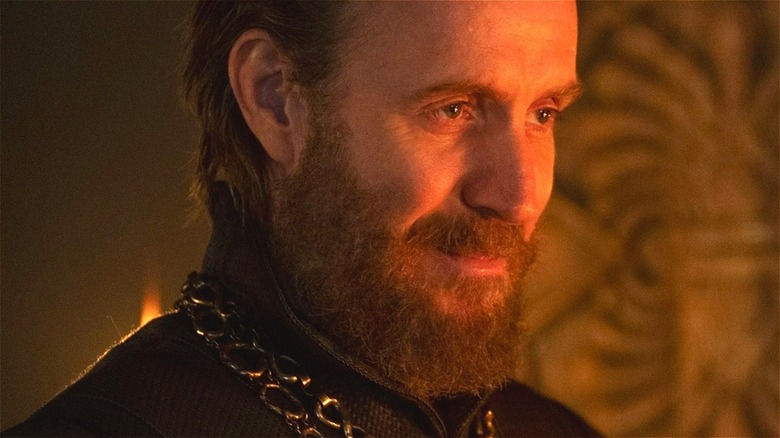 Ollie Upton/HBO
"Game of Thrones" fans, your watch is about to begin... again.
"House of the Dragon," the upcoming series that will serve as a prequel to the events of "Game of Thrones," wrapped filming on its first season back in February (via Variety). All these months later, many fans of the franchise are just now getting their best looks at the series yet in the form of some extremely revealing images.
The HBO series, which is partially based on George R. R. Martin's "Fire & Blood," will cover a variety of dramatic events leading up to the disintegration of House Targaryen, going back a full 200 years before the "Game of Thrones" timeline begins. In an era before Daenerys Targaryen (Emilia Clarke) and her family are deposed from their home keep, a new story will center on King Viserys I Targaryen (Paddy Considine) and his children, Princess Rhaenyra Targaryen (Emma D'Arcy) and Prince Daemon Targaryen (Matt Smith).
Unsurprisingly, the Iron Throne — that symbol of authority in Westeros — will make another appearance during the course of "House of the Dragon." But there's something genuinely dangerous about this prop, and it has apparently caused some real-life concerns for crew members working on the show's set.
The Iron Throne is partially made of real weapons
If you've ever wondered if the swords used to forge the Iron Throne are the real deal, wonder no more. Per an article about "House of the Dragon" published by Entertainment Weekly in July 2022, the prop is emblazoned between shots with a warning placard that reads: "Warning: Risk of Impalement."
Yep, the throne is forged, at least in part, out of real swords, which also means that their sharp tips must be cloaked in tennis balls between shots. "Literally we had to put [up] fences when we first built it. Some of them are real swords. It is as dangerous as it is in the books," Miguel Sapochnik, co-showrunner for "House of the Dragon," told the magazine. Later in the article, Sapochnik confirmed that roughly 2,500 weapons were used to forge the prop.  
Even more interesting is the fact that neither the throne nor the throne room is the same one that was used for the original "Game of Thrones" series. According to Entertainment Weekly, Sapochnik and the rest of the show's producers decided to create a throne that more closely represents the one George R.R. Martin describes in his novels.
Fans will be able to judge its authenticity for themselves soon. "House of the Dragon" will debut on HBO on August 21.