Groot Will Find A Mentor In Avengers: Infinity War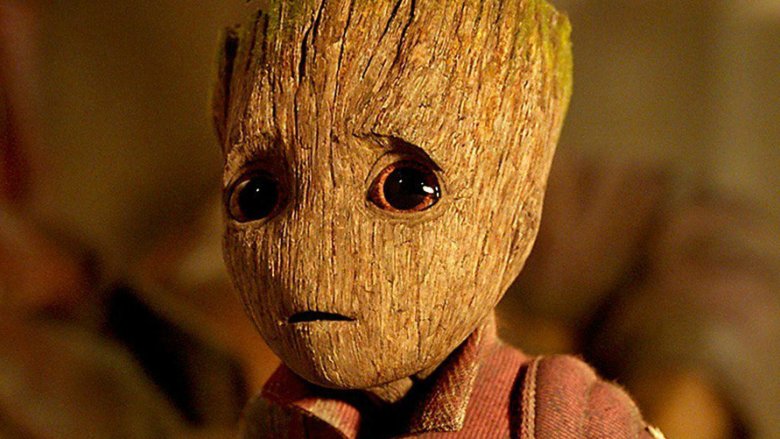 Which Marvel superhero do you think Groot would look up to?
As a post-credits scene for Guardians of the Galaxy Vol. 2 revealed, Groot is no longer a baby. He's rapidly growing into a typical teenager, albeit one with leaves instead of hair. And while he may see Star-Lord (Chris Pratt) and the gang as parental figures, he'll meet a whole new group of potential role models in Avengers: Infinity War.
Motion capture actor Terry Notary recently confirmed to Yahoo! Movies that he plays teenage Groot in the Russo brothers flick (while Vin Diesel does the voice), and he offered up a few interesting tidbits.
"I'm having a blast with it. It's really, really fun," Notary said. "I can't say too much about him, but [Groot is] coming of age, so you'll see the teenager find a mentor to look up to and to model himself after. The character's great, and the films are going to be great. We've got such an amazing cast and a great pair of directors at the helm. The Russos allow the actors to jam on scenes together to the point where it just feels great and everybody gets their moments."
But the intriguing thing here is that Groot will find a mentor. Considering that nearly all of the Marvel Cinematic Universe will be in the movie, that opens the door for some interesting possibilities. The obvious choice would probably be the Hulk (Mark Ruffalo). After all, they're both among the strongest of the Marvel heroes and they both have a limited vocabulary. 
Of course, Groot and Hulk go way back in the comics, but they haven't always been friendly. An early version of Groot appeared in a 1976 edition of The Incredible Hulk Annual and they battled in the animated The Avengers: Earth's Mightiest Heroes. In one episode, Groot gives Hulk a pretty good fight, but ends up decapitated. But that was before Groot became the lovable character he is in the Guardians of the Galaxy flicks. Still, Vin Diesel said he sees a fight between the characters coming "somewhere in the universe."
So could the mentor be someone else? Maybe Thor (Chris Hemsworth)? Or could it be someone more unexpected? Captain America (Chris Evans) always has his fans among superheroes and Iron Man (Robert Downey Jr.) has made a pretty good father figure to Spider-Man (Tom Holland). And what will Rocket Raccoon think of all this?
We've still got some time to theorize. Avengers: Infinity War hits theaters April 25, 2018.