Vin Diesel Thinks We'll See A Rocket And Groot Spin-Off, Battle With Hulk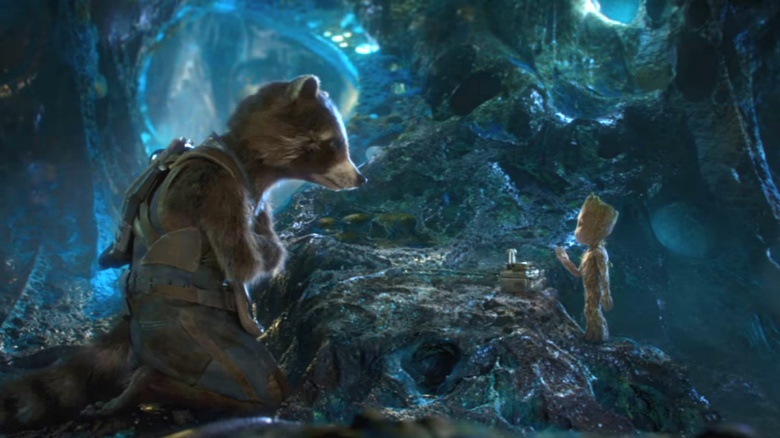 If you think Rocket the Raccoon and Groot are the best part of Guardians of the Galaxy, you're not alone. And we might see a whole lot more of them in the not-so-distant future.
Vin Diesel (who plays Groot) recently told Screen Junkies that a spin-off about the buddies could become a reality after their upcoming appearance in Avengers: Infinity War. Of course, that's only if Marvel and Disney listen to director James Gunn.
"I think if it's up to James Gunn, you're going to see a Groot-Rocket movie after Infinity Wars," Diesel said. "That's highly possible."
Obviously, both characters are CGI (Bradley Cooper provides the voice of Rocket), so a movie focused just on them would be ambitious, but certainly not impossible. And after just a few hilarious seconds of Rocket and Baby Groot in the latest teaser for Guardians of the Galaxy Vol. 2, we're more than sold on the idea.
But that's not all: Diesel also teased an epic crossover battle to come. "I know that somewhere in the universe, you are going to see Groot and Hulk battle," he said. "You can write it somewhere. You are going to see that poster: Hulk vs. Groot!"
If you know Groot's backstory, the character actually has a history with Hulk in the comics. An early version of Groot appeared in the 1976 book The Incredible Hulk Annual #5, and they also fought in the animated The Avengers: Earth's Mightiest Heroes. In one episode, Groot gives Hulk a pretty good fight, but ends up decapitated.
So is this all just speculation or is Diesel dropping very real hints? Only time (and probably Diesel) will tell. In the meantime, check out how the Guardians of the Galaxy are different in the comics.