Ms. Marvel Fans Are Getting Emotional Over This Landmark Moment For Kamala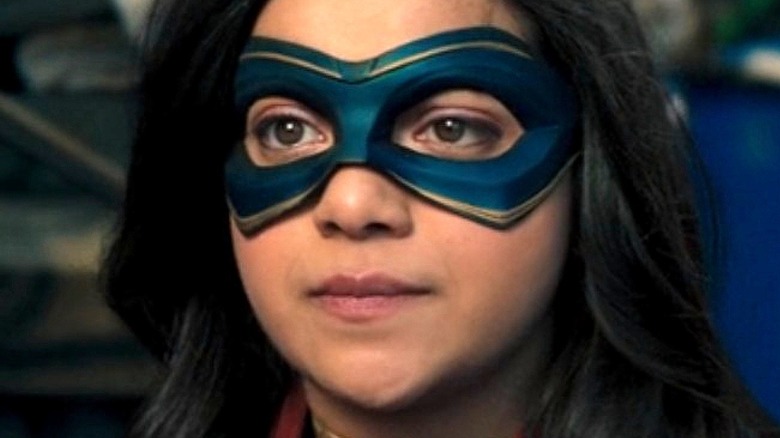 Marvel Studios/Disney+
Contains spoilers for "Ms. Marvel" Season 1, Episode 6
When "Ms. Marvel" premiered on Disney+ on June 8, the series was a fast hit, impressing fans and critics alike. The series delivered on what we've come to expect from Marvel properties: satisfying action sequences, explorations of heroism, and plenty of MCU Easter eggs. With its distinct coming-of-age bent and inventive use of animation, "Ms. Marvel," in particular, shares DNA with "Spider-Man: Into the Spider-Verse."
"Ms. Marvel" follows superhero fangirl Kamala Khan (Iman Vellani) as she unlocks cosmic powers via a mysterious family heirloom. While Kamala's journey towards superherodom is central to the series, so too is her tight-knit South Asian community in Jersey City. In his review for Rolling Stone, Alan Sepinwall argued that it's the discussions that take place in this community — whether it's Kamala's quibbling with her parents or critiquing the inequalities of the neighborhood mosque — that give the show its personality and oomph.
For fans, there was one particular "Ms. Marvel" moment that struck an emotional chord.
Fans thought Kamala's suit-up moment was marvelous
After weeks of build-up, "Ms. Marvel" finally culminated in a series finale ("No Normal") that expanded the scope of Kamala's powers and opened the door to new storylines. It also included a landmark moment for Kamala that left fans simply verklempt: her suiting up in a new costume.
Kamala's flashy supersuit carries extra emotional heft because her mother made it. Earlier in the series, Kamala's mother, Muneeba Khan (Zenobia Shroff), had been tepid about her daughter's love of superheroes. By the finale, she has grown more accepting of her daughter, presenting her with a custom outfit that includes Kamala's mask, a red scarf, and a lightning bolt insignia based on the Arabic "kaf" in Kamala's name. Her father also provides his own show of support, explaining that in Urdu, Kamala translates roughly to "marvel."
Redditors were quick to gush over the emotional scene. "Man I love her family, and how supportive they are," wrote u/TheSweatband to a flurry of up-votes. "I mean what a 'suit up' moment." Fellow redditor u/kyleflash444 concurred, adding, "Definitely one of the most emotional 'suit up' moments in the mcu to date." Other users similarly praised her parents' involvement and support.
Suit-up moments run high in the MCU, as even Captain Marvel herself, Brie Larson, can attest. The actor detailed her own experience donning her uniform in a "Captain Marvel" featurette. "It's very surreal, getting suited up as the gloves are getting put on and things are being zipped up behind me," Larson says. "And the idea of that star and these colors. It represents strong will. It makes me emotional."
Larson and Vellani can commiserate over emotional costume experiences when they team up for "The Marvels" in 2023.