Why Daniel Kaluuya Isn't In Black Panther 2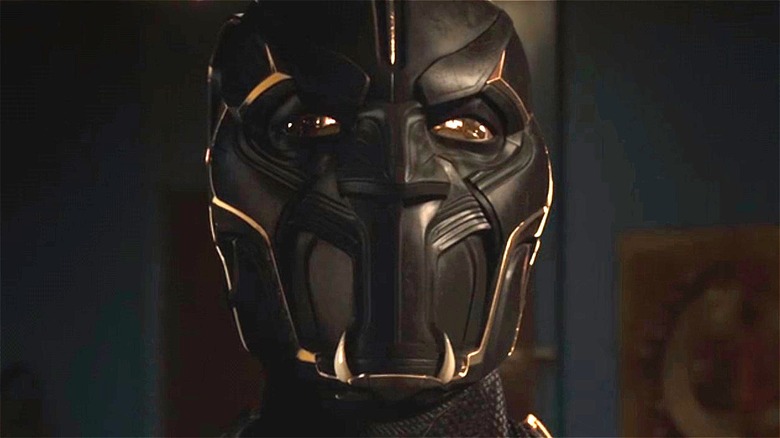 Walt Disney Studios Motion Pictures
"Black Panther: Wakanda Forever," the long-awaited sequel to 2018's "Black Panther," hit theaters in the U.S. in November of 2022. During much of the time leading up to its release, Marvel Cinematic Universe fans learned relatively little about the film's plot or cast of characters. Furthermore, the manner in which "Wakanda Forever" would ultimately handle the tragic death of Chadwick Boseman remained a key point amidst the balance of its production. The beloved actor, as most are now well aware, passed away in 2020 after establishing himself as one of the MCU's greatest heroes with his performance as T'Challa, the titular hero of 2018's "Black Panther."
Nevertheless, fans were comforted by the fact that many of the stars of "Black Panther" were confirmed ahead of time to return in "Wakanda Forever," including Letitia Wright, Lupita Nyong'o, and Martin Freeman. However, while the sequel's title indicates that it might explore the culture and citizens of Wakanda even more deeply than its predecessor did, it turns out that doesn't mean that every Wakandan character introduced in "Black Panther" returns in "Wakanda Forever."
As a matter of fact, one of the most memorable supporting characters from the first "Black Panther" film doesn't show up at any point in its sequel.
W'Kabi will not show up in Wakanda Forever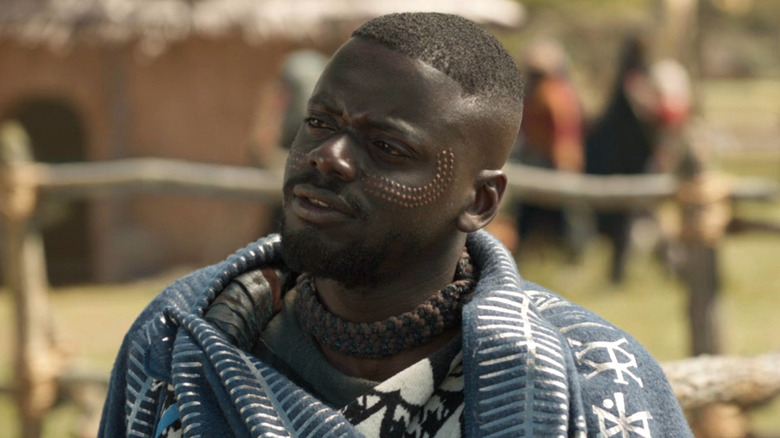 Walt Disney Studios Motion Pictures
In a Tweet that is no longer public, Rotten Tomatoes Awards Editor Jacqueline Coley first revealed that Daniel Kaluuya did not film any scenes as W'Kabi for "Black Panther: Wakanda Forever." According to Coley, Kaluuya mentioned during an interview between the two of them that he was unable to reprise his "Black Panther" role in "Wakanda Forever" because of a scheduling conflict between it and "Nope," the third film from writer-director Jordan Peele. Variety later confirmed this to be true.
Kaluuya serves a major role in the latter film, which was the first that he and Peele worked on together since 2017's "Get Out." Unfortunately, it looks like Kaluuya had to pass up the opportunity to appear in "Black Panther: Wakanda Forever" in order to ensure that his reunion with Peele could happen.
Nevertheless, "Wakanda Forever" weathers Kaluuya's absence from it well. That's largely because of how his character's storyline plays out in 2018's "Black Panther." After being initially introduced as a major supporter of Chadwick Boseman's T'Challa, "Black Panther" sees Kaluuya's W'Kabi turn on his friend and lover Okoye (Danai Gurira) in order to help Erik "Killmonger" Stevens (Michael B. Jordan) try to take over Wakanda. Of course, Killmonger's coup ultimately fails and W'Kabi is eventually confronted on a battlefield by Gurira's Okoye in the third act of "Black Panther." In other words, W'Kabi's actions in "Black Panther" likely would have resulted in him having a reduced role in "Wakanda Forever" regardless of Kaluuya's availability.
Ryan Coogler revealed W'Kabi's future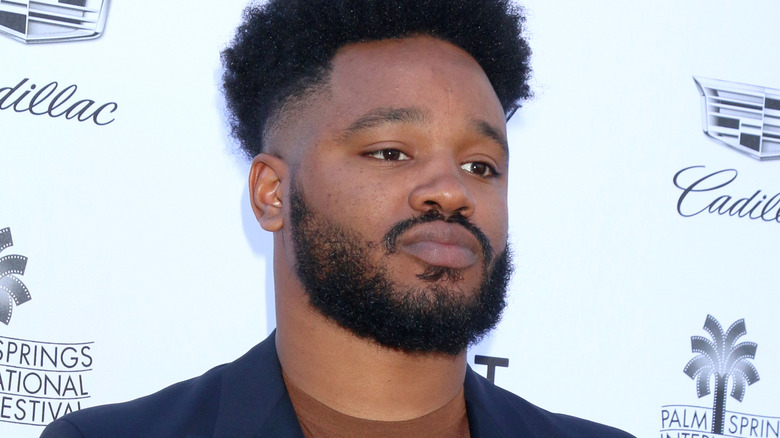 Kathy Hutchins/Shutterstock
Not only is Daniel Kaluuya's W'Kabi absent from "Black Panther: Wakanda Forever," but his existence is only referenced once in the entire film, suggesting the character is no longer important to the Marvel Cinematic Universe for the time being. That said, "Black Panther" and "Wakanda Forever" director Ryan Coogler revealed just what W'Kabi is up to during the events of "Wakanda Forever" in a piece CinemaBlend published shortly before the film's premiere.
"He's basically banished, but still within Wakanda's borders, if that makes sense," Coogler said. "It's one line that refers to him still being alive."
From the sound of it, then, W'Kabi is currently something of an afterthought as far as the ongoing story in the "Black Panther" universe is concerned. Nevertheless, Coogler has confirmed that W'Kabi both alive and in Wakanda, leaving room for his return in either a future "Black Panther" film or Coogler's upcoming Disney+ show should Kaluuya's schedule ever allow him to reprise his MCU character.