Why Did Okieriete Onaodowan Leave Station 19?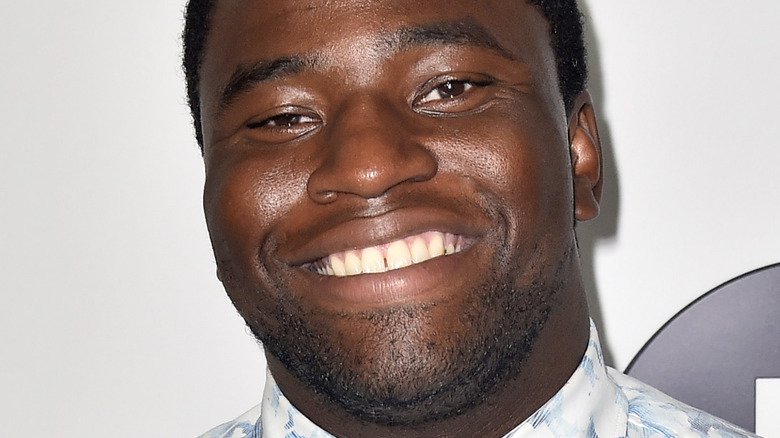 Frazer Harrison/Getty Images
Devoted fans of the popular Shondaland-produced medical drama "Grey's Anatomy" know that it's dangerous to get attached to any one character, for risk of seeing them eventually get killed off. Whether it be when Dylan Young (Kyle Chandler) gets caught in a bomb blast in Season 2, Episode 17, when Lexie Gray (Chyler Leigh) dies in a plane crash in Season 8, Episode 24, or when Heather Brooks (Tina Majorino) gets electrocuted in Season 10, Episode 2, the series has routinely committed to sending both big and small characters off to the grave courtesy of some dark twist of fate. The same goes for its Shondaland sister series, firefighter drama "Station 19," in which the inherent danger of the crew's occupation means that no character is ever safe from harm.
One particularly heart-wrenching loss came in the form of the death of charismatic firefighter and longtime main character Dean Miller (Okieriete Onaodowan) during Season 5 of "Station 19" during a crossover with "Grey's Anatomy." After heroically saving the life of fellow firefighter Victoria Hughes (Barrett Doss), Miller gets fatally wounded in a gas explosion and later dies, leaving his crewmates to mourn his passing. While Miller's death is both a tragic and uniquely poetic conclusion to his character arc, some fans of the series may be curious about what the real-life circumstances were surrounding Onaodowan's exit from the main cast of "Station 19." Fortunately, there is a solid amount of public information explaining why the actor ultimately took his leave.
Onaodowan wanted to move on to other projects
While Miller's send-off on "Station 19" is nothing short of a heartbreaking stab of drama, Okieriete Onaodowan's actual reason for leaving the series is far less shocking. According to Deadline, the actor asked the producers if he could exit the show after Season 4, as he wanted to pursue other projects. The producers agreed to Onaodowan's request and the actor returned for the initial part of Season 5 so that they could wrap up his character's arc in a satisfying manner. All told, the split appeared to be perfectly amicable, as opposed to cases where actors have quit roles because of another actor or some similar conflict.
Since his departure, Onaodowan hasn't been shy about expressing his appreciation for his time working on "Station 19." "I am grateful I got to work with the most loving, kind, and dedicated crew in network TV," the actor said in a statement to Deadline.
Shondaland founder Shonda Rhimes herself had nothing but nice things to say about the actor following his departure. "What a pleasure it has been to go from watching you grace the Broadway stage to witnessing Dean in action on screen," the producer tweeted. "Wishing you the very best!" 
Onaodowan responded with a positive message of his own: "Thank you for taking a chance on me, and giving me the opportunity. Thank you so much. You have changed my life."
Onaodowan doesn't miss playing Miller
Though many actors have expressed regret over quitting hit TV shows, Okieriete Onaodowan has stated in no uncertain terms that he does not miss being on "Station 19" despite his continued fondness for the series and his character of Miller. In January 2022, the actor hosted an ask-me-anything session on his official Twitter account and fielded various questions from fans. When asked whether or not he missed playing Miller, Onaodowan responded: "I dont [sic]. My time with him was perfect. He arrived at a time I desperatly [sic] needed him. I am looking to play as many different characters as I can."
The actor's feelings about moving forward past Miller and "Station 19" line up with "Station 19" showrunner and executive producer Krista Vernoff's comments regarding the actor's departure from the series. "Oak has an expansive spirit and was ready for and craving new artistic horizons — and I truly can't wait to see what he does next," Vernoff said in an interview with Deadline. "It will be powerful, it will be deep, and it will be courageous because Oak is all of those things."