The Funniest Moment Of Law & Order: SVU Season 2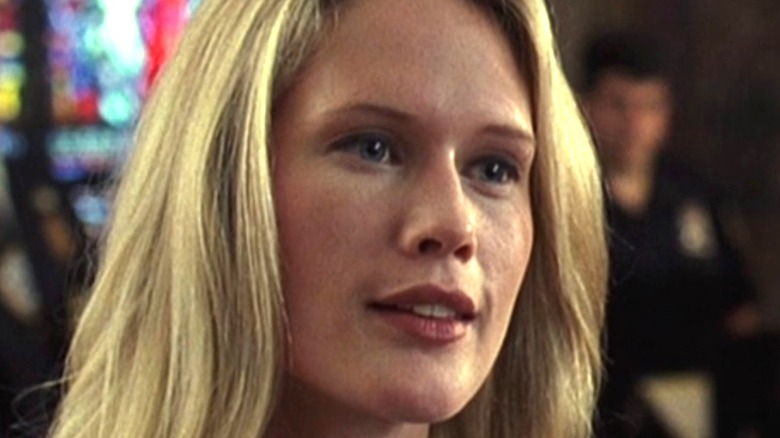 NBC
The detectives of "Law & Order: SVU" focus on horrific sex-based crimes. That means the hit NBC series presents a variety of grisly cases that tunnel to levels so disturbing that the plots of other procedural crime dramas can feel light-hearted. Throughout the show's impressive 20-plus seasons on television, fans have become uncomfortably familiar with some of the worst criminals and saddest deaths "SVU" has to offer. So the most successful "Law & Order" spin-off series can make us squirm in our seats and reach for a box of tissues. But can it make us laugh?
Ask any fan of "SVU," and the answer is a resounding "yes." Aside from John Munch, played by comedian Richard Belzer (up until 2013 when he left the show), we'll probably never see the cast of "SVU" perform at an open mic night. But in between hunting down criminals, "SVU" has delivered surprising amounts of humor for a show that thrives on the darker nature of humanity, whether intentional or not. Even as far back as the early days of Season 2, "Law & Order: SVU" was already presenting its funny bone.
Fin sets a doorkeeper straight with an intelligent response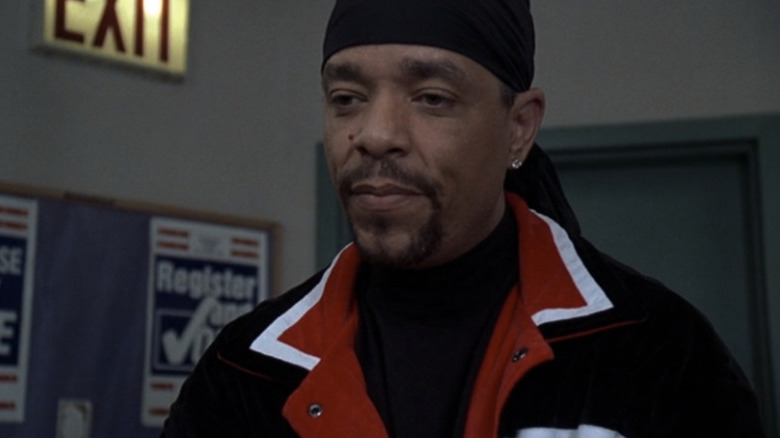 NBC
Season 2's "Runaway" centers on the SVU's attempt at locating the lost daughter of another police officer. The detectives face a grim portrayal of rave culture and teenagers struggling through the cracks of society. In other words, it's relatively standard "Law & Order: SVU" material. But "Runaway" has a wonderfully humorous moment, and that's primarily thanks to the MVP effort that detective Odafin "Fin" Tutuola (Ice-T) displays. Fin is no stranger to delivering some of the most memorable quotes in "SVU," and the interrogation of a hotel doorkeeper while searching for a suspect shows how adept he is at stealing a scene with a smart response.
Fin and Munch question a sleepy doorkeeper for details on the suspect's vehicle. When pressed for information on the license plate, the doorkeeper gets an attitude, sarcastically saying that remembering license plate numbers is his hobby. Fin responds with, "You like to try makin' em?" There's nothing inherently funny about the threat of going to prison. But Fin's lightning-fast quip with his serious demeanor and deadpan delivery is what elevates the scene.
The cast tends to crack jokes on set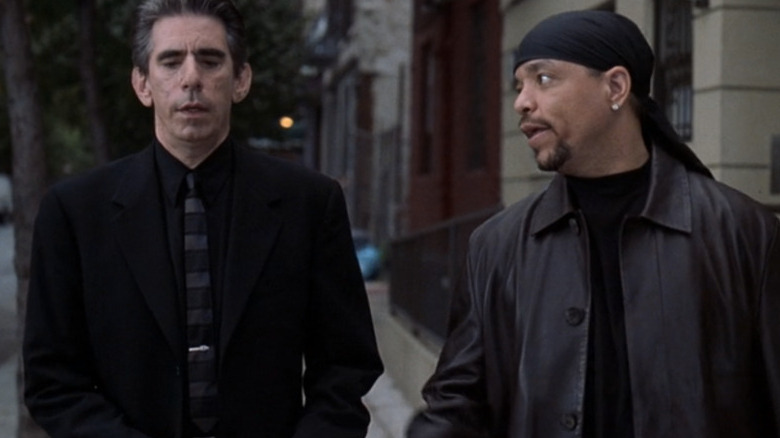 NBC
While "Law & Order: SVU" can shine through with some hilarious moments, much of what we see in episodes is 90% trauma. After all, the show deals with sensitive material that would quickly become tasteless with jarring comedy. The show's skillful storytelling and unflinching take on its subject matter have helped the series endure. This might give the impression that filming on "SVU" means the set is devoid of any jovial moments from its cast, but according to Ice-T, it's the complete opposite.
In an interview with Buzzfeed, the actor described the on-set atmosphere of the show as being filled with plenty of shared jokes and laughter. "We have to lighten up the environment with a lot of humor," Ice-T said. "A lot of times we'll have guests, and they take the show dead serious and we are making jokes." Besides, looking at some of the serious show's hysterical blooper reels, it's clear the cast knows how to have fun.