The Real Reason We Don't Hear From Michael Richards Anymore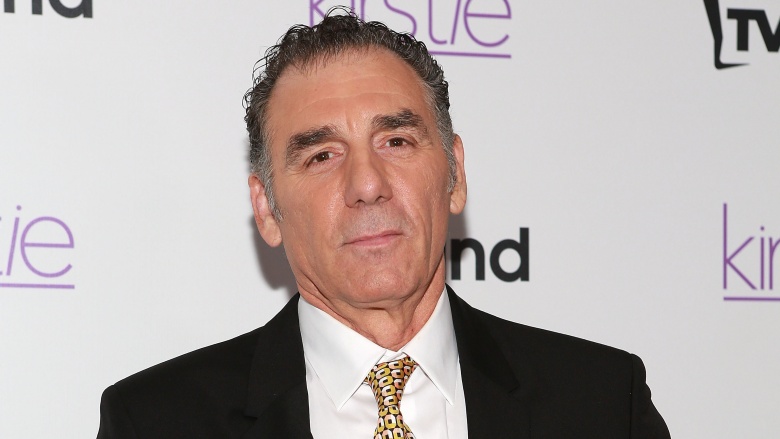 For nine years, Michael Richards starred as Jerry Seinfeld's quirky neighbor, Cosmo Kramer, on the NBC show Seinfeld, one of the most successful sitcoms of all time. After the show ended, the supporting cast—including Richards, Julia Louis-Dreyfus, and Jason Alexander—all struggled to find another hit, sparking talk of a "Seinfeld curse." While Louis-Dreyfus and Alexander have gone on to varying degrees of success, the "curse" seems to have a strong hold on Richards. But when examined a little closer, it's easy to see that the sizable roadblock in Richards' career was placed there by nobody but himself. Here's the real reason we don't hear from Michael Richards anymore.
The failure of 'The Michael Richards Show'
The Michael Richards Show premiered two years after Seinfeld ended, and it was clear that NBC still wanted audiences associating whatever Michael Richards was doing next with his former wildly popular character. Richards played Vic Nardozza, an inept private investigator who got into all kinds of confusing mishaps in the course of working his cases. While the scripts were decent, Richards' performance relied heavily on physical comedy, so the result was a show that felt like it could have been titled Kramer, P.I. According to Roger Cormier's analysis of the show's cancellation, this stunk of "blatant network malfeasance," meaning NBC wanted Richards falling down and throwing himself around like Kramer used to, regardless of whether it made sense for the script. Combine that with the fact the show was competing with Who Wants to Be a Millionaire?, That '70s Show, and JAG, and it was a recipe for disaster. Barring a few episodes of Curb Your Enthusiasm in which he played himself for a quasi-Seinfeld reunion, it would be 13 years before Richards would glide onto another sitcom set. It wouldn't go well, but we'll get to that later.
His racist rant in 2006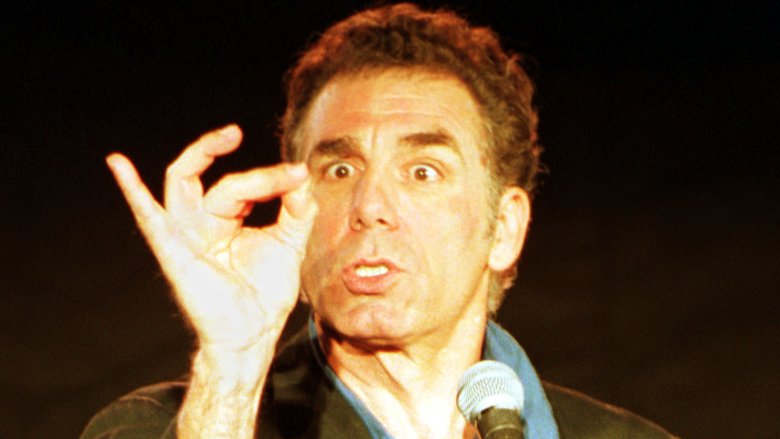 Getty Images
For anyone living under a rock who somehow missed this, in 2006, Michael Richards was involved an incident at The Laugh Factory in which he went on an insanely racist rant after being heckled during his stand-up routine by some African-American audience members. To say Richards lost his temper would be an understatement. He exploded into a rage, making a reference to a lynching and then repeating the N-word several times. It was a shocking outburst for anyone to make, and it was especially jarring coming from the goofy guy who America fondly remembered sliding through Jerry Seinfeld's apartment door every Thursday night.
Though Richards didn't seem poised to be making any kind of comeback at the time, this incident became a viral sensation in a time when viral sensations were just starting to become a thing. After making several odd and poorly received apologies, Richards retreated from the spotlight like anyone who spontaneously burst into an accidental KKK speech understandably would.
Bungled apologies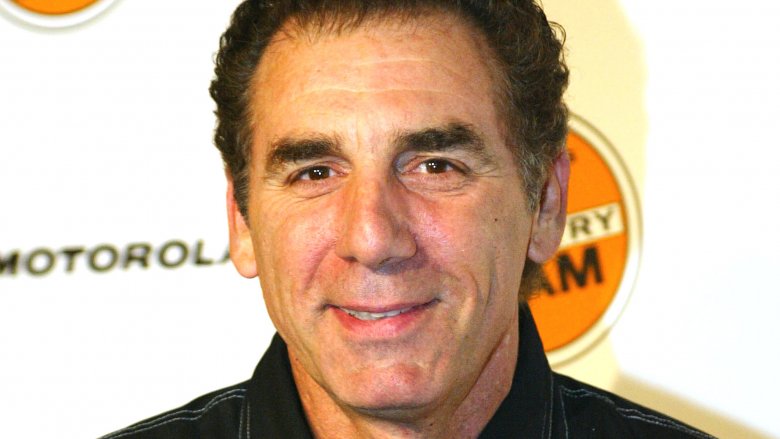 Getty Images
Just days after the incident at The Laugh Factory, Michael Richards appeared via satellite on The Late Show with David Letterman at the request of Jerry Seinfeld, who reached out to Letterman and asked for the favor of letting Richards explain himself on the air.
Letterman's audience had no idea how to take it — they started awkwardly laughing until Seinfeld scolded them, saying, "Stop laughing. It's not funny." Richards also had a thousand-yard stare throughout the whole thing, rambling and he appearing more confused than apologetic. Not surprisingly, there would be more public apologies to come.
Through his newly acquired publicist Howard Rubenstein, Richards reached out to leaders in the African-American community, meeting privately with Al Sharpton and appearing on Jesse Jackson's radio show, Keep Hope Alive. Again, Richards came across as weird and insincere, at times rambling off on tangents.
Part of his response to a question about whether he was willing to do what it takes to regain "the trust of the people who he has offended" was, "I need to get into the depths of my being, into the depths of darkness, into the depths of rage and anger, because they are there and it's a great tension of opposites between a good and a bad that I feel so deeply inside myself and I've got to do this work." Even if people believed he was genuinely sorry, they now also probably thought he was genuinely crazy as well.
After his scandal, he took a voluntary break from show business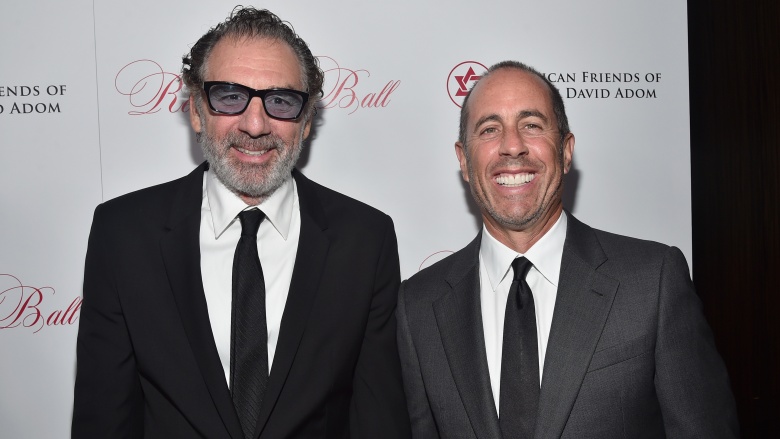 In a 2013 interview with Time, Michael Richards explained that after his meltdown, he decided to take time off, saying, "I took up photography, [did] a lot of reading, a lot of writing and I traveled a bit." But his IMDb page lists two credits during this period. One was Bee Movie, Jerry Seinfeld's animated film, and the other was a short called Walk the Light whose description includes the sentence "Working inside a Walk/Don't Walk traffic light isn't as easy as it looks," which, uhh ... wait, this doesn't actually take place inside a traffic signal, does it? According to the director, yes, it actually does.
Assuming Richards took his self-imposed exile because he didn't want to have to answer questions about the meltdown, both of these choices actually make sense. In the case of Bee Movie, he could reasonably expect Seinfeld's protection, since he'd already stuck by Richards; in the case of Walk the Light, it was a movie that had less of a chance of anyone noticing its existence than a documentary about the intricacies of tax law.
His eventual return to TV in 2013 was a failure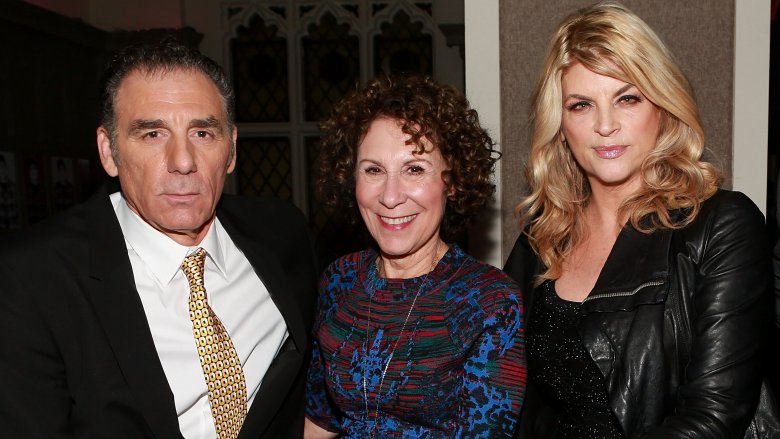 Getty Images
When Michael Richards finally decided he was ready for the limelight again, he landed a role on Kirstie, the TV Land sitcom starring Kirstie Alley as a Broadway singer who reconnects with a child she gave up for adoption 26 years earlier. Richards played Frank Baxter, her driver, and in the few show clips available online, his performance certainly looks familiar. If this scene above doesn't feel Kramer-esque, check out this clip.
Kirstie was canceled after one season. It seems the cancellation had to do with a personal problem the creator/showrunner was having and nothing to do with poor cast performance, but it's clear that after all these years away, Richards is a one-note performer. In an era when the traditional sitcom is dying, veteran actors of those kinds of shows, like Richards, are going to find it harder and harder to stay relevant. Kirstie is Richards' last credit aside from Comedians in Cars Getting Coffee—yet another bone thrown his way by, you guessed it, Jerry Seinfeld.
A third, bizarre attempt to explain his racist rant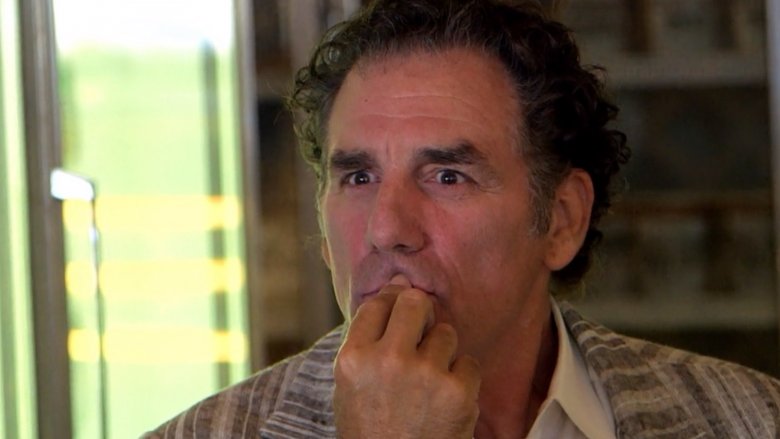 Netflix
In September 2012, Michael Richards appeared on the season one finale of Jerry Seinfeld's docuseries Comedians in Cars Getting Coffee. When they finally get around to talking about that infamous night at The Laugh Factory (in the clip above), Richards does himself no favors by making another attempt at atonement that comes across aloof and unconnected to the very basic idea that you don't yell the N-word at anyone, ever.
Though he admits that he should have just said "You know what? You're right, I'm not funny," and left the stage, Richards also says things like, "I should have been working selflessly that evening. Most of the time, when I'm in that zone, I am selfless." Um, what? But Richards was clearly still affected by the scandal, especially in terms of doing stand-up. Admitting that he hadn't done any sets since, Richards said, "I busted up after that event seven years ago. It broke me down ... inside, it still kicks me around a bit."
Those awkward Dick Corcoran sketches for Crackle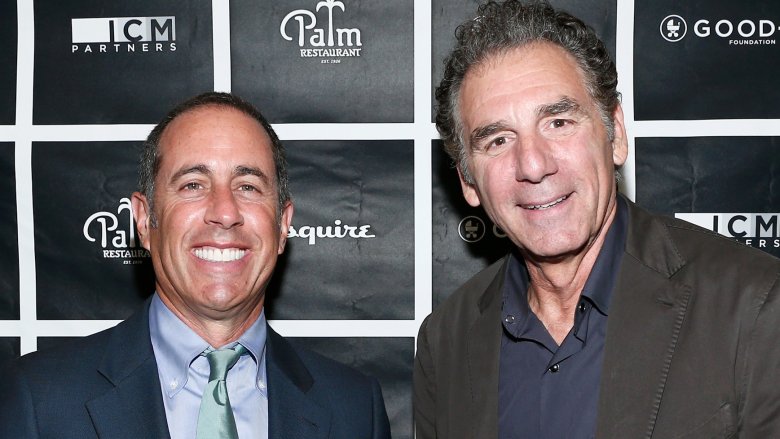 Getty Images
In addition to his solo episode of Jerry Seinfeld's docuseries, Michael Richards starred in several sketches as Dick Corcoran, president of Crackle, the streaming network where Comedians in Cars Getting Coffee originally aired before moving to Netflix in 2018. And once again, it's more of the same: the Dick Corcoran character is a spastic weirdo, and Seinfeld plays off his outbursts with his signature straight man persona.
Granted, there are a few funny moments, but the whole concept rings familiar, which is always going to be a problem for Richards. Goofy = Kramer = the guy who had a racist freakout in a comedy club that one time. Not to mention, the above video even has Richards doing a bunch of Hitler jokes that don't exactly land. Who thought that was a good idea?
So what is Michael Richards doing now?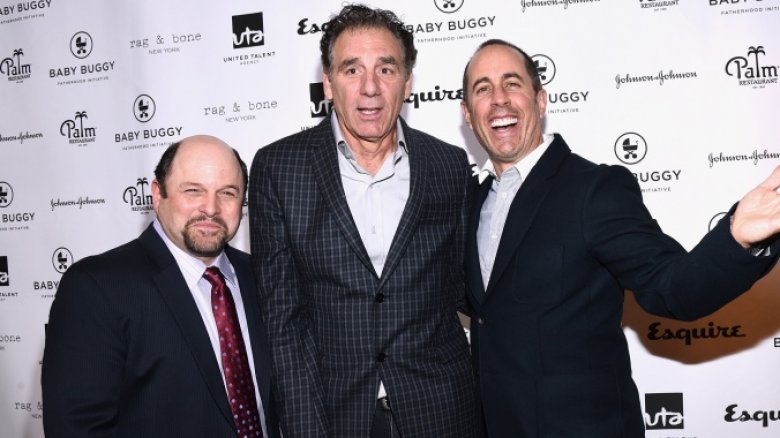 Since making his Comedians in Cars Getting Coffee appearances, Michael Richards has basically fallen off the radar again. He's got nothing in development according to his IMDb page, but he also has a six-year-old son, Antonio, so maybe he's just focused on being a dad right now. One of his last public appearances came when TMZ caught up with him outside a charity event. Naturally, they asked him racially themed questions, which he was clearly uncomfortable with, despite the fact that it had been almost ten years since the incident at the Laugh Factory.
The takeaway here is that Richards can probably expect these kinds of questions from a certain outlets for the rest of his life. Nearly a decade after his self-inflicted traumatic experience, he's still not ready to handle it. Whether that's fair is debatable, but what's certain is the fact that this kind of awkward encounter is forever going to be linked with anything he tries to do in the entertainment industry. For Richards, these encounters might be more trouble than he feels a public persona is worth, which could mean we've already seen his last on-air pratfall. Only time—and, perhaps, Jerry Seinfeld's benevolence—will ever truly tell.