It's Time To Talk About That Major Cameo At The End Of Ms. Marvel Season 1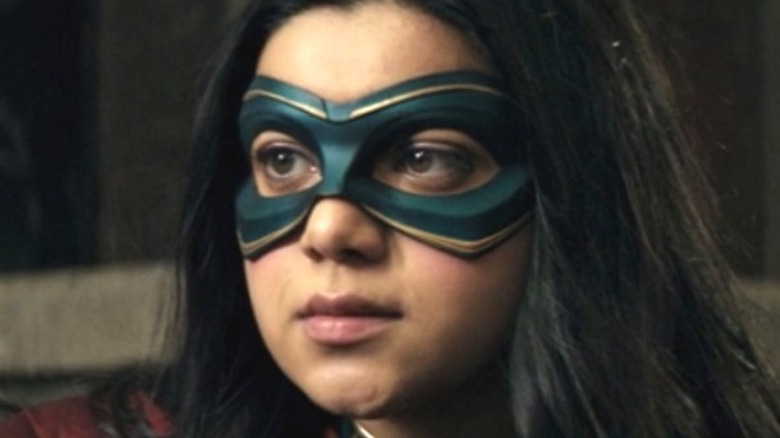 Marvel Studios/Disney+
Contains spoilers for "Ms. Marvel" Season 1, Episode 6
The finale of "Ms. Marvel" Season 1 is finally here, concluding the origin story of the Marvel Cinematic Universe's newest hero and setting up some pretty significant plot points for future Marvel projects. The episode sees Kamala Khan (Iman Vellani) facing down the Department of Damage Control in a climactic battle at her high school — which ends with the Jersey City locals embracing her as a hero and helping her escape.
The biggest revelation comes toward the end of the episode, where it is revealed that Kamala is not just a Djinn but a mutant as well, marking the first official mention of mutants within the MCU. This small scene will no doubt have major implications for the franchise moving forward and could potentially herald the long-awaited introduction of the X-Men into the franchise. That said, there is also an extremely important cameo hidden within the episode's mid-credits scene, one that could serve as a possible setup for "The Marvels."
Carol Danvers herself appears in the final scene of Ms. Marvel Season 1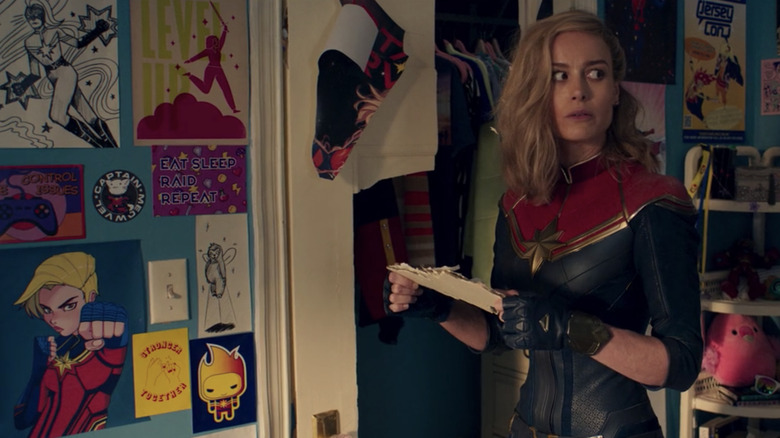 Marvel Studios/Disney+
During a short mid-credits scene, we watch as an exhausted Kamala falls back on her bed to relax — only for her mysterious bangle to begin glowing erratically. She stands up and is suddenly forced backward, her body becoming swirls of light and slamming through her closet door. In her place a few moments later stands Carol Danvers, aka Captain Marvel (Brie Larson), who looks around in confusion at the numerous posters of herself scattered around Kamala's room.
There are two possible explanations for this scene, one being that Kamala and Carol have swapped bodies à la "Freaky Friday," the other being that they have literally swapped places within the universe at large. Considering the utterly perplexed look on Carol's face as she looks around at her surroundings, it seems more likely to be the latter — though this is certainly not good for Kamala, who could find herself stranded far away in whatever corner of the galaxy that Captain Marvel might have been visiting.
In any case, it's likely that this odd event will play into the story of "The Marvels," which has already been confirmed to star both Iman Vellani and Brie Larson as the eponymous "Marvels" the title refers to. Considering how quickly Carol flees the room, one has to assume her plan is to return to whatever location she might have just disappeared from — which ought to allow Kamala to finally meet her hero face-to-face.