The Hats Bruno And Kamran Wear In Ms. Marvel Mean More Than You Think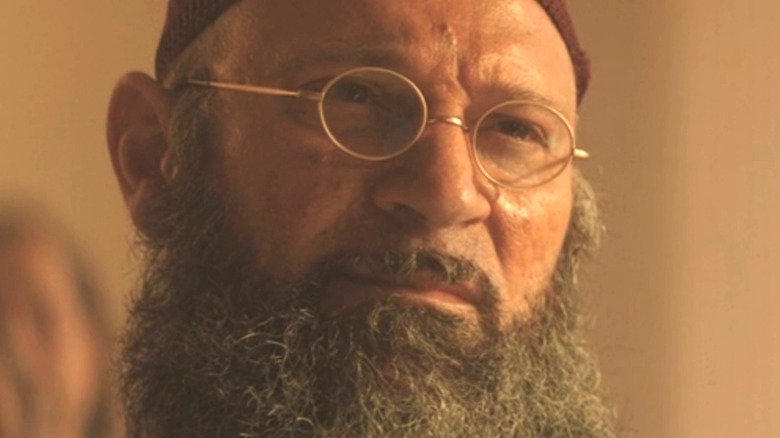 Marvel Studios/Disney+
Contains spoilers for "Ms. Marvel" Season 1, Episode 6
Disguises in the Marvel Cinematic Universe have become somewhat of a running gag. Almost every single one of the main MCU heroes (and some from the television series) have at least once donned some variation of a hat, sunglasses, and a hoodie. Although none of the heroes is recognized thanks to their ersatz disguises, they eventually start pointing out how relatively low-effort these measures are among themselves, like when Natasha, aka Black Widow (Scarlett Johansson), admonishes Steve, aka Captain America (Chris Evans), and vice versa. According to ComicBook.com, this has not been lost on Marvel fans, who have pointed out many of these occurrences.
To be fair, a simple hat can sometimes do the trick, even in real life — sometimes people just don't recognize others. Robert Downey Jr. once took to Facebook to share a story about how he came in second place in an Iron Man look-alike contest. Joking aside, it appears as if Marvel is in on the joke as well, and a recent moment in the final episode of Season 1 of "Ms. Marvel" highlights this perfectly with a bit of meta-commentary.
Kamran and Bruno's hats have Arabic words on them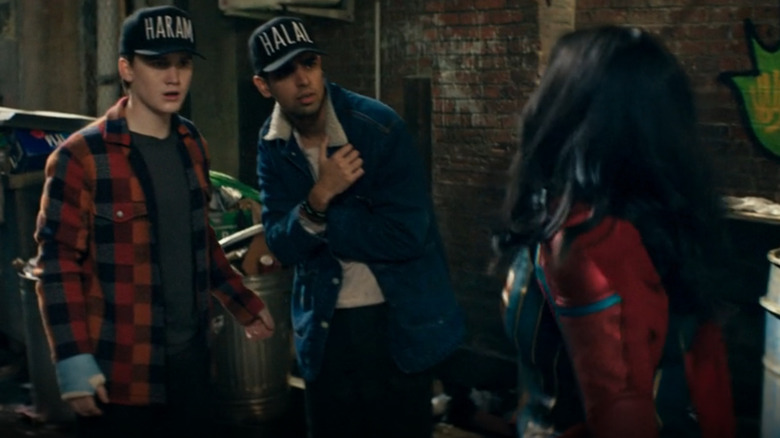 Marvel Studios/Disney+
The final episode of Season 1 of "Ms. Marvel" sees Kamala Khan (Iman Vellani), Bruno (Matt Lintz), Nakia (Yasmeen Bahadir), Aamir (Saagar Shaikh), and even Zoe (Laurel Marsden) come together to protect Kamran (Rish Shah) from the Department of Damage Control. Their efforts culminate in a series of distractions and diversions at their high school, but before they are able to draw Damage Control into this ruse, Bruno and Kamran take refuge at the local mosque, where Sheikh Abdullah (Laith Nakli) offers them a place to hide and some hats to wear as disguises.
While these black hats may look identical at first, they have different words on them, and for viewers with any knowledge of Muslim culture, the meaning is quite clear. Bruno's hat has the word "haram," while Kamran's hat has the word "halal." According to HalalHaram.org, the World's Largest Guide to Halal, the two terms are generally used within the context of food. "Halal" means "allowed" or "permissible," whereas "haram" means "unlawful" or "forbidden."
While the hats could simply be an acknowledgment of their respective backgrounds, they could also be a reference to the growing love triangle between Kamala, Bruno, and Kamran. It is obvious that both boys have feelings for Kamala — Bruno has been a lifelong friend who is willing to do anything for Kamala, while Kamran has those bad boy vibes and a deep love for his mother. Though Kamala seems to be primarily focused on her newly acquired superhero status, it wouldn't be surprising to see this love triangle continue to develop over the course of future movies and television shows — and perhaps the hats are really clues or clever foreshadowing.