Moonage Daydream - What We Know So Far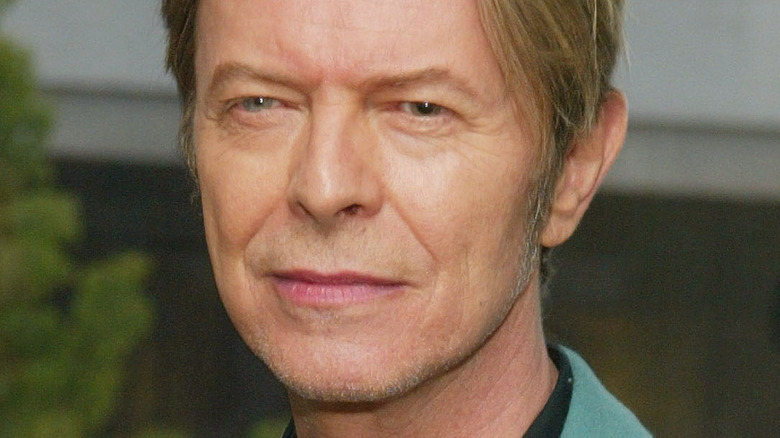 Evan Agostini/Getty Images
While he's better known for his groundbreaking musical career, David Bowie is no stranger to the screen. His nearly 30-year acting career is as varied as his musical output, whether it was roles in the cult fantasy romp "Labyrinth," "The Last Temptation of Christ," or "The Prestige." Capturing Bowie's likeness on film, however, has proven to be a daunting task. In his review of "Velvet Goldmine," which is loosely based on Bowie and his contemporaries, Roger Ebert wrote, "David Bowie [...] deserves better than this," and argued that the real man was far more intriguing than his fictional counterpart in the film. Meanwhile, the Bowie biopic "Stardust," which failed to receive approval from the musician's estate, was even more thoroughly lambasted.
With his upcoming Bowie documentary "Moonage Daydream," Brett Morgen hopes to create a film worthy of the often imitated, never duplicated star. With credits that include "Kurt Cobain: Montage of Heck" and the Rolling Stones doc "Crossfire Hurricane," Morgen has proven he has the deft documentarian hand to take on one of rock's most elemental icons. Here's what we know so far about "Moonage Daydream."
What is the release date for Moonage Daydream?
Neon and Universal Pictures announced that "Moonage Daydream" will hit theaters worldwide on September 16, Deadline reports. The documentary also secured a streaming deal with HBO, where it will appear exclusively following the theatrical run.
A lucky few laid eyes on "Moonage Daydream" in May when the doc premiered as part of a midnight screening at the Cannes Film Festival. The spark for the film dates back to 2007 when Morgen met with Bowie to pitch a "hybrid non-fiction film" (via ArtsLife TV). While the artist was intrigued, the timing wasn't right, and the project went on the backburner. When Bowie passed away in 2016, Morgen reached out to his executor, Bill Zysblat, who approved of the filmmaker's idea for a nontraditional documentary, and passed along decades worth of archives.
Morgen spent five stressful years working on the film. "While I was working on the script I had a heart attack, and I flatlined for three minutes," Morgen said at Cannes. Revisiting Bowie's work and philosophy helped the then-47-year-old recenter his priorities. "I realized that [David's] providing me a roadmap for how to live a fulfilled and satisfying life."
Who's in the cast of Moonage Daydream?
The late David Bowie is obviously the primary player in "Moonage Daydream," but the artist is put at the center even more than other single-subject documentaries. For his non-traditional doc, Brett Morgen chose to eschew more conventional markers of the genre, including the use of talking heads. Per SlashFilm's review of "Moonage Daydream," the film doesn't bring in interview subjects to comment on Bowie's upbringing or personal life. Rather, the film is shot in an experimental, kaleidoscopic vein befitting its subject — think more Stan Brakhage than Ken Burns.
"Moonage Daydream" relies entirely on Bowie's vast collection of archival footage, as well as a bevy of never-before-seen performances. According to Morgen, he spent two years combing through the materials, which consisted of five million assets (via ArtsLife TV). As such, the only other presences in the film are various interviewers, musicians, and other characters in Bowie's orbit, and Bowie himself narrates the documentary. In "Moonage Daydream" and in life, Bowie is the center of his own galaxy.
What is Moonage Daydream about?
As one of the most magnetic, chameleonic performers of the 20th century, Bowie's five-decades-long career offers plenty of documentary fodder. As mentioned, "Moonage Daydream" doesn't dwell much on the artist's childhood, nor does it concern itself with tabloidy details. The documentary focuses primarily on Bowie's music career from 1970 to 1977, an era that spans the launch of his Ziggy Stardust persona to the Thin White Duke era, though it also dips into the 80s, 90s, and 2000s.
"Moonage Daydream" is said to look at Bowie's entire artistic output, including his dabbling in acting and painting, as well as glimpses at his influences. At the end of the day, "Moonage Daydream" is most invested in Bowie's musical career, and functions in part as a concert film thanks to the abundance of live footage, as well as 40 tracks remastered exclusively for the film. Tony Visconti, Bowie's longtime producer, serves as the movie's music producer.
Neon dropped a trailer for "Moonage Daydream" in May, as seen above, that puts the film's heady ambitions and wide-ranging styles on display. It ends with a dreamy assertion from Bowie as he gazes skyward: "Life is fantastic."