Joe Keery Reveals One Of His Favorite Scenes From Stranger Things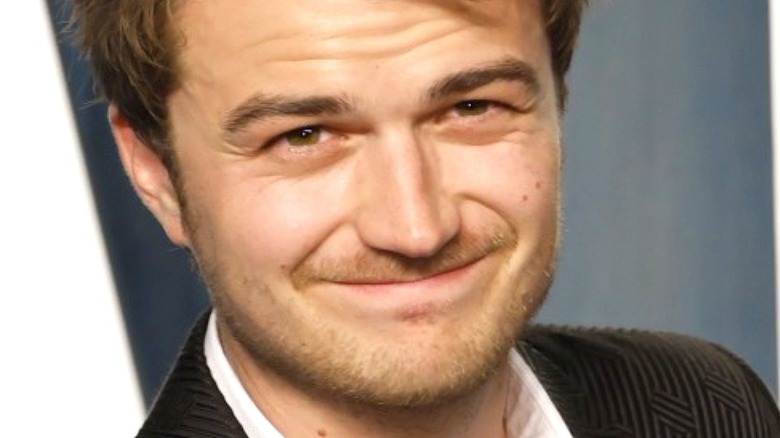 Frazer Harrison/Getty
"Stranger Things" is taking a victory lap at the moment. Hot off a 4th season that was widely beloved by both critics and audiences alike (via Rotten Tomatoes), the show is teeing up for its 5th and final season.
A lot of the appeal of "Stranger Things" and its ongoing popularity has come from the relationships characters have formed over the four seasons of the supernatural Netflix hit. While some of these characters were at odds with one another earlier on in the series, by the time the 4th season comes along, we have a fully united front ready to fight for the future of Hawkins.
While Steve Harrington (Joe Keery) has something of an antagonistic arc in the 1st season of "Stranger Things," he's gone on to become a surrogate older sibling and even father figure to some of the younger kids on the show, a role which Steve has warmed to slowly over the course of the series.
Joe Keery loves his first scene with Gaten Matarazzo
Joe Keery sat down to talk with Vulture about the changes to Steve's personality and his dynamic with the other characters over the years. In particular, Keery looks back fondly on the first time his jock, party-boy character was paired with an unlikely friend in the form of passionate uber-nerd Dustin Henderson (Gaten Matarazzo).
"That's probably one of my favorite scenes because, for the first time in doing that, Steve lets his guard down," Keery said of the scene that saw Steve and Dustin walking together down the train tracks. "You can tell that these two characters, although they've been shoved together because they've been ditched by their friends, end up caring about each other and looking out for each other."
Since this early meeting point, the characters have bonded even further, creating one of the closest relationships in the entire world of "Stranger Things." Since Dustin and Steve both lack a sibling in their homes, it makes sense that, despite their different backgrounds and motivations, they would find something they need in one another.
"It turns into this big-brother relationship, even though they're both a little stubborn and think they're the boss and they've got it all figured out," Keery mused. "Underneath, there's this genuine care for each other." A lot of unlikely friendships have been struck up between the many characters of "Stranger Things," but this fan-favorite pairing is definitely among the best dynamics in the show.