Are You Comfortable Going Back To The Movie Theaters Yet? Here's What The Majority Of Fans We Polled Said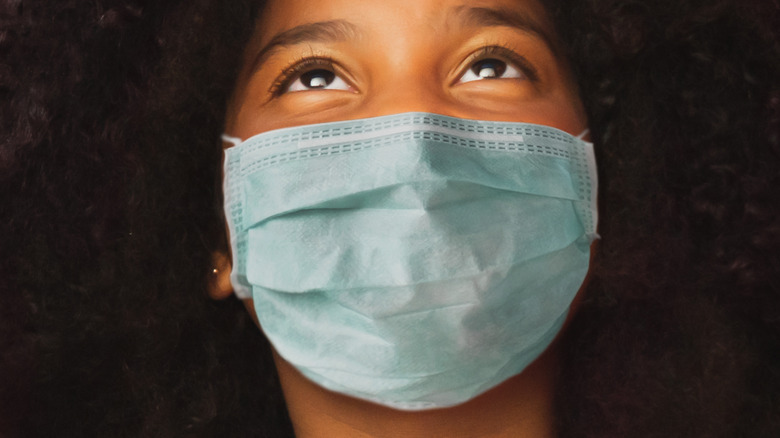 Nattakorn_Maneerat/Shutterstock
The last few years have been an interesting time, to say the least. While the world has been filled to the brim with a significant collection of political, economic, and social dilemmas, the COVID-19 pandemic shook things up unlike anything else in recent memory. While the virus was detected in individuals in late 2019 (per South China Morning Post), the World Health Organization officially declared the global spread of the virus to be a pandemic on March 11, 2020. From there, the world was turned upside down as businesses closed, travel halted, and people everywhere isolated, all in a worldwide effort to avoid spreading the deadly disease.
One of the most affected industries during this time was entertainment. It seemed that around every corner, highly anticipated releases were being delayed, from "No Time to Die" to "A Quiet Place Part II " to "Black Widow" and so many more (via IGN). According to USA Today, this left movie theaters largely empty and struggling, with some even filing for bankruptcy. However, as 2021 came around with a vaccine that helped protect many from the virus' effects, moviegoers steadily began to return to theaters. Yet, with the pandemic still developing and new variants being born, our way of life is ever-shifting. So is the pandemic still scaring moviegoers from theaters?
Nothing beats the theater experience for movie lovers
A poll by Looper asked 575 voters from around the U.S. if they'd be comfortable returning to movie theaters. A staggering 77.57% say they're more than happy to return, while another 11.48% remain cautious, and 10.96% claim they aren't fans of going to movie theaters. Theaters have been doing all they can to keep their venues safe, including social distancing efforts, extra sanitation, and mask requirements for staff members. Despite this, some prefer streaming, while others believe theaters are too costly (via Morning Consult).
For others, however, movie theaters are still king. Despite the pandemic's limitations, the film industry has seen major successes throughout the last few years. 2021 saw several releases succeed in theaters, starting with "Godzilla vs. Kong," earning over $470 million worldwide in March 2021 (per Box Office Mojo). According to Deadline, several other 2021 Warner Bros. releases came out in theaters and on HBO Max around the same time. However, things really changed in December 2021 with the release of "Spider-Man: No Way Home," the third in the Marvel Cinematic Universe "Homecoming" Spider-Man trilogy. The film not only broke pandemic box office records (via CNBC) but became one of the highest-grossing films of all time (per Variety). More recently, "Top Gun: Maverick," the long-awaited sequel to the 1986 Tom Cruise classic, became the second pandemic film to break the billion-dollar mark (via CNN). And with anticipated releases such as "Black Adam," "Black Panther: Wakanda Forever," and "Avatar: Way of the Water" slated to come out later this year, there are sure to be plenty of box office success stories to come.