What A Zundapp KS-750 Motorcycle From Italy Was Actually Worth On American Pickers
History has introduced its viewers to countless titles over the years, but only a few have reached mainstay status. One such program that has come to define the channel is "American Pickers," which arrived in 2010 and has since become a fan favorite. Episode after episode, audiences are treated the trips through garages, storage units, and even homes as the show's hosts search for hidden pieces of American history. Though they're not always successful after wading through mountains of old items, when they score, they tend to score big with antiques worth a pretty penny.
Throughout its 20-plus seasons on the small screen (that you can watch all of with ease), "American Pickers" has shown off some remarkable finds that brought with them hefty price tags. From vintage lamps that went for four digits to some neat skateboarding posters that fetched a small fortune, hosts Danielle Colby and Mike and Robbie Wolfe know where the money is. Oftentimes, if they really want a win, they know that pretty much any form of transportation — cars, motorcycles, bikes, and more — is an incredibly safe bet. For instance, look no further than the Zundapp KS-750 motorcycle they checked out in Italy.
It's not uncommon for the "Pickers" team to buy up motorcycles, but ones for this impressive of a price don't come around every day.
The Zundapp KS-750 went for over $10,000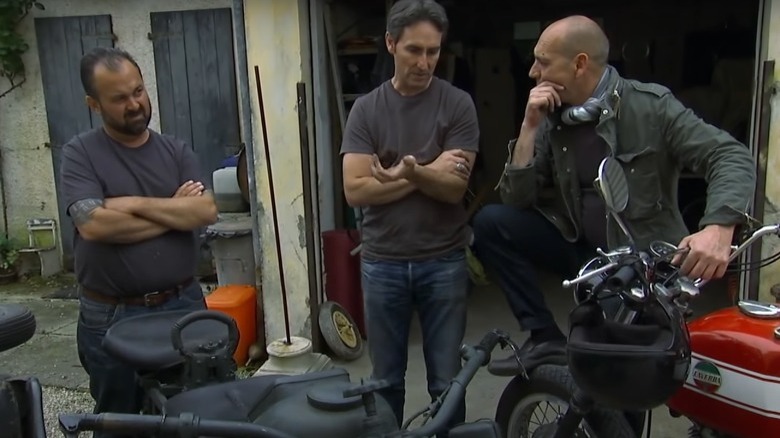 History/YouTube
Season 10's "The Italian Job Part 1" saw Mike Wolfe and Frank Fritz do something that they haven't done on "American Pickers" often: go for an international pick. They hopped on a plane to Italy to meet up with a friend who promised he had something special waiting for the Antique Archaeology masterminds. He presented them with a Zundapp KS-750 motorcycle — a highly collectible bike that dates back to the early 20th century during the Second World War. Wolfe knew he had to have it, and so a brief negotiation session ensued. When it was all said and done, Wolfe and Fritz scored the motorcycle for $10,500.
Upon finalizing the deal, Wolfe estimated that after getting it shipped to the United States, he could sell it for somewhere between $15,000 and $18,000. That would leave the "Pickers" team with a profit between $4,500 and $7,500, which is certainly nothing to scoff at. Although, it's far from their most expensive single motorcycle pick of all time. That honor goes to a 1910 Royal Pioneer motorcycle that they paid a whopping $55,000 for during Season 9. The rare bike wasn't in pristine condition by any means, but with a little fixing up, it had the potential to value around $100,000 (via The Sun).
The "American Pickers" hosts have shelled out a ton of money on motorcycles over the years, raking in the cash once they slapped price tags on them and found buyers willing to open their wallets. The Zundapp KS-750 is just another in a long line of impressive yet pricey two-wheeled investments they've made in their time.