The Untold Truth Of Legacies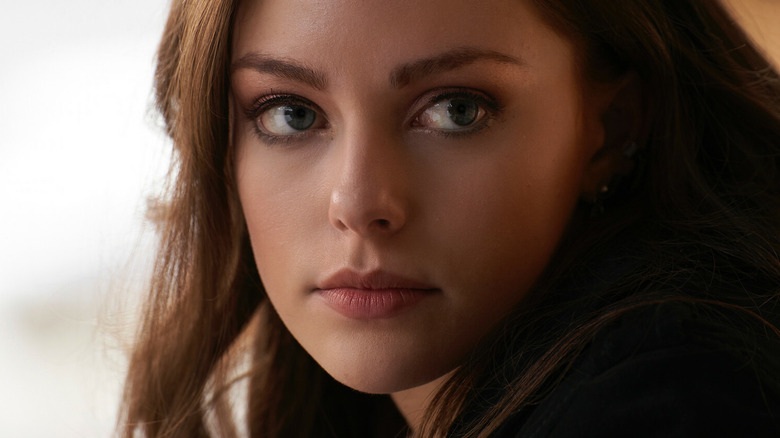 The CW/Chris Reel
"Legacies" is a fitting title for the show that closed out the legacy of "The Vampire Diaries" franchise. While "The Originals" headed to New Orleans in 2013, "Legacies" went back to Mystic Falls in 2018 to end the franchise where it began. The original show and its two spinoffs are nothing if not a roller coaster ride, churning out some of the most compelling vampires and other beasties we've ever seen on TV.
Sadly, "Legacies" faced an untimely cancellation following The CW merger, and the show left the air with a slightly rushed yet altogether satisfactory ending, given the circumstances. "Legacies" is a love letter to "Vampire Diaries" fans that takes what fans loved most about the original show — the legacy of Mystic Falls and the Salvatore brothers in a school setting — and pairs it with the Mikaelson family dynamics of "The Originals."
With Alaric Saltzman (Matthew Davis) heading up a supernatural boarding school, Hope Mikaelson (Danielle Rose Russell) frequently playing the lovable martyr, and the Saltzman twins (Jenny Boyd and Kaylee Bryant) causing magical mayhem, it's a match made in heaven. Of course, we know all of the juicy details about what went on in the Salvatore School for the Young and Gifted. But what happened behind the scenes when the cameras weren't rolling?
COVID shortened Season 2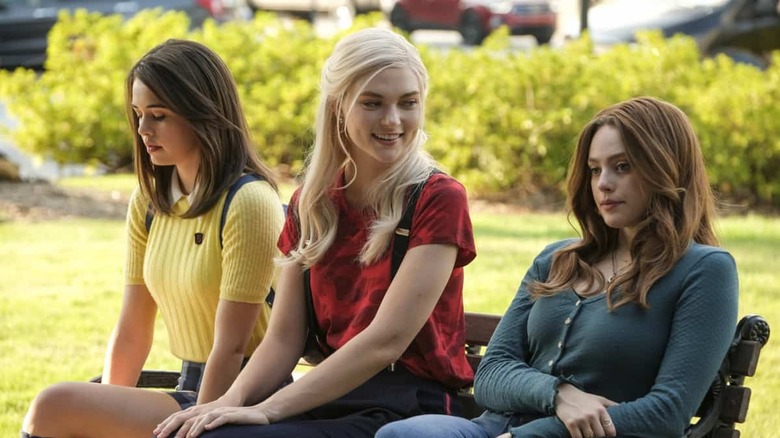 The CW/Mark Hill
It's no secret that the COVID-19 pandemic deeply impacted the film industry, and "Legacies" wasn't immune to the fallout of production shutdowns. Fans may not realize that Season 2 was actually supposed to have 20 episodes because, funnily enough, the debut season also has 16 episodes — and that just so happens to be where production left off when filming shut down (via Forbes). In fact, the first three seasons all total 16 episodes apiece, but luckily for fans who feel cheated, Season 4 has the anticipated 20 episodes that Season 2 should have had. 
Season 2 was expected to resume filming at some point, but the pandemic had other ideas. What the creators intended to be the spring finale (that production mixed at home) became the season finale. The rest of the planned episodes moved to Season 3, including the highly anticipated musical episode. Kaylee Bryant mentioned to Entertainment Weekly that the musical episode (and the rest of the first four Season 3 episodes) were already underway when the shutdown came along, turning them into year-long adventures. She said, "We did the choreography and the recordings and a few scenes before we all got shut down. It's almost been worse because then I had an entire year to sit back and go, 'I could've done all of that so much better.'"
Kaylee Bryant bids farewell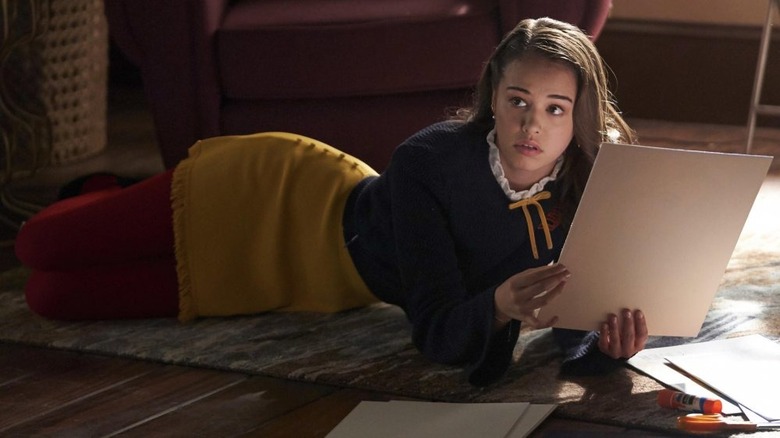 The CW/Bob Mahoney
"Legacies" isn't the first show to lose a lead, and it won't be the last. During the middle of what we now know to be the final season of "Legacies," Josie Saltzman actress Kaylee Bryant stepped away from the show. Her departure was a significant loss for the project — both for the plot and losing a major LGBTQ+ character on TV. Like most main character exits, the writers hastily wrote a somewhat clumsy excuse for Josie needing to leave Mystic Falls to find her way without her sister's shadow. It might even be believable if there wasn't a war going on, but it feels a little out of character for her to leave her friends and family in the lurch.
On her departure, Bryant posted on her Instagram, "As a fan of 'The Vampire Diaries' universe myself, I am so grateful to the fans and will love them always and forever for welcoming and accepting me into this world." She added, "Josie has helped so many beautiful humans feel comfortable in their sexuality, and I hope her legacy lives on so that one day everyone feels free to love whoever they want regardless of gender." Plec and Matthews supported her choice to depart, even leaving the door open for Bryant (via TV Line). Sadly, she didn't return for the finale.
The legacy carries on, but the show is done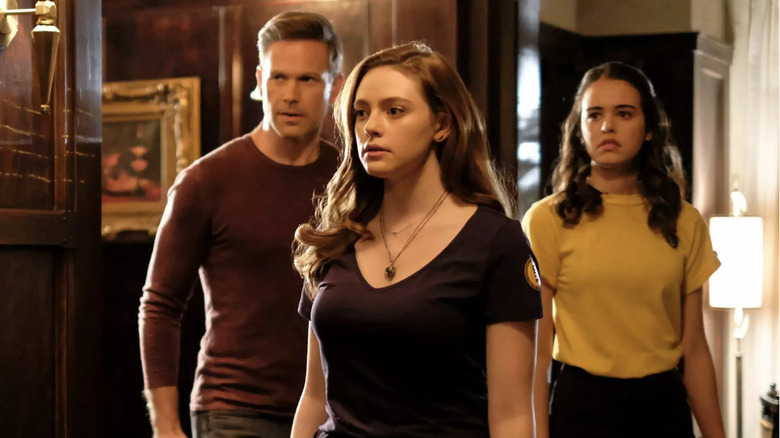 The CW/Mark Hill
For years, The CW fans have been accustomed to only a few cancellations a year. Even the shows that didn't always garner massively high viewership tended to stand the test of time if they had a passionate fanbase. However, The CW tide changed in 2022 as the network faced a slew of cancellations for beloved series and franchises following the merger of Paramount Global, Discovery, and Warner Bros. To kick off the summer of 2022, the network doled out a whopping ten cancellations (The Hollywood Reporter).
Sadly, "Legacies" was on that chopping block, forcing the show to plan a preemptive ending in the Season 4 finale just in case it became the series finale — which it did. On Twitter, "Legacies" creator Julie Plec said this about the onslaught of cancellations: "It's the Red Wedding at WBTV/CW today. Much more to say, but not today." Later, in a longer thread of tweets, she said, "And to the fans. Without whom none of this matters. It has been my honor to be a part of telling these stories for you." She also praised executive producer Brett Matthews along with The CW's chief executive officer Mark Pedowitz.
The Vampire Diaries universe actors who didn't want to return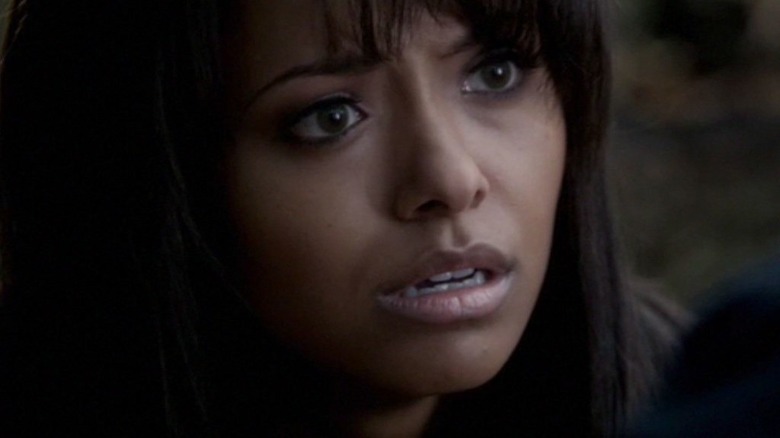 The CW
Burnout can be real when you've spent years portraying one character on TV or film. While some staples from "The Vampire Academy" cast were happy to dust off their fangs, others wanted to move on and thought their characters had the right ending.
Phoebe Tonkin told TV Guide, "I think Hayley's story was properly explored both over the course of 'The Vampire Diaries' and over the five seasons of 'Originals.'" While Kat Graham's Bonnie Bennett was one of the few surviving characters, Graham explained to ET, "I won't consider a spinoff — just because eight years is a long time, and I committed so much of my time and life to the character, and I feel like it ended in the way that it needed to end." She also noted that the original show was "like bootcamp" and taught her a lot of life lessons. Additionally, Nathan Dean told Looper in an exclusive interview that he's happy where his arc as Jackson ended and that "Jackson doesn't really have a place there."
Sadly for "The Vampire Diaries" fans, Damon Salvatore actor Ian Somerhalder was in the "won't return" camp. He explained to TV Guide, "He's not alive ... Damon is dead. That's how he finds Stefan. He became human, and then he knocks on the door and he goes home." Well, that's just a bit of a copout given that "The Vampire Diaries" ending is a flash-forward, and "Legacies" establishes that Elena and Damon are very much alive during the show. However, the guy played the role for eight seasons, so we'll cut him some slack. Paul Wesley mirrored his costar's sentiment, telling Entertainment Weekly, "I definitely closed the chapter of that part of my life in terms of in front of the camera. I can't imagine entering that world in front of the camera."
Director Paul Wesley makes an appearance
The CW
While fans didn't see either Salvatore brother reprise their role on "Legacies," one brother did come back to direct. Paul Wesley ditched his onscreen persona as Stefan Salvatore for a position behind the camera for the Season 1 episode "The Boy Who Still Has a Lot of Good to Do," where fans get MG's backstory. During an interview with TV Guide, Wesley said, "I had a great time. [...] I think directing is a completely different ballgame. It's something that I truly love. I certainly won't be stepping in front of the camera as anything vampire-related but behind the camera, I had such a great time directing those kids and Matt Davis and being in my old stomping ground Atlanta." 
Wesley wasn't the only Salvatore looking to get his time in the director's chair, however. Ian Somerhalder was equally disinterested in returning as Damon Salvatore, but he expressed interest in directing to ET. Somerhalder said, "I know Paul went to do it and he called me and he's like, 'Bro, this is f****** crazy.' Because it's all of our old sets, which is a time warp, 10 years ago. He's just going, 'Dude!' He was actually kind of emotional about it, he goes 'This is crazy!'" He added, "But I would actually love to go back and direct one. I love what they are doing. The show looks amazing, it's all of my old team." Sadly, the series' cancellations denied an opportunity for the actor to get involved with an episode of "Legacies."
Legacies is full of The Vampire Diaries universe cameos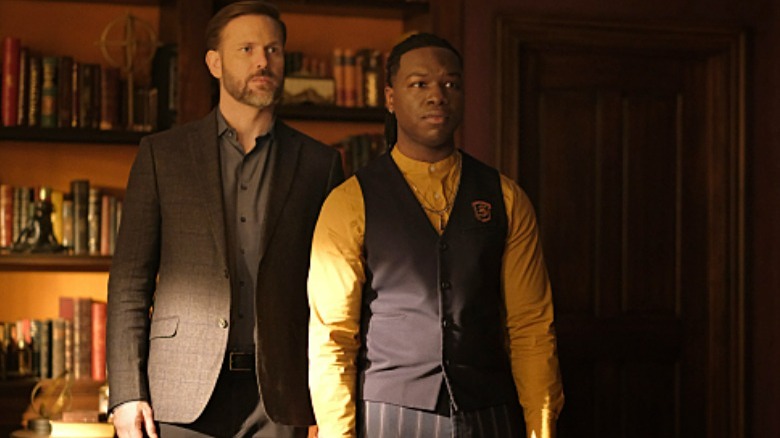 The CW/Mark Hill
Still, "Legacies" features plenty of familiar faces. At the beginning of the series, Demetrius Bridges (Dorian Williams) became a "Legacies" regular as a teacher at the Salvatore School. Early in the show, Steven R. McQueen (Jeremy Gilbert) even returned for an episode to help Alaric hunt a gargoyle, while Zach Roerig (Matt Donovan) briefly returned as Sheriff Donovan. 
As if the Gemini Coven didn't get enough of Kai (Chris Wood) in "The Vampire Diaries," he came back in "Legacies" Season 2 for a two-episode arc to terrorize his nieces. In addition, Lizzie and Josie's birth mom Jo (Jodi Lyn O'Keefe) appeared in Season 1 to offer some closure. Even Rebecca Breeds' "The Originals" character Aurora gets the redemption arc she deserves in a ten-episode stint later in the show.
Most notably, the Mikaelson family played a not-so-insignificant role in "Legacies." Riley Voelkel's Freya gets ambushed by Josie in Season 2 and later comes to town to turn Hope into a vampire. Meanwhile, Claire Holt's Rebekah tries to turn Hope's humanity back on early in Season 4. Both of Hope's onscreen aunts return in the Season 4 episode "Everything That Can Be Lost May Also Be Found," along with Nathaniel Buzolic (Kol) and pseudo-Mikaelson Charles Michael Davis (Marcel Gerard). 
The young versions of Josie (Lily Rose Smith) and Lizzie (Tierney Smith), who made their debut in "The Vampire Diaries," also appeared, along with young Hope from "The Originals" (Summer Fontana). And that's not even counting Alaric, grown-up Hope, and Aria Shahghasemi (Landon), who danced with Hope in "The Originals" finale. Finally, we can't forget about Joseph Morgan's Klaus and Candice King's Caroline.
Joseph Morgan crashed the finale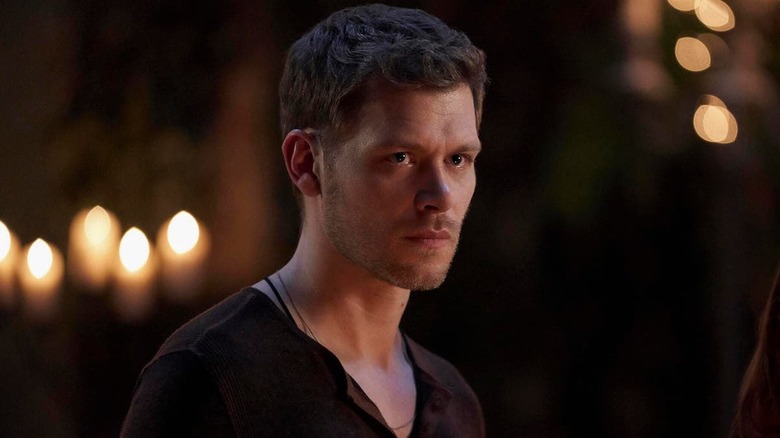 The CW/Bob Mahoney
Fans have been clamoring for Morgan to make an appearance on "Legacies" since the show's inception. Though the series has had more than its share of cameos, Morgan insisted that his character's ending shouldn't be touched (via Cinemablend), as it would cheapen Klaus' sacrifice for his daughter Hope. Following a slew of coded messages that teased Morgan's possible return, he posted a very carefully worded tweet that had fans in sleuth mode. Morgan noted that he hadn't seen the cast in person for years and assured fans that speculation would drive them "crazy." He also wrote, "Everyone knows Klaus Mikaelson is dead." Of course, instead of getting fans to stop speculating, it only intensified the frenzy. 
Morgan later went live on Instagram a week before the finale aired, beginning the video with, "If you had the chance to tell the daughter you loved more than anything in the world one last goodbye, would you take it?" He noted the rumors about Klaus' possible return before confirming that the franchise's most dastardly yet lovable vampire would make his return.
After explaining that he doesn't know if he has permission to confirm the news, he said, "I'm gonna tell you a couple of things right now: You are gonna see Klaus again in the final-ever episode of 'Legacies.' Just for a fleeting moment." And a fleeting moment it is. While Klaus is still dead, Hope sees him in the form of a magical video message that's broadcasted to her from the afterlife. Cue the waterworks.
Candice King's almost series regular arc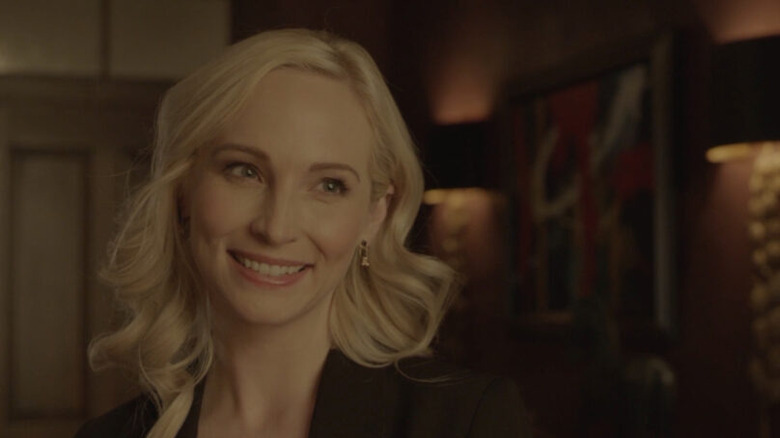 The CW
Let's face it: Alaric Saltzman wasn't an amazing teacher and he was an even worse headmaster. As Caroline Forbes proved throughout "The Vampire Diaries," no one can clean up a mess quite like her, so it was a refreshing surprise to see Candice King come back in the finale to run the Salvatore school. It wasn't King's first stint back in the show, however, as her voice appears in the musical episode with a heartfelt letter to Lizzie.
King was the only actor to appear in all three series finales, and she hopped on board right away for the "Legacies" finale when she found out that Season 4 might be the last. In an interview with CBR, she said, "This was always in the making. It was just all about timing." Of course, that proved to be difficult with her second pregnancy during the pandemic, but she added, "It did take this long, but golly, I am so grateful that we made this happen, especially given that this is the series finale."
On where Caroline would have been in Season 5, King noted, "I had a few conversations with Brett Matthews and Julie Plec had there been a fifth season. I think we would have seen Caroline more." Sadly, that won't happen now, but at least King was down for the adventure.
Candace King's daughter makes a cameo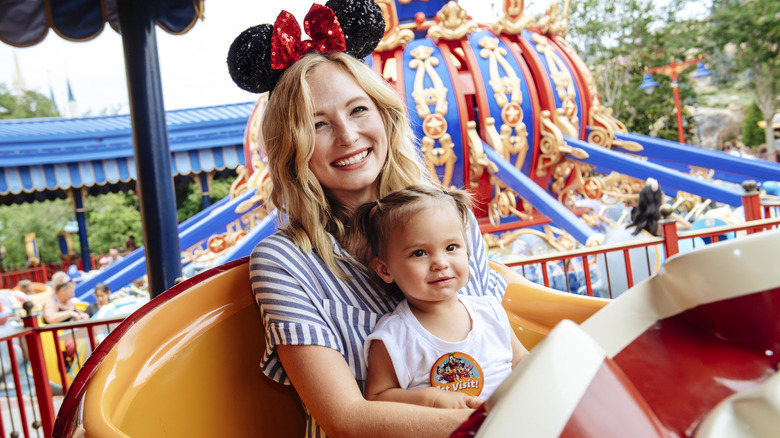 Handout/Getty Images
Candice King wasn't the only King to make an appearance on the "Legacies" finale. King's daughter Florence May also got the red carpet treatment as a student at the Salvatore School. Given that King was pregnant with her daughter during the filming of "The Vampire Diaries," it's only fitting that the two got to share a moment together for the franchise's last hurrah. After all, had it not been for King's pregnancy, Caroline may never have become pregnant with Josie and Lizzie in the show — and "Legacies" wouldn't exist (at least not in the iteration we have today).
King posted about the experience on Instagram, writing, "Sweet Florence May, the OG Josie and Lizzie ... you grew in mommy's belly while I filmed scenes in front of that fire place... you were a little baby visiting mommy at work learning to crawl in front of that fireplace... What a truly epic day when we got to stand side by side in a scene together in front of that fireplace." Plec told Entertainment Weekly that King mentioned that her daughter would like to be in a scene, and of course, Plec made it happen.
Kaylee Bryant retroactively corrected a mistake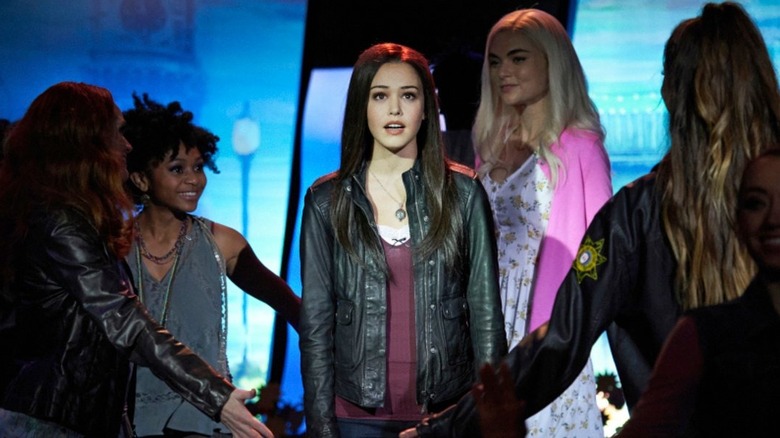 The CW/Bob Mahoney
With a series that lasts as long as "The Vampire Diaries," it's only natural that some of the cast for the franchise's third show would include fans of the original. Kaylee Bryant was that person for "Legacies," and she even retroactively corrected a mistake from the musical episode, "Salvatore: The Musical!" Bryant felt like she spent her childhood preparing for the musical episode, as she told Entertainment Weekly in an interview. "Oh, I was so excited! I was so obsessed with 'The Vampire Diaries,' and I've watched it so many times. I feel like the past 5-6 years of my life have been in preparation for this."
With all of the chaos surrounding not only filming a musical episode of "Legacies," COVID postponements, and honoring "The Vampire Diaries" series, Bryant had her mind occupied and missed a key wardrobe mistake. She recalled to Entertainment Weekly, "My only thing is, and I'm going to regret this for the rest of my life, is that in the opening number I was wearing Elena's necklace and I kick myself to this day because she shouldn't have the necklace by then. That's going to drive me crazy for the rest of my life." 
Fans of "The Vampire Diaries" know that Stefan gives the vervain-filled locket to Elena to protect her from vampire compulsion, so she wouldn't have it when she meets Stefan in the musical scene. It's okay, Bryant. We forgive you.
Julie Plec's biggest finale heartbreak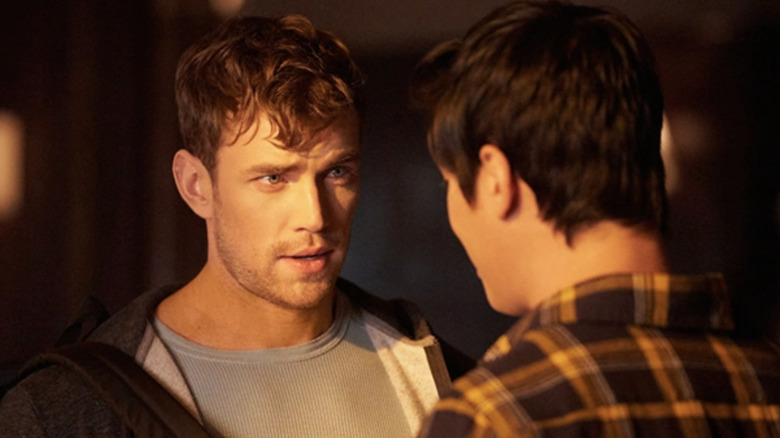 The CW/Chris Reel
In an interview with Entertainment Weekly, Plec revealed her biggest heartbreak regarding the series' abrupt ending and the stories left to tell. "Legacies" is filled with a slew of high-stakes romances, but one of the show's greatest love stories was just getting its footing in Season 4. Everyone's favorite werewolf Jed (Ben Levin) and the series' newest Super Squad member (and actual God) Ben (Zane Phillips) develop an intense relationship buildup. Unfortunately, fans of the burgeoning ship didn't get much content from the pair before the show's untimely cancellations.
Plec told Entertainment Weekly about the couple, "Ben and Jed. That was so new this year and it was so good. They were just getting started and now the story's over. That's one of the heartbreaks. They were just warming up." Luckily, Ben and Jed do get a reasonably happy ending, but like Plec, most fans can't help but want more.
Julie Plec continues her teen vampire skills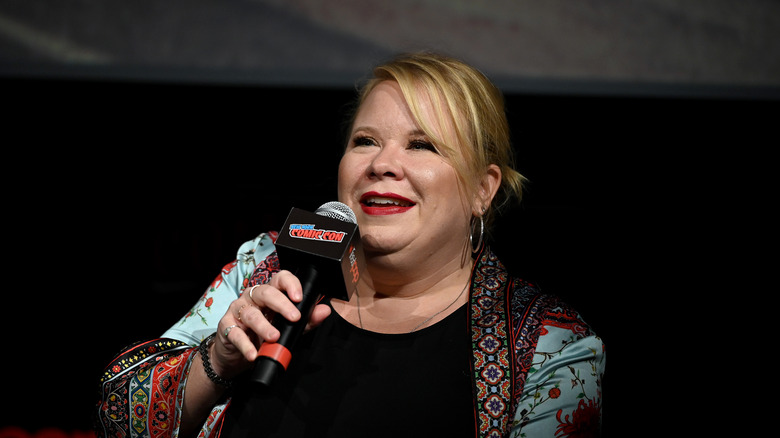 Ilya S. Savenok/Getty Images
The "Legacies" finale was certainly a massive blow to the cast and crew, but luckily, "Legacies" isn't the last teen vampire dalliance for Julie Plec. The writer has long since been a fan of "Vampire Academy," according to an interview with Entertainment Weekly. In 2021, Plec finally got to make the announcement she had been waiting for years to come into fruition: She is show running a "Vampire Academy" adaptation alongside Marguerite MacIntyre for Peacock. It pays to be the resident vampire writer, as it turns out.
She explained to Entertainment Weekly, "I read ['Vampire Academy'] before 'Twilight.' I read them before 'Vampire Diaries' came into my world and just really enjoyed the series and always thought, 'Gosh, one day I'd really love to work on a show like this.'" While "The Vampire Diaries" universe is certainly expansive, author Richelle Mead's take on vampires includes a royal twist with deep cultural roots, and it will be exciting to see Plec's take on the universe.