Tremors Reboot Casts Five New Characters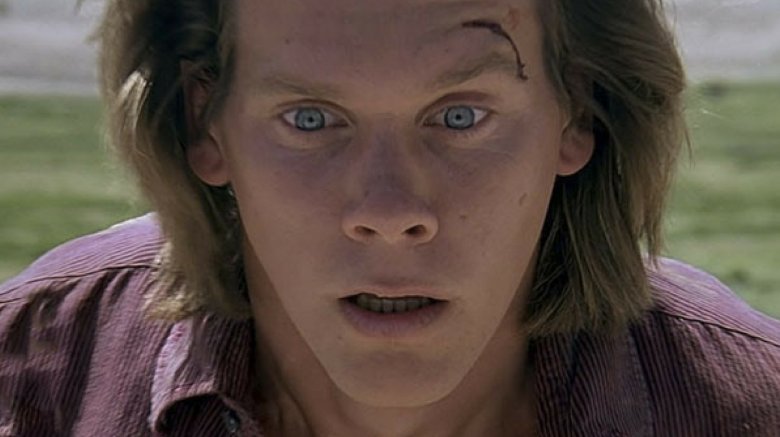 The Graboid-fighting team is growing bigger by the day. 
Deadline reports that Syfy's upcoming Tremors series, a reboot of the cult classic film from 1990, has cast five new characters to join original star Kevin Bacon as Valentine McKee. 
Big Little Lies actor P.J. Byrne landed a key series regular role in the show, playing Melvin, a survivor of the Graboid attack that happened 25 years ago. Melvin is a real estate developer bent on restoring Perfection, Nevada to a new glory–a mission fueled by his intense jealousy of Valentine.
Weeds' Hunter Parrish is on board to play Arthur Brandt, a young and charismatic leader of a tribe of 20-somethings who have relocated to Perfection to bask in what's described as a "unique spiritual energy." The gang of millennials are noted as "pot-growing" and "earth-worshipping," so it's likely that Parrish's Arthur will come face-to-face with plenty of Graboids over the course of the show. 
Wrecked actress Ebonée Noel will portray Zoe, a woman on a quest toward truth. Zoe is described as having a "deep, sensual intuition and mystic power" and a strong connection to the earth, abilities that "provide her with visions of events to come."
Ransom standout Brandon Jay McLaren joins the cast as Toby, a "likable guy who nobody likes" who serves as the public liaison to a data storage company that wasn't able to kick-start any new jobs in Perfection. 
Finally, Bella and the Bulldogs star Haley Tju is attached to play Jai, the local badass of Perfection who fills the town with puffs of smoke from her dirt bike and her drug-smuggling ways.
The five newly added actors will appear alongside John Ellison Conlee (LBJ, Boardwalk Empire) as Valentine's closest friend Harlan Maylor, Shiloh Fernandez (Falling Water, Gypsy) as Graboid Waste Gobbling worker Nico Garza, Megan Ketch (American Gothic, Jane the Virgin, Louder than Bombs) as the conniving young doctor Mindy Sterngood, and Emily Tremaine (Guilt, Vinyl) as Valentine's whip-smart daughter Emily McKee. 
Directed by Vincenzo Natali (Hannibal) from a script penned by Andrew Miller (The Secret Circle), the Tremors reboot picks up after the events of the original movie and centers around the return of the vicious Graboids that threatened to destroy Perfection nearly three decades ago. Bacon's McKee took down the sandworms once before and is determined to do so again, but will have to overcome age, alcohol dependency, and a "delusional hero complex" if he wishes to succeed a second time.
Tremors doesn't have a set release date as of yet, but we'll keep you up to date as more information becomes available.