How Blonde Author Really Feels About The NC-17 Film Adaptation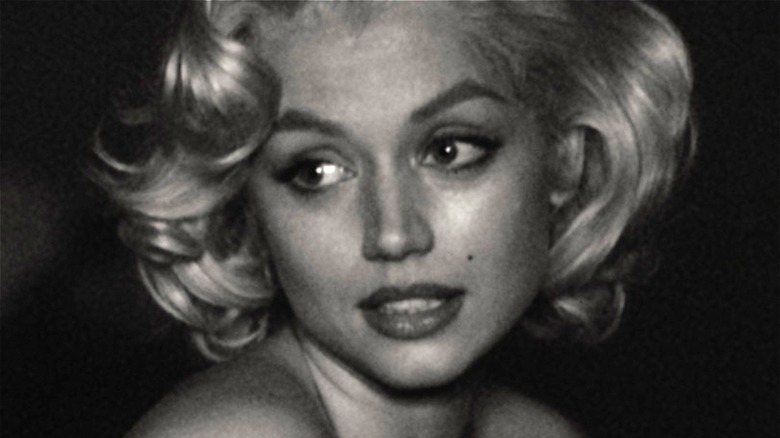 Netflix
One of the most highly anticipated films to come out in the back half of 2022 has nothing to do with superheroes or bullet trains. It all has to do with the scandalous story of one of the most prolific actresses ever to live. Netflix's "Blonde" follows the life of Norma Jeane Mortensen, a.k.a. Marilyn Monroe, as played by Ana de Armas. The movie promises to not skimp on any of the finer details as it takes audiences through the star's various loves and controversies, and it's bound to get people's blood pumping as it will hold an NC-17 rating.
Most movies tend to avoid such a rating so that they can be marketed to a broader audience, but with this rating on Netflix, it promises not to hold back on anything. That's very good news according to one vital critic of the film, namely the author of the book the movie's based on — Joyce Carol Oates. Based on what she had to say at the Neuchâtel Intl. Fantastic Film Festival in Switzerland (via Collider), she's already seen the film, and she has nothing but positive things to say to those who worked on what will inevitably be one of the most talked-about movies of the year. 
Joyce Carol Oates feels the director of Blonde 'succeeded' in showing the character's experiences
Taking on a real-life figure as monumental as Marilyn Monroe is no easy task, but based on what Joyce Carol Oates has to say about "Blonde," the team working on the film succeeded in a big way. When discussing the upcoming project, she mentioned, "Andrew Dominik is a very brilliant director. I think he succeeded in showing the experience of Norma Jeane Baker from her perspective, rather than see it from the outside, the male gaze looking at a woman. He immersed himself in her perspective."
But it wasn't merely the director who helped bring this story to the masses. Oates also had praise to heap onto Ana de Armas, who plays Monroe in the picture. Oates stated, "Ana de Armas, the wonderful actress who plays her, I think it took her like four hours of makeup. So when you see them on screen, they don't really exist. It's like a fantastic image, but to make it a livelihood is to endure a good deal of anguish."
Oates understands the iconic actress better than most, seeing her as a woman taken advantage of by an industry that wanted her image plastered over everything. Through this process, she lost her own identity, attempting to conform to what others wanted out of her. It's incredibly exciting to think of what Dominik, de Armas, and the rest of the team behind "Blonde" have accomplished when the film comes out on September 23.