Aidy Bryant's Daily Life On SNL Was More Exhausting Than You Probably Realized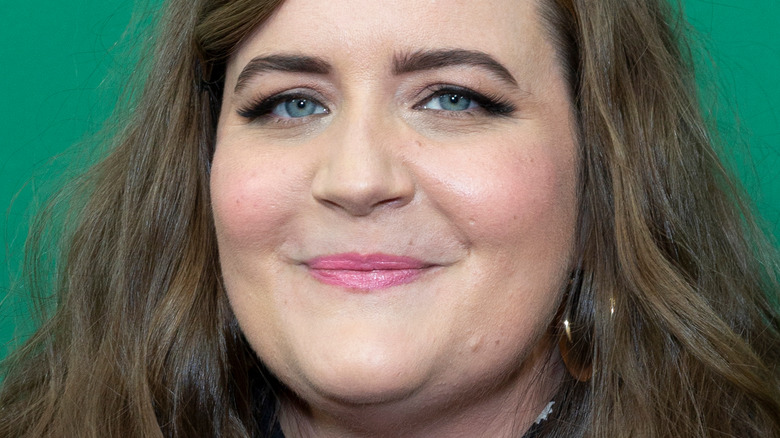 Lev Radin/Shutterstock
As its relatively small army of alumni will tell you, landing "Saturday Night Live" is a surefire résumé builder. Countless former cast members have used their time on the show to leverage careers and launch indispensable spin-offs. Where, as a nation, would we be without "Coneheads" or "A Night at the Roxbury"?
After spending a certain amount of time on "SNL," it's inevitable that marquee players depart for greener pastures. Season 38 marked a significant shake-up for the sketch comedy series. Before the season began in 2012, Kristen Wiig and Andy Samberg departed, and it was also the final season for Fred Armisen, Bill Hader, and Jason Sudeikis. To replace these immense talents, "SNL" brought in new blood in the form of Cecily Strong and Aidy Bryant. 
Bryant indelibly left her mark on "SNL," gifting the series with wonderfully outrageous original characters and celebrity portrayals that ranged from Adele to Ted Cruz. After ten years of late nights and tireless performances, Bryant finally said goodbye to Studio 8H in 2022. Here's why the comedian's time on the show was more exhausting than you might think.
Aidy Bryant worked 22-hour days juggling SNL and Shrill
"Saturday Night Live" is notoriously taxing to produce. The six-day work schedule begins on Monday when the cast and guest host meet to pitch ideas. The next few days are a whirlwind of writing, rehearsing, and set design, with rewrites and digital editing often extending into the wee hours (via E! News). As Aidy Bryant summed it up to Variety, "The 'SNL' schedule is a whopper."
But Bryant's day-to-day schedule was even more grueling. Between 2019 and 2021, Bryant pulled double duty as the producer and star of the Hulu series "Shrill" on top of her "SNL" gig. Though she wasn't sure if she could juggle both shows, "SNL" producer Lorne Michaels encouraged Bryant to make it work.
"It was Lorne's idea that I do both," said Bryant. "How could I say no? And then I didn't sleep for, like, three years." As Bryant explained to Variety, "Those years, it wasn't uncommon for me to work a 12-hour day on 'Shrill' and then continue to work all day at 'SNL' — and all night! So it would be a 22-hour day."
Taking on multiple projects is increasingly common among "SNL" cast members. Head writer Michael Che also has his own comedy sketch series for HBO Max, and fellow cast members Kenan Thompson and Cecily Strong have their own shows, as well (via Yahoo Finance). Still, Bryant admits that the balancing act wasn't sustainable. "Maybe I could [do that] in my 20s," she said. "But now I'm in my 30s, and I'm like, 'That's a wrap on those days.'"