Why Thousands Of Theaters Could Ban Thor: Love And Thunder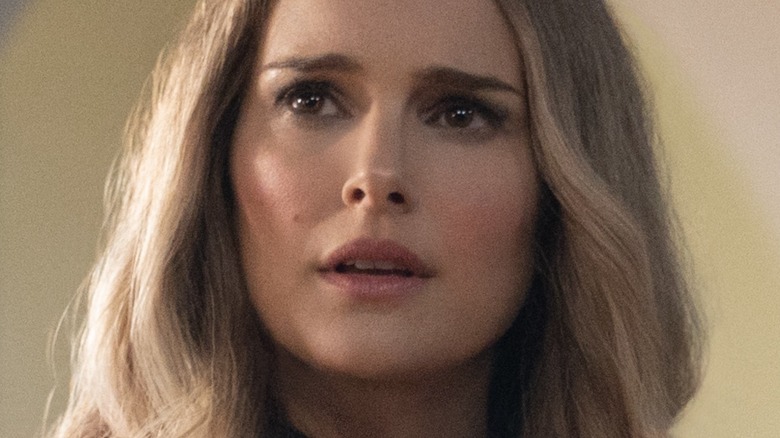 Marvel Studios/Disney
"Thor: Love and Thunder" is finally here, and the film's early box office numbers indicate that it's going to be another financial success story for Marvel and Disney. According to The Numbers, Taika Waititi's follow-up to "Thor: Ragnarok" gave the titular Norse god's solo franchise its biggest opening to date, having made over $300 million as of this writing. That's a lot of dough for the space Viking. This is despite the fact that "Thor: Love and Thunder" has divided critics and fans alike. 
While some people enjoy the humorous take on the space adventure, others feel like it's too jokey for its own good. Your mileage out of the film might vary, but it's a Marvel film after all, so it should come as no surprise to hear that it's bringing in all kinds of money. 
However, mixed reviews could be the least of the film's concerns as it continues to roll out in theaters worldwide. While "Thor: Love and Thunder" is shaping up to be an international super hit, the movie looks set to be banned in certain regions that have been profitable for Hollywood blockbusters in recent years. If the movie does indeed face the chopping block in these regions, it will mark yet another Disney release to be banned for the same reason in 2022. 
Thor: Love and Thunder could be banned over scenes involving LGBTQ representation
"Thor: Love and Thunder" is the latest Disney release to feature brief moments of LGBTQ representation, which could prevent the movie from being granted a release in China and other territories (via The Hollywood Reporter). The latest Marvel release implies that Valkyrie (Tessa Thompson) is bisexual, with her mentioning she had a girlfriend back in the day, and Korg (Taika Waititi) is gay when he hooks up with a nice bloke named Dwayne, and industry experts believe that these aspects will be enough to stop the movie from being released in certain regions.
Waititi and Natalie Portman have also been celebrating the LGBTQ aspects of "Thor: Love and Thunder" in recent times. According to The Independent, the pair described the movie as "so gay" and "super gay" at a Q&A. However, they were subsequently criticized by Marvel fans as scenes involving positive LGBTQ representation are few and far between, which is unfortunate considering the film originally included a significant romantic scene involving Valkyrie that was cut, presumably to appease censors (via Yahoo Entertainment). It's an unfortunate happenstance, especially seeing as how Valkyrie was supposed to have her sexuality play a more prominent role in "Thor: Ragnarok," but that ended up getting cut, as well (via Rolling Stone).
If the situation follows the same trajectory as "Lightyear," which includes a same-gendered kissing scene, "Thor: Love and Thunder" could also be banned in territories such as the Middle East, Malaysia, and Indonesia. The Disney-Pixar release is currently banned in 14 countries, according to Reuters. 
Many recent Marvel movies have had trouble getting released in other countries as of late
"Thor: Love and Thunder" isn't the first Marvel film to have an issue getting released in other countries, and if current trajectories are any indication, it certainly won't be the last. Phase 4 of the Marvel Cinematic Universe has been faced with bans around the globe, particularly when it came to the release of "Eternals." That film faced bans in Kuwait, Qatar, and Saudi Arabia due to the inclusion of a same-sex relationship. In that movie, Phastos (Brian Tyree Henry) is married to Ben (Haaz Sleiman), and the two share a kiss. Homosexuality is banned through much of the region, and movies depicting LGBTQ relationships tend to get banned.
That was the case with the most recent Marvel flick before "Thor 4" — "Doctor Strange in the Multiverse of Madness." That film was banned in the same countries due to America Chavez (Xochitl Gomez) being portrayed as homosexual, which is in line with her portrayal in the comics. Additionally, both of these films, in addition to "Shang-Chi and the Legend of the Ten Rings," were banned in China for various reasons. 
It isn't just Marvel movies that are getting the pointy end of the stick when it comes to China releases. "West Side Story" was banned in the country, in addition to Bahrain, Kuwait, Omar, Qatar, Saudi Arabia, and the United Arab Emirates, due to the inclusion of a transgender character, played by nonbinary performer Iris Menas. It remains to be seen if the likes of "Black Panther: Wakanda Forever" will make its way to China's shores, but things aren't looking hopeful at this juncture.