Every Celebrity Cameo In What We Do In The Shadows Ranked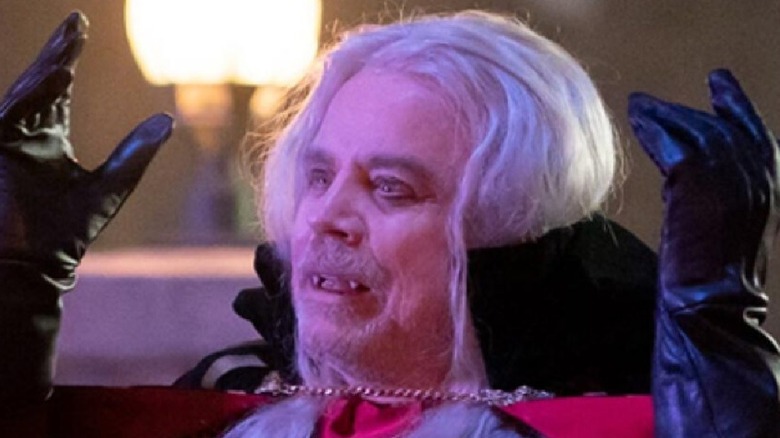 FX
"What We Do in the Shadows," the FX sitcom inspired by Taika Waititi and Jemaine Clement's 2014 mockumentary film of the same name, continues to impress as one of the cleverest comedies on TV. With a show this great and a main cast and crew so talented, it's no wonder that tons of actors — some of whom are very famous — want to be a part of it, even if it's just for a few minutes.
For the purposes of this list, a "cameo" refers to any "guest" credit. Some of these characters might have a significant role for an episode or even appear in a couple of episodes, but regular recurring roles will not be counted. As for the definition of "celebrity," it's somewhat fuzzy given the wildly varying degrees of fame these guest actors have, but in general, if someone was already notable enough pre-"Shadows" to have their own Wikipedia page, we're counting them as celebrities.
So, without further ado, here's every celebrity cameo in "What We Do in the Shadows" ranked from worst to best.
Marceline Hugot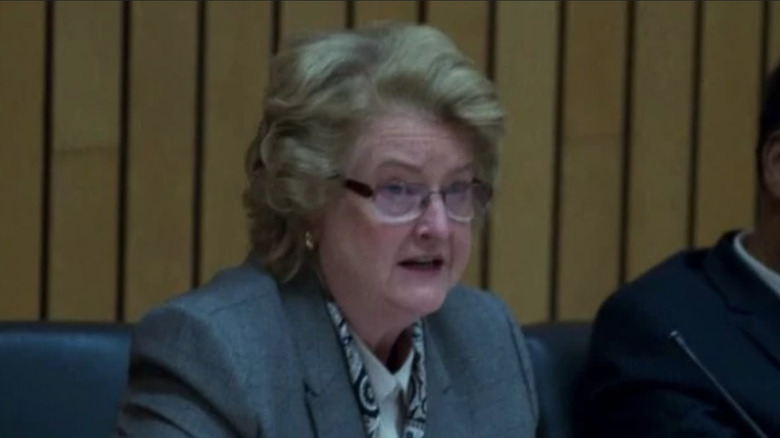 FX
None of the entries on this list are bad, but some roles are less impressive than others. Marceline Hugot is a prolific actor whose TV credits include "ER," "Better Call Saul," "Gotham," "Boardwalk Empire," "Ozark," and "30 Rock." In terms of feature films, she has plied her trade in the likes of "Working Girl," "United 93," "The Messenger," and the wacky Steve Carell comedy "The Incredible Burt Wonderstone." She does a fine job playing Staten Island Council President Barbara Lazarro in "What We Do in the Shadows" Season 1 episode "City Council," despite her character being dull by design (and not in the hilariously over-the-top Colin Robinson sort of way).
Barbara may be a boring character, but it's fun seeing the ineffective ways the vampires try to deal with her. Nandor tries to mind-control her fellow councilperson Doug Peterson. Laszlo, in contrast, tries to win her over by fixing the city's raccoon problem — only to absolutely terrify her by leaving dozens of dead raccoons on her doorstep.
Hayden Szeto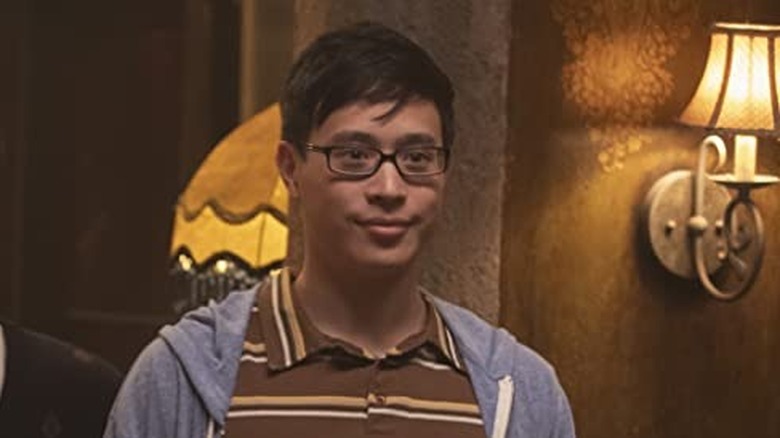 FX
Much of "What We Do in the Shadows" Season 1 deals with Guillermo's struggle to find virgins for the vampires to feed on. In the first two episodes, "Pilot" and "City Council," he looks at the Staten Island Community College LARPing Club as a source of sacrifices and a potential feeding ground. Virginal they may be, but the LARPers don't prove particularly appetizing to the vampires, partly due to Colin Robinson draining the intended sacrifices, but also because they just find them too sad.
Of the two intended virgin sacrifices in the pilot, Jenna (Beanie Feldstein) is the most memorable — she ends up becoming a major character in Season 1 with her own arc of becoming a vampire. Jonathan, played by Hayden Szeto from "The Edge of Seventeen" and "The Good Place," ends up being relatively forgettable in comparison to his friend, which is why this guest appearance ranks as low as it does on this list.
James Frain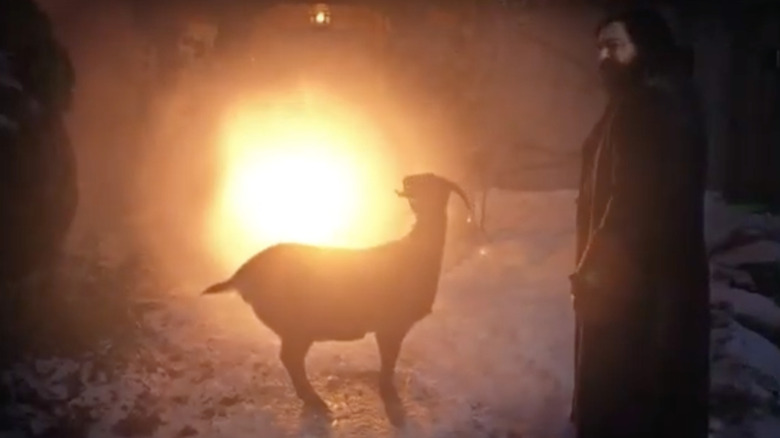 FX
The only voice cameo on this list, James Frain of "The Tudors" and "True Blood" fame lent his voice to Black Peter, the Brooklyn witch coven's goat familiar in "What We Do in the Shadows" Season 2, Episode 9, "Witches." Seemingly a play on the character Black Phillip from Robert Eggers' horror film "The Witch," Black Peter leads the vampires into captivity — a pretty easy task given that Laszlo and Nandor are easily excited by seeing a goat in their yard.
Black Peter doesn't get a ton of dialogue, and most of the humor is based on the goat itself rather than Frain's vocals. He does, however, get a nice scene talking with Guillermo about their shared lot in life as familiars. While Guillermo doesn't want to think about himself in comparison to an animal, doing menial jobs for magical beings in the hope you'll be made into one of those beings yourself one day seems to be a universal constant amongst familiars, regardless of species.
Tyler Alvarez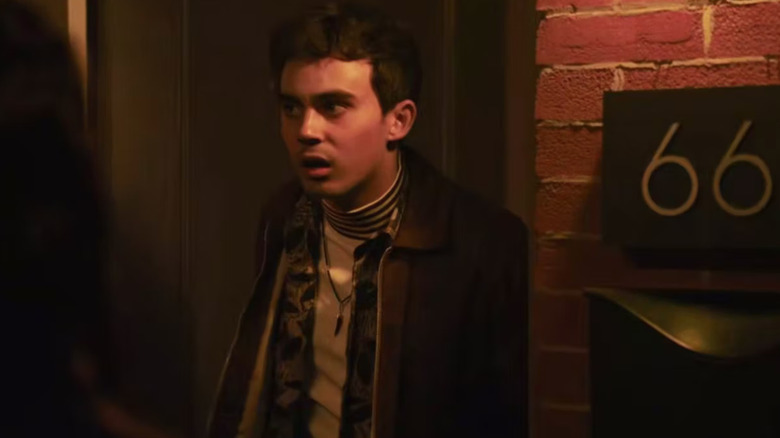 FX
Those who grew up in the 2010s will probably recognize Tyler Alvarez as Diego Rueda from the Nickelodeon sitcom "Every Witch Way." Since then, he's become best-known for the role of Peter Maldonado in the canceled-too-soon Netflix mockumentary series "American Vandal." Alvarez cameos in "What We Do in the Shadows" Season 3 episode "The Cloak of Duplication" as Wes Blankenship, the leader of The Council of Vampires.
The Council of Vampires is a group formed in opposition to the Vampiric Council. Nandor and Nadja, now in charge of the Vampiric Council, go after this new group for not paying their dues. Alvarez is appropriately pretentious and obnoxious in the role of Blankenship. The most memorable part of his cameo appearance is his brutal death scene — Nadja rips his heart out of his chest to scare the other Council of Vampires members into paying their Vampiric Council dues.
Khandi Alexander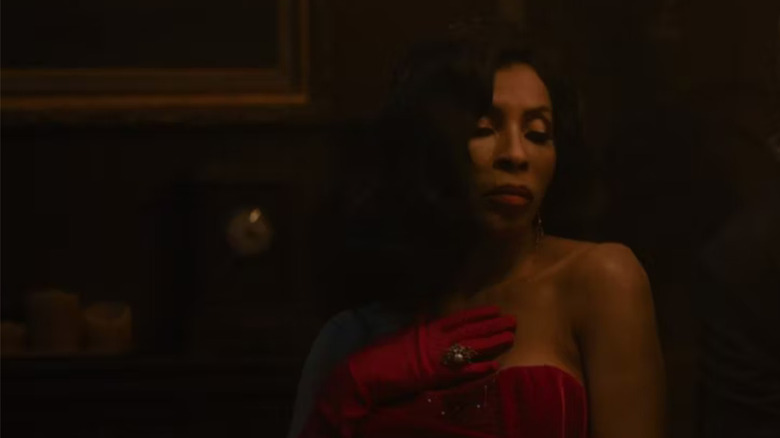 FX
Khandi Alexander is an award-winning actor known for such shows as "CSI: Miami," "Treme," and "Scandal," as well as a dancer responsible for choreographing Whitney Houston tours. In "What We Do in the Shadows" Season 3 episode "A Farewell," she plays Contessa Carmilla De Mornay, a 1000-year-old vampire. She's one of three major dinner guests from the Supreme Worldwide Vampiric Council in the episode.
This guest appearance ranks lowest of the three simply because Alexander doesn't have quite as much memorable material to work with. Even in this primarily reactive role, however, she shows a talent for comedy. Her line deliveries are pitch-perfect, particularly when it comes to her harsh assessment of Nandor's legacy (and his, um, endowment) when she and the others are convinced that he's dead. In truth, he was simply trying to "super slumber," a term used to describe a vampire sleeping for an extended period of time.
David Cross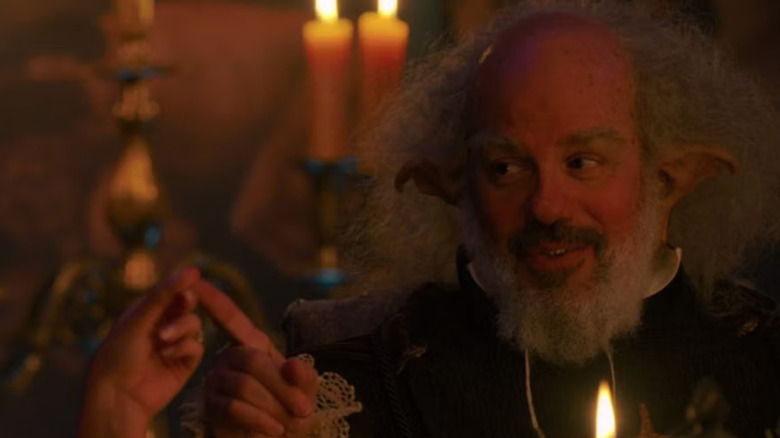 FX
David Cross, the actor and stand-up comedian best known for co-creating the sketch series "Mr. Show" with Bob Odenkirk and for playing Tobias Fünke in "Arrested Development," portrays Dominykas the Dreadful in "What We Do in the Shadows." According to legend, he single-handedly destroyed the Great Library of Alexandria, a famous landmark in Egypt and one of the most significant sites of the ancient world. He's a member of the Supreme Worldwide Vampiric Council and one of the dinner guests in Season 3's "A Farewell."
This cameo ranks slightly higher than that of Khandi Alexander mainly due to two memorable gags. The first is his super weird relationship with Coco, his human... familiar? Companion? Girlfriend? Whatever their creepy deal is, her dislike of "grown-up food" makes for some good comedy at the dinner party. The second big point in Dominykas' favor? He's the one who leads the charge in both observing and physically examining the supposedly dead Nandor.
Jeremy O. Harris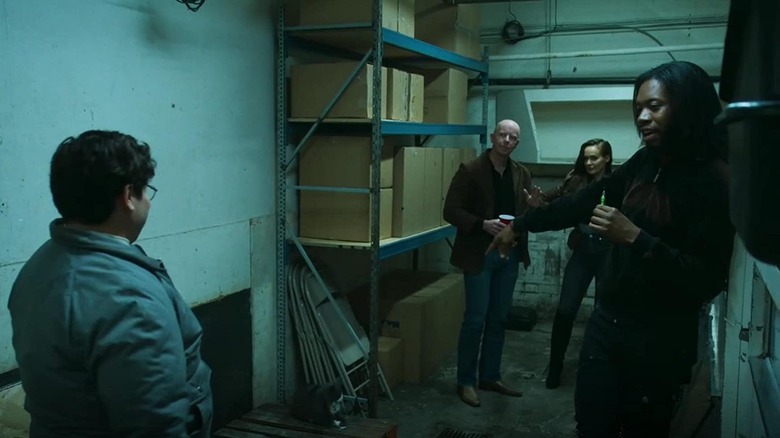 FX
This is one of the stranger celebrity cameos on "What We Do in the Shadows" because, while he has experience in acting, Jeremy O. Harris is much more famous as a writer than as a performer. Harris penned the Tony-nominated production "Slave Play." He was a co-writer on the Twitter thread-inspired 2021 movie "Zola," and he was also a consultant and co-producer on the HBO series "Euphoria." In "What We Do in the Shadows" Season 1 episode "Manhattan Night Club," he appears as a character called Colby.
Colby is one of the familiars Guillermo hangs out with in a dank closet space at the big vampire night club. His situation is a particularly awkward one: He has to pretend to be the father of his masters Dantos the Cruel and Radinka the Brutal, vampires who've been stuck as children for 400 years. This scene illustrates just how sad life as a familiar is, showing that there's a solidarity between workers stuck in the same situation.
Greta Lee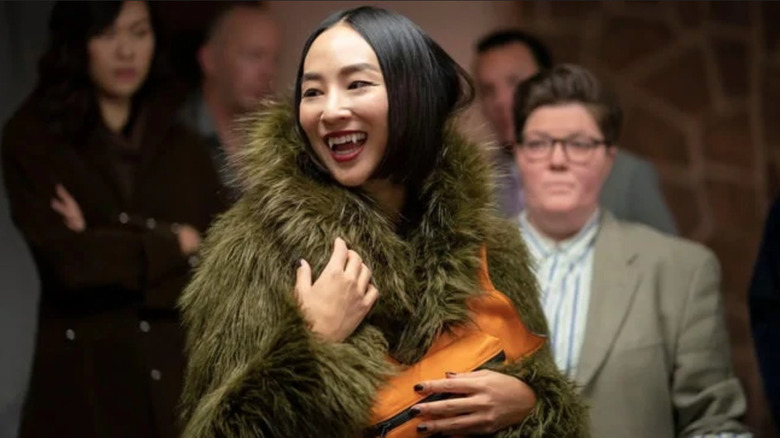 Greta Lee brings the same mix of coolness and comedy she brought to Maxine — the best friend of Natasha Lyonne's Nadia in the Netflix series "Russian Doll" — to the guest character Celeste in "What We Do in the Shadows" Season 2 episode "Collaboration." Guillermo knows her as a familiar, and while attending a meeting for familiars, he's shocked to see her apparently turned into a vampire. It turns out that this is just a trick, however, and she's only pretending to be a vampire out of jealousy.
Lee (who has also been seen on shows like "Inside Amy Schumer" and "Miracle Workers") is great in this role and her cameo would rank a lot higher if the storyline she's part of were more memorable. While the Celeste story is technically the A-plot of the episode, it's actually the subplot involving Laszlo and Nadja's musical stylings ("Come On Eileen" and "Kokomo" were apparently plagiarized from their work) that sticks in the memory.
Lauren Collins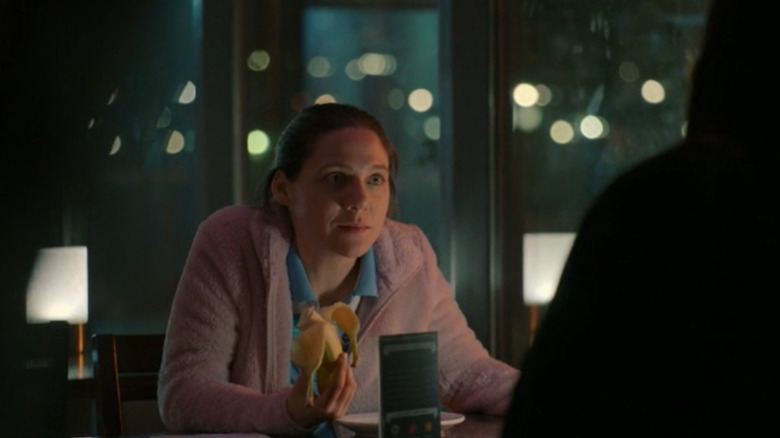 FX
Ontario native Lauren Collins is best known for playing Paige Michalchuk on "Degrassi: The Next Generation," the Canadian teen drama series. "What We Do in the Shadows" is actually the second FX vampire show she's appeared in — she previously played the role of Sophie in the fourth and final season of the much more serious vampire drama "The Strain."
In "What We Do in the Shadows" Season 3, Episode 2, "The Cloak of Duplication," Collins plays Meg, a gym receptionist whom Nandor has a crush on. Using the Cloak of Duplication, Laszlo, Colin Robinson, and Guillermo each take turns impersonating Nandor, both to try setting the two up together and to fix the messes each previous impersonator made of the situation. Meg is there to act as a foil for the vampires throughout the episode, but this relatively plain role gains points in this ranking for how well Collins plays off Kayvan Novak's hilarious impersonations of different actors trying to impersonate him.
Lucy Punch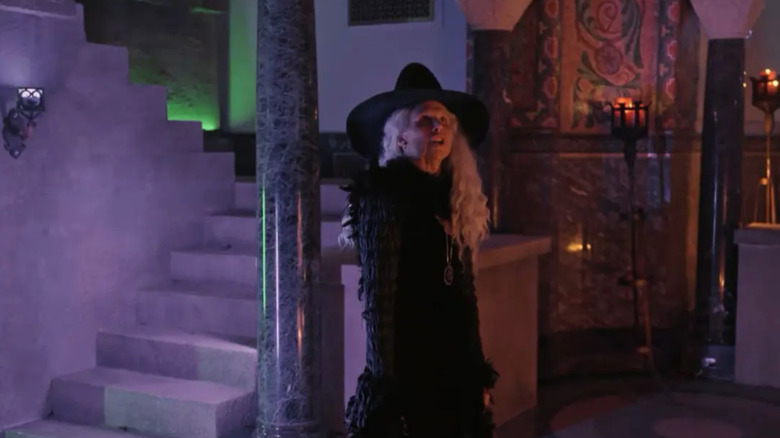 FX
Lucy Punch is a British actor who has had a lot of small roles in film and TV over the past two decades. Some of her bigger roles include Esmé Squalor in the Netflix adaptation of "A Series of Unfortunate Events" and Amanda in the BBC sitcom "Motherland." In "What We Do in the Shadows" Season 2, Episode 9, "Witches," she plays Lilith, the leader of the Brooklyn witch coven and a former friend of Nadja.
The episode has fun playing with both the lighter, new-age associations with witches and their darker fairy tale roles. Lilith (who has grown to hate Nadja) and her coven stay looking young by harvesting vampire semen, a plot that guarantees amusement. Punch told Bleeding Cool that this is a role she'd be excited to reprise at some point in the future, so it's possible her ranking on this list could move even higher down the line. Watch this space.
Scott Bakula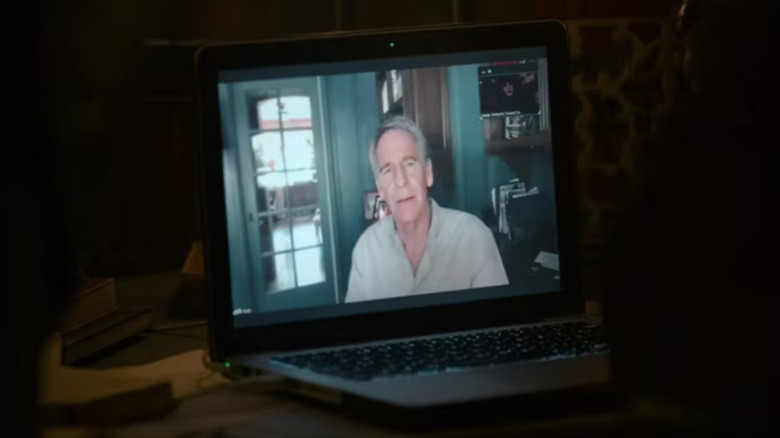 FX
Unlike other celebrities drawn into Vampiric Council activities, Scott Bakula is not a vampire in the "What We Do in the Shadows" universe. The "Quantum Leap" star, playing himself, gets a video call from Nadja in Season 3, Episode 7, "The Siren." Nadja and Nandor, who were co-running the Vampiric Council of the Eastern Seaboard of the New World at the time, mistook him for Count Dracula. Nadja quickly realizes her mistake.
"What We Do in the Shadows" is actually the second FX comedy series to feature Scott Bakula playing himself and make a Dracula joke about it. In the "It's Always Sunny in Philadelphia" Season 12 premiere, "The Gang Turns Black," Frank Reynolds mistakes Bakula for Blacula, the Black Dracula. While his "Always Sunny" cameo gave Bakula a lot more to do, it's nice to see him being such a good sport with silly jokes in "What We Do in the Shadows."
Catherine Cohen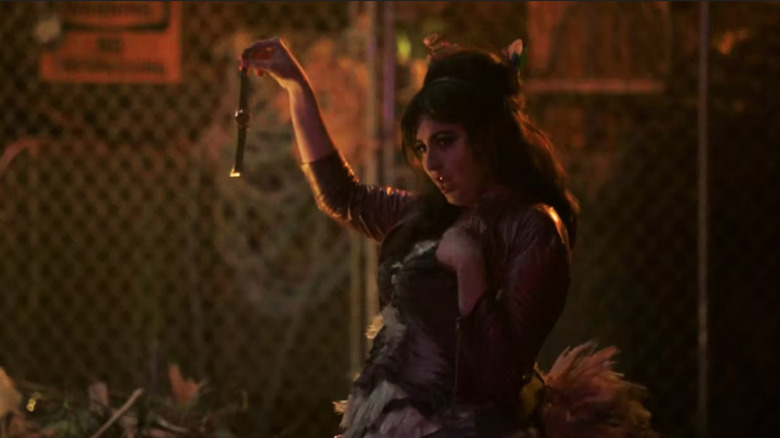 FX
While most of the celebrities on this list — whether A-listers or character actors — had well-established careers before their "What We Do in the Shadows" appearances, Catherine Cohen is someone for whom the series promises to be another stepping stone to greater success. Cohen's cabaret comedy act made several "comedians to watch" lists in 2018 and won an Edinburgh Fringe Festival award in 2019, which led to more TV appearances and her own Netflix special, "The Twist... ? She's Gorgeous," in 2022.
In "What We Do in the Shadows," Cohen plays Sheila, the titular creature of Season 3, Episode 7, "The Siren." Half-human and half-chicken with a hunger for flesh, her trashy personality and literal trash nest should logically be turn-offs. Yet, her powerful song manages to seduce both Laszlo and Colin Robinson, the latter of whom is temporarily convinced that he's genuinely in love with her.
Aida Turturro
FX
Aida Turturro is a familiar face to fans of "The Sopranos," in which she played Tony Soprano's sister Janice. In "What We Do in the Shadows," she plays the title character of Season 3, Episode 3, "Gail." Gail is Nandor's on-again, off-again human girlfriend who's repeatedly turned down his offers to marry her and make her into a vampire. When she shows up in the series, she's become a werewolf, which makes her latest fling with Nandor much more taboo.
Nandor tries to be accepting, but finding out that Gail also has a werewolf lover leads to a "Twilight"-inspired kickball match between the vampires and the werewolves to settle their tensions. Nadja accidentally injures Gail in the game, which prompts Nandor to do what he's always wanted to do and turn Gail into a vampire. Now both vampire and werewolf, Gail is grateful Nandor saved her — but she still doesn't want marriage.
Staten Island Werewolf Support Group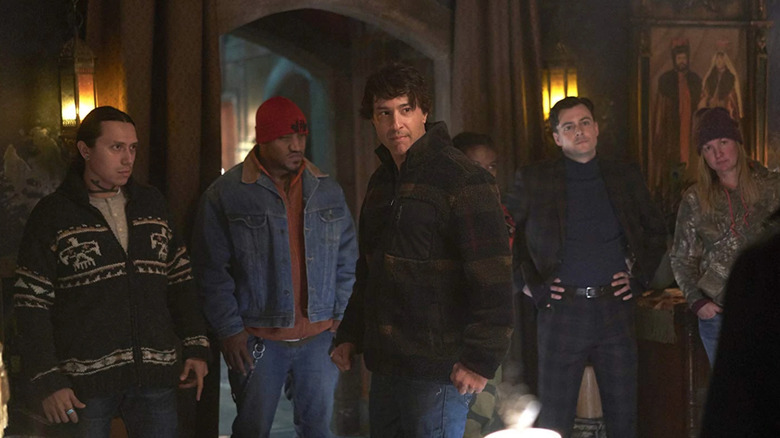 FX
You can't really do a vampire comedy without making some jokes about their rivalry with werewolves. The original "What We Do in the Shadows" film memorably featured a group of anxiety-conscious werewolves who befriended the local vampires. In the TV show, the Staten Island Werewolf Support Group, introduced in Season 1, Episode 3, "Werewolf Feud," has a much more uneasy truce with Nandor and company. Things get violent after one of the wolves pees on Laszlo's shrubbery. Nandor engages in a rooftop fight with a huge new werewolf named Toby, defeating him by throwing a squeaky dog toy off the ledge — Toby follows, falling several stories.
Two members of the group are played by particularly noteworthy performers. Stand-up comedian Arj Barker plays the pack leader Arjan. Barker previously worked with Jemaine Clement and Taika Waititi as part of the cast of the "Flight of the Conchords" TV series. Bobby Wilson of the Native American sketch comedy group the 1941s plays Marcus.
Donal Logue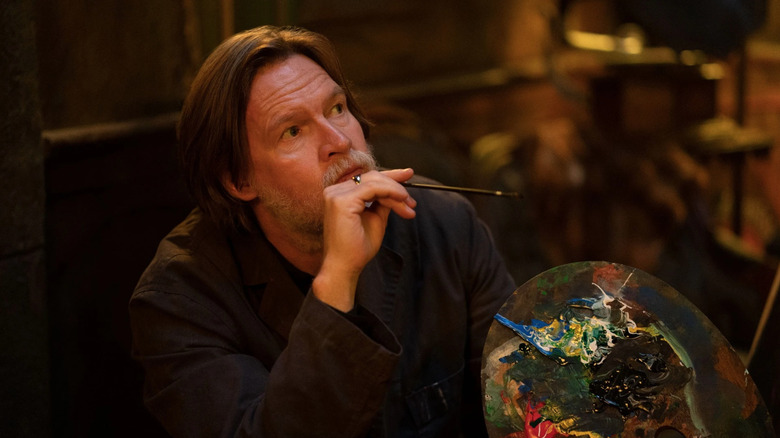 FX
The gimmick of having actors who've played vampires in other properties appear as vampiric versions of themselves wasn't quite as fresh a gag by the time "What We Do in the Shadows" brought in Donal Logue for the final two episodes of Season 3, "A Farewell" and "The Portrait." Even so, he commits to the still-pretty-amusing bit fully. In-universe, the fictionalized Logue claims he got so interested in vampires while playing the villain Quinn in "Blade" that he chose to be turned into a vampire himself.
Logue initially appears on the show as one of the guests attending a dinner for the Supreme Worldwide Vampiric Council, an event which coincides with Colin Robinson's 100th birthday party and death. He sticks around after the death because his skill at painting (developed while filming Season 2 of "Grounded for Life") makes him the ideal vampire to paint a Colin-free family portrait.
Benedict Wong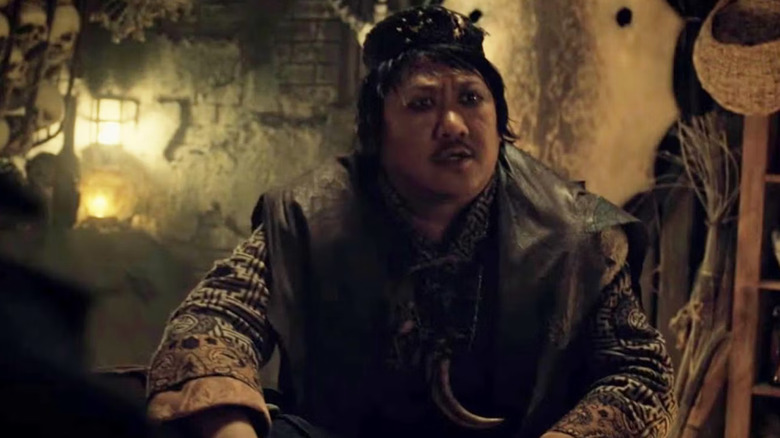 FX
Despite Taika Waititi's involvement in both, there's been surprisingly few Marvel Cinematic Universe stars appearing in "What We Do in the Shadows." The big exception is Benedict Wong, whose Sorcerer Supreme Wong has quickly become arguably the MVP of the MCU's Phase 4. In the "What We Do in the Shadows" Season 2 premiere, "Resurrection," he plays Wallace the necromancer with the same dry humor that's made Wong so beloved.
Nadja is charmed by Wallace and thinks he can resurrect her dear familiar Topher, while Laszlo thinks necromancers are all scam artists. The truth is somewhere in the middle: Wallace is capable of resurrecting Topher, but only as a mindless zombie — and he'll shamelessly try to sell you other useless goods before and after doing the job. At the end of the episode, it turns out he uses the zombies he creates as sweatshop labor for his cheap trinkets, bringing his whole hustle full circle.
Cree Summer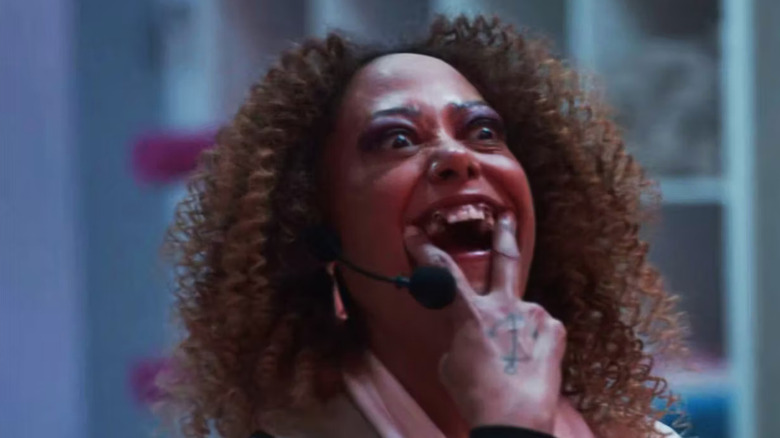 FX
You might not recognize Cree Summer's face, but you'll probably recognize her voice. One of the most prolific voice actors of the past four decades, her famous roles include Penny from "Inspector Gadget," Elmyra Duff from "Tiny Toon Adventures," Susie Carmichael from "Rugrats," and Kida from "Atlantis: The Lost Empire." In "What We Do in the Shadows" Season 3 episode "The Wellness Center," Summer is hilarious in the live-action role of Jan, the leader of an "ex-vampire" cult.
Pulling out her fangs, Jan offers false hope to other vampires that they can become human again. Nandor, who has sunk into a depression, is an easy mark for her con, which involves, among other things, sing-alongs to "One Week" by the Barenaked Ladies. Guillermo is able to save his master, but others in the cult aren't so lucky: Jan sends them all off into the sunlight, promising them "humanity" while actually killing them.
Craig Robinson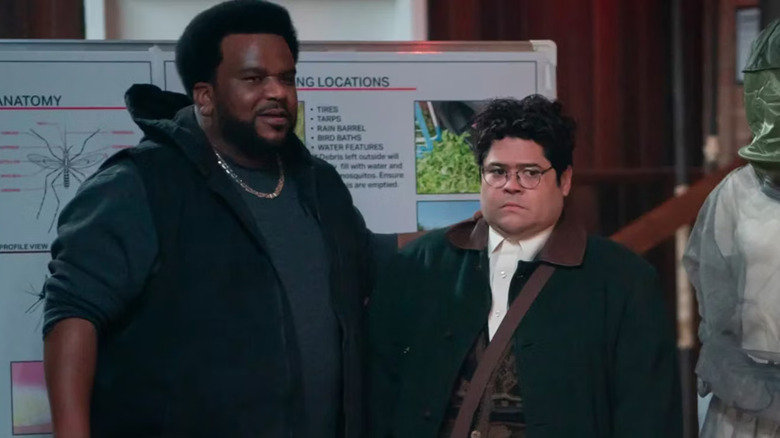 FX
"What We Do in the Shadows" Season 2 centers heavily around Guillermo's struggle with his Van Helsing family heritage and what it means for a vampire familiar to be a natural vampire hunter. In Season 2, Episode 3, "Brain Scramblies," Guillermo thinks he's found a group of virgins to feed his masters when he goes to a meeting of the Mosquito Collectors of the Tri-State Area, but it turns out "mosquito collecting" is just a front for a group of vampire hunters. The group's leader, Claude, is played by Craig Robinson, recognizable from "The Office," "Brooklyn 99," and multiple Seth Rogen movies.
Claude and the "mosquito collectors" return one episode later in "The Curse," and their story might be the closest this wacky TV series comes to an actual horror movie. The group's found footage-style invasion of a house of creepy disco vampires goes awry quickly, with Guillermo having to use his incredible vampire killing skills in order to save Claude and the other human survivors.
Nick Kroll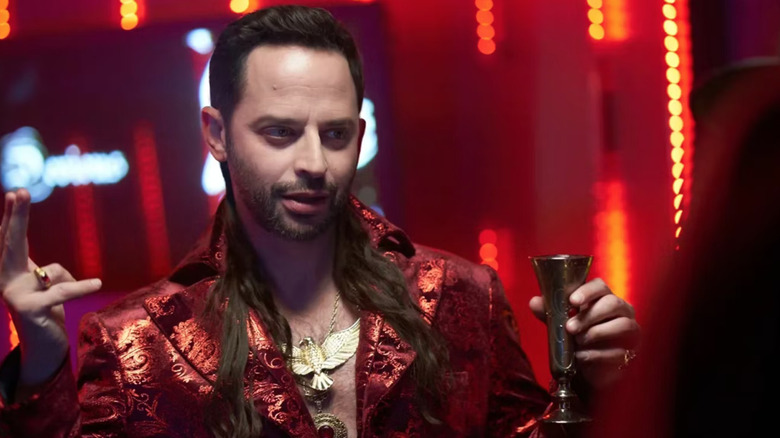 FX
A guest star so fun he had to show up twice, Nick Kroll plays Simon the Devious, the leader of Manhattan's Leather Skins vampire group and owner of the Sassy Cat Night Club. Introduced in Season 1, Episode 4, "Manhattan Night Club" as a powerful and influential figure, his big undoing is his obsession with acquiring Laszlo's cursed witch skin hat. When he takes it from Laszlo, the curse causes him to blow up his own club — and Laszlo still inexplicably wants the hat back despite its cursed nature, so he steals it from Simon in the hospital.
Simon returns in Season 2, Episode 7, appropriately titled "The Return." Now living in the sewers, he calls upon Nandor, Laszlo, and Nadja to help him return to full health, but of course what he really wants is the cursed hat. Once again, the hat causes some serious injury, but what truly hurts him this time is that none of the Leather Skins actually like their devious boss enough to try and save him.
Mark Hamill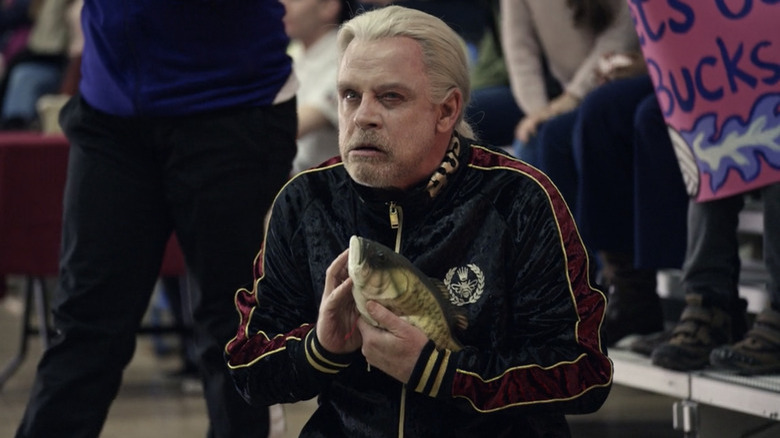 FX
Mark Hamill, beloved for playing Luke Skywalker and basically every cartoon villain, got to show off his skill at hammy villainy in live-action (and also added one of the best-named characters ever to his resume) in "What We Do in the Shadows" Season 2, Episode 6, "On the Run." Jim the Vampire is an old enemy of Laszlo's, one so intimidating that his very presence inspires Laszlo to run away from his vampire family and go into hiding as the ordinary human bartender Jackie Daytona.
Things get complicated in the new life of Jackie Daytona when Jim the Vampire shows up at his bar. Amusingly, Jim is completely fooled by Laszlo's disguise (which consists of just a toothpick), and is genuinely shocked when he realizes that Jackie Daytona is the very vampire he's been hunting down for money for 167 years. In the end, Laszlo is able to pay off his debts to Jim by giving him a Big Mouth Billy Bass, which astonishes Jim with its "beauty." When it breaks and Jim learns that replacements are cheap, he swears vengeance against Laszlo again.
Vanessa Bayer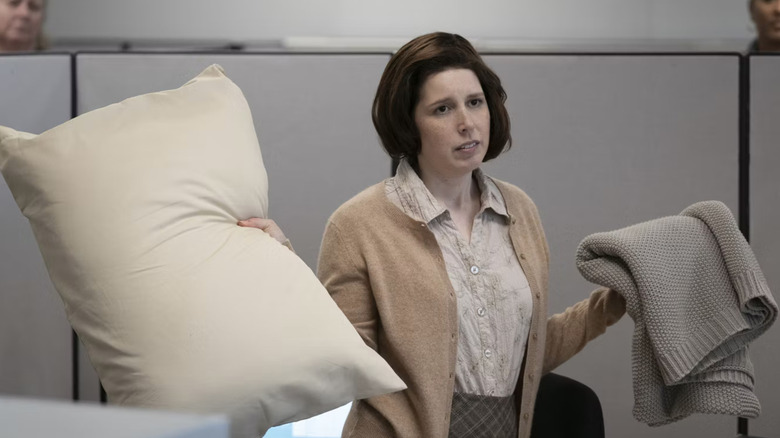 FX
It's basically expected that a comedy like "What We Do in the Shadows" is going to feature at least one "Saturday Night Live" performer at some point or another, so Vanessa Bayer's appearance in Season 1, Episode 3, "Werewolf Feud," isn't as surprising as some of the others on this list. However, Bayer does give one of the show's absolute funniest performances as the emotional vampire Evie Russell.
Where an ordinary energy vampire like Colin Robinson feeds on people's boredom, the emotional vampire Evie feeds on pity — her M.O. is to come up with the most ridiculously upsetting sob stories possible. Colin quickly figures something's up with her when she somehow doesn't find him boring, and realizes the name Evie is code for "E.V." (emotional vampire). Colin and Evie join forces and even end up dating — the way they keep trying to one-up each other in feeding off people is pure comedic gold. Their relationship comes to an end due to being deeply unhealthy, but, as Colin puts it, it was "never dull."
Haley Joel Osment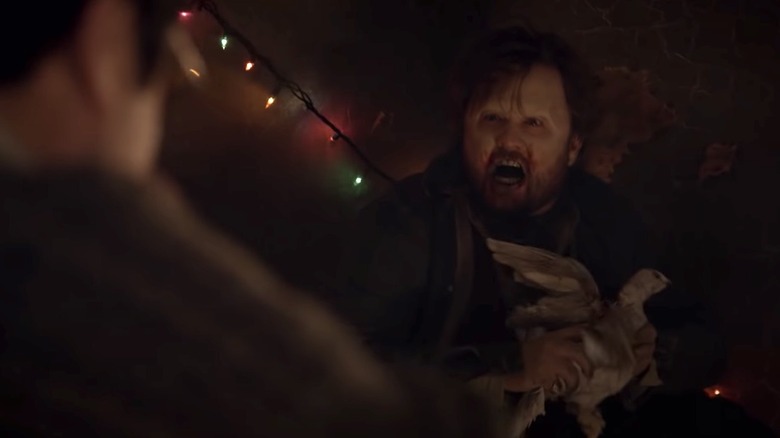 FX
Haley Joel Osment, who played the kid who saw dead people in "The Sixth Sense," was everywhere at the turn of the millennium. As an adult who does far less on-screen acting (he's probably best known today for voicing Sora in the "Kingdom Hearts" games), he makes for perhaps the most surprising "Wait, it's that guy?" cameo in "What We Do in the Shadows." His cameo is easily among the funniest and best-acted.
As Topher, Nadja and Laszlo's new familiar in the Season 2 premiere "Resurrection," he essentially gets to play two characters. The first is a slacker who tricks his vampire masters into thinking he's doing a great job, a perfectly obnoxious foil for the hard-working yet under-appreciated Guillermo. The second, after he dies and gets resurrected, is as a mindless zombie who can only scream his name. Despite this, his vampire masters still love him and think that he is doing a great job.
Everyone in The Trial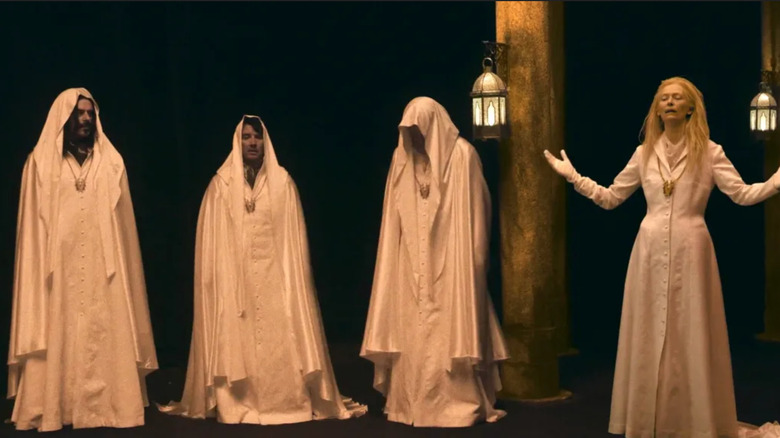 FX
No episode of "What We Do in the Shadows" is packed with more celebrity cameos than Season 1, Episode 7, "The Trial." This isn't a case of quantity over quality either — the episode gives its impressive roster of guest stars entertaining material to work with. "The Trial" first introduced viewers to eventual series regular The Guide (Kristen Schaal), included Dave Bautista as the imprisoned vampire Garrett, and, best of all, featured a veritable who's-who of vampire actors playing members of the Vampiric Council.
Tilda Swinton, who played the vampire Eve in "Only Lovers Left Alive," is the Council's leader. Other Council members include Paul Reubens (Amilyn from the "Buffy the Vampire Slayer" movie), Danny Trejo (Razor Charlie in "From Dusk till Dawn"), and Evan Rachel Wood (Sophie-Anne in "True Blood"). Taika Waititi, Jonathan Brugh, and Jemaine Clement also reprise their roles as Viago von Dorna Schmarten Scheden Heimburg, Deacon Brucke, and Vladislav the Poker from the original 2014 "What We Do in the Shadows" movie. Wesley Snipes, who's a half-vampire Daywalker just like his character Blade, appears via video chat on Skype. Fellow vampire actors Robert Pattinson, Kiefer Sutherland, Tom Cruise, and Brad Pitt are alluded to as being Council members who couldn't make it.