Strange New World's Paul Wesley Had To Keep A Major Star Trek Secret From William Shatner
Marni Grossman/Paramount+
Paul Wesley certainly is used to a rabid fan base. For eight years he played the tortured Stefan Salvatore on The CW's teen angst vampire romance "The Vampire Diaries." The series spawned two spin-offs and the eternal struggle of which Salvatore brother Elena Gilbert (Nina Dobrev) should really end up with. Now five years after the ending of "The Vampire Diaries," Wesley is ready to go boldly where many men have gone before, in one of the most popular sci-fi franchises to date — because in a role that was largely kept under wraps, Wesley joined the cast of "Star Trek: Strange New Worlds," in the Season 1 finale, as a younger James T. Kirk.
Up until this point, the Paramount+ series has followed the adventures of U.S.S. Enterprise Captain Pike (Anson Mount), before the Captain Kirk that we know and love ever took up the captain's chair. Though used sparingly in the last episode, Wesley has big things in store for him when the iconic "Star Trek" character returns in Season 2. So big, in fact, that he even had to keep it from the original Kirk, William Shatner.
Wesley's appearance as Kirk was shrouded in secrecy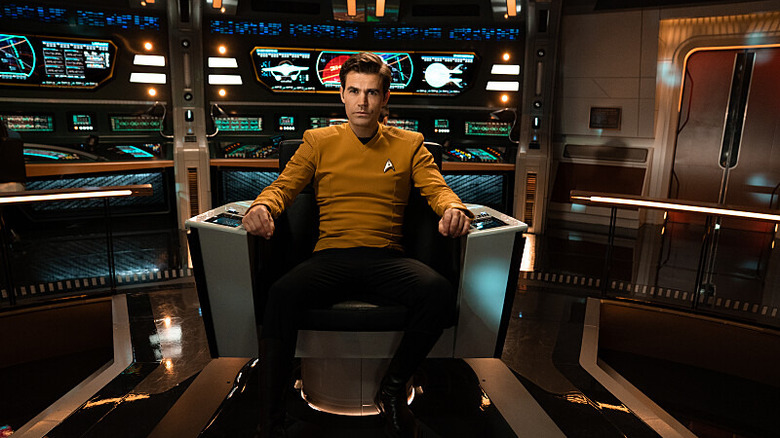 Marni Grossman/Paramount+
With Officer Spock (Ethan Peck) already on the crew of the Enterprise, it could be argued that it was only a matter of time before Captain Kirk would make an appearance, as well. As fate would have it, not only was Paul Wesley cast as the famed captain, but after it happened, he also ran into the man that first portrayed the character on screen. While on a plane, Wesley and William Shatner were seated next to each other. And though it seemed like an opportunity of the lifetime, Wesley knew that he was not allowed to tell Shatner about his exciting news.
"I was under this sworn secrecy, NDA madness, so I wasn't able to be like, 'Hey, so, as you know, I'm playing Kirk, give me the tips.' I had to kind of tiptoe, and I had to really play it dumb in a way," Wesley told Collider. "I wanted so badly to just talk to him about it so openly and I [also] didn't want to bother him."
Wesley went on to say that in order to be respectful, he just held a normal conversation with the veteran actor. And it wasn't just Shatner he had to keep a secret from. Only those closest to Wesley were able to be in on the secret, as he told Entertainment Weekly. "I didn't tell anyone other than very, very close family and friends. And it was like an 'if you say anything, I'm never talking to you again' kind of thing."
The real Kirk is coming to Season 2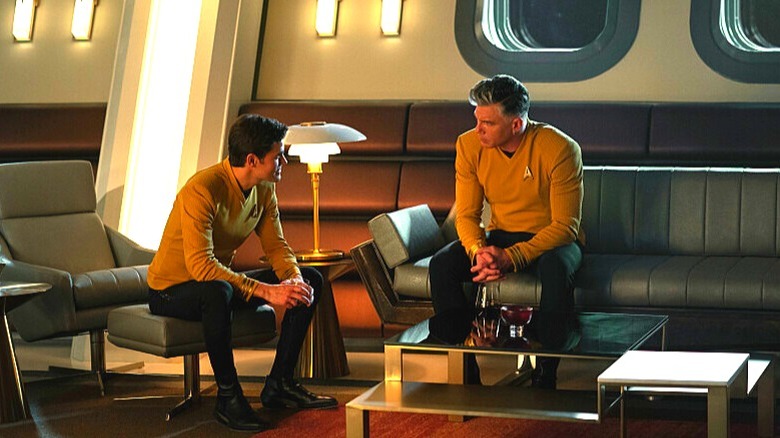 Marni Grossman/Paramount+
Though Paul Wesley's appearance was revealed back in March, that was not initially how the announcement was supposed to go. In an interview with Entertainment Weekly, Wesley revealed that his Season 1 appearance was supposed to be a total surprise. "Ultimately, we weren't even really gonna announce that I was playing Kirk at all until suddenly I just appeared on screen in the finale," Wesley told the publication. "But then we were shooting season 2 and a couple of photos came out because we did an episode where they go to Earth. That's when they said, 'Okay, let's just announce it because there's a lot of speculation,' etc." 
The photos released were for the second season of "Strange New Worlds," so that still left some room to surprise audiences. Particularly because when Kirk appears in the last episode of Season 1, he is not how viewers are used to seeing him — rather, Pike encounters Kirk in an alternate projected universe where is instead the captain of the U.S.S. Farragut. Because this Kirk was just a variation, Wesley didn't feel overwhelmed about how his portrayal would measure up. But when he returns for Season 2, that will be a different story.
"I can't talk about Season 2 too much, but it's a little bit more in line with a Kirk that we know." 
Fans will have to wait to see what is in store when "Strange New Worlds" returns in 2023.