An Iconic Star Trek Character Is Coming To Strange New Worlds Season 2
Thanks to streaming giant Paramount+, the "Star Trek" franchise has been allowed to expand in exciting and unexpected ways over the last few years. From original shows like "Star Trek: Discovery" to series that have brought back iconic characters, like "Star Trek: Picard," there seems to be more than enough content for all types of "Star Trek" fans. The newest series, "Star Trek: Strange New Worlds," is just the latest example of this great expansion. Its inaugural season will premiere on Paramount+ in May. Even better: In January, long before the premiere date was set, "Strange New Worlds" received a Season 2 renewal (per The Hollywood Reporter).
"Star Trek: Strange New Worlds" will focus on the adventures of Captain Christopher Pike (Anson Mount), a character who has appeared in "Star Trek" in more than one form since the days of "Star Trek: The Original Series." The forthcoming "Strange New Worlds" will take place approximately 10 years before that show, effectively serving as a prequel series. With that in mind, an iconic "Star Trek" character was just announced to be joining the show when it comes back for a future Season 2.
James T. Kirk will show up on Star Trek: Strange New Worlds Season 2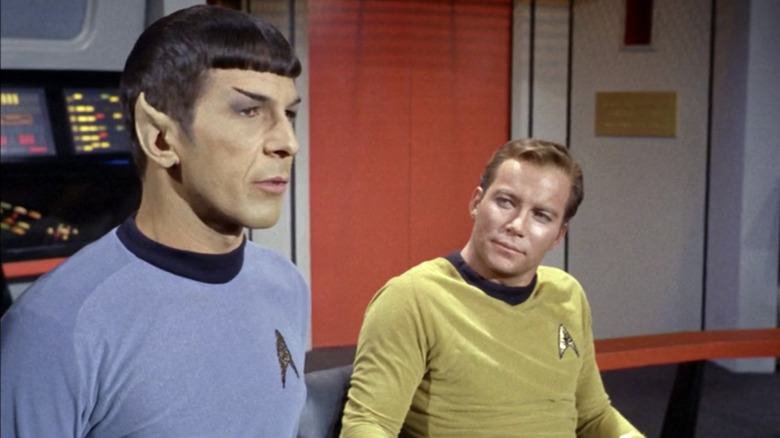 CBS
As announced on the official "Star Trek" site on Tuesday, March 15, Paul Wesley has been cast as the legendary Captain James T. Kirk for Season 2 of "Star Trek: Strange New Worlds." Wesley is probably best known for his leading role as Stefan Salvatore on "The Vampire Diaries." Although Wesley played the handsome vamp for the show's entire eight-season run, Kirk is arguably the most iconic role that Wesley has landed thus far in his career. He will be the third actor to play the famed Starfleet captain, following in the footsteps of Chris Pine, who portrayed the character in the recent "Star Trek" film franchise, and William Shatner, who originated the role in "Star Trek: The Original Series."
It's unclear what role Kirk will play in the second season of "Strange New Worlds," but his addition to the crew is pretty monumental. Longtime "Star Trek" fans know that he eventually becomes captain of the USS Enterprise, where a bulk of the upcoming show will take place under the command of Anson Mount's Captain Christopher Pike. It's doubtful that producers would announce a casting decision this major and this early into production if they simply planned on having his appearance be a one-off. Still, anything is possible; fans will have to wait and see how this one pans out.
Either way, the addition of Wesley in the role of Kirk is sure to bring yet more lapsed "Star Trek" fans back into the fold, if out of curiosity more than anything else. "Star Trek: Strange New Worlds" Season 1 debuts on Paramount+ on May 5.