Jerry Absolutely Loved This Kramer Joke On Seinfeld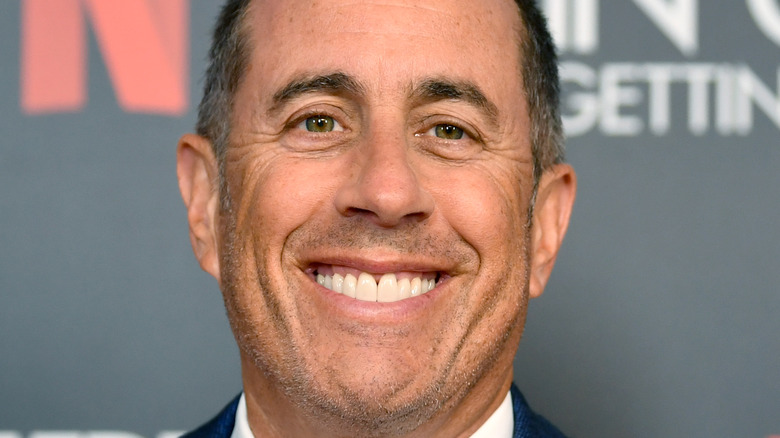 Emma Mcintyre/Getty Images
"Seinfeld" is the kind of solid, dependable show fans can count on for good comedy. It's all about the jokes, from the opening clip of Jerry Seinfeld, as a fictionalized version of himself, performing his act straight through the plotline (during which "nothing happens"), and concluding with an outro featuring Jerry at the mic once again. Or at least that's how the show was structured through Season 7. After that, co-creator Larry David left and Seinfeld took over as showrunner, creating a new format that relied on his cast for comedy rather than his stand-up (via Screenrant).
And with that change, the jokes kept coming, with Julia Louis-Dreyfus (as Elaine Benes), Jason Alexander (as George Costanza), Michael Richards (as Cosmo Kramer), and various recurring guests proving more than up to the task. "The chemistry was great, right from the get-go," David told Rolling Stone. "It was the perfect blend — all great actors, all really funny. Everybody just fit in so well. It just really worked, which is an understatement."
Considering the length of time "Seinfeld" originally aired (nine seasons from 1989 to 1998) and the number of laughs in each episode (impossible to count), it's hard to guess which moment might be a standout for the show's namesake. But there was one Kramer joke he remembers as a personal favorite.
It was Dr. van Nostrand who actually delivered the line
Kramer's comedy on "Seinfeld" isn't just about delivering dialogue. A lot of his humorous moves are, well, physical movements. He doesn't enter a room like other people. He bursts through the door to Jerry's apartment like a strong gust of wind is pushing him forward. He slides as if he's on roller skates, coming to an abrupt and skillful halt. And then there are the many other moments that showcase Michael Richards' physical talents throughout the show. Fans will never forget the way he stumbled, fell, and repeatedly recovered as he made his way through a subway car in Season 3, Episode 13, "The Subway." Or his Hollywood audition, requiring him to dance for a music video, guzzle green liquid for an infomercial, perform high kicks for an exercise tape, and scream for a horror movie in Season 4, Episode 1, "The Trip (Part 1)."
It wasn't Kramer's physical comedy that captured Jerry Seinfeld's attention in one particular episode, however. Seinfeld favors a Kramer joke that landed perfectly in Season 8, Episode 5, "The Package." "I do really like when Kramer was trying to find Elaine's medical records and he goes into the hospital and he says, 'I'm Dr. van Nostrand from the Institute,' and the receptionist says, 'What Institute?' and he goes, 'That's right,'" Seinfeld said (via extratv). "That's one of those jokes that's, really, it's so simple but so funny."
Considering Jerry's affinity for succinct comedy, it makes sense he would appreciate that subtle line. But a bit of background can help illuminate the humor.
It wasn't van Nostrand's first appearance on Seinfeld
In "The Package," Elaine learns she's been labeled "difficult" in her medical chart, which is making it hard to find treatment for a rash she's developed. When she tries switching doctors, the chart follows her, and she's reduced to enlisting Kramer's help. He agrees to pose as a doctor and retrieve her records from the office.
Kramer first uses his van Nostrand alias in Season 3, Episode 9, "The Nose Job," where he plans to pose as Elaine's fiancé in a scheme to retrieve a jacket. In the latter episode, he revives his alias with an added honorific and enters the medical practice puffing on a pipe with Elaine's borrowed scarf around his neck. "I'm Dr. van Nostrand from the clinic," he says, offering a lengthy explanation as to why he needs her chart. "What clinic is that again?" the receptionist asks, to which he replies, "Ah, that's correct."
While he didn't have the lines exactly right, Jerry Seinfeld remembered the heart of the joke and there's no denying it's funny. And it's not just the line that gets a laugh, but Michael Richards' skillful delivery combined with his facial movements. He puffs on his pipe, smiles quickly, and purses his lips, blinking and widening his eyes. Everything he does is committed to that moment, and it all happens in a flash. It's a scene that shows fans how one actor created a brand of comedy that wove its way into the style of the show. Richards' Kramer was unique in an incredibly talented lineup, and it's no wonder Seinfeld calls out this particular joke as one he'll never forget.