Ewan McGregor Reveals The Unexpected Inspiration Behind His Birds Of Prey Villain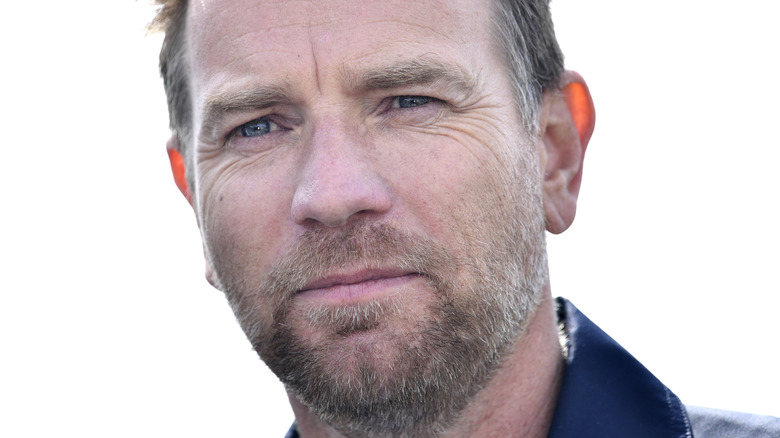 Gareth Cattermole/Getty Images
Ewan McGregor has had a decidedly impressive career since he broke out in Danny Boyle's "Trainspotting" all the way back in 1996. Since then, the actor has been steadily busy and almost always working, stacking up an impressive 95 acting credits in total as of this writing (via IMDb). Over the years, McGregor's roles have taken him all over the map, playing everything from a lovestruck writer in "Moulin Rouge" to a tortured psychic in "The Shining" sequel "Doctor Sleep."
Lately, McGregor has been dipping his toes into massive franchises like "Star Wars" and the DC Extended Universe. While his Disney+ series saw him returning to his memorable role as Obi-Wan Kenobi from the "Star Wars" prequels, the character he played in "Birds of Prey" was much more of a deep cut. Black Mask, a.k.a Roman Sionis, is not a villain many Batman fans will recognize, but that doesn't mean McGregor didn't dig deep to find the character's sinister sense of malice.
Ewan McGregor drew from Halston for the role
Ewan McGregor drew from a role you might not have expected to help craft his take on Roman Sionis. Coming fresh off of his performance as famed fashion designer Roy Halston Frowick in the miniseries "Halston," McGregor admitted the character was still very much in his head as he took on the villainous DCEU role.
"I knew I was going to be playing Halston when I made 'Birds of Prey,' and so I was certainly thinking about Halston a bit," McGregor told GQ. "There was something similar about the grandiosity." The actor went on to explain that he was able to draw parallels between the DCEU character and the designer in terms of how they wanted to be in control of things. 
It's a surprising place to draw from for the character of Black Mask. In the comics, Sionis is a brutal, unflinching, and utterly nasty character, and while this remains true in "Birds of Prey," there's a sense of haughtiness and emotional instability that has been added to the character. Likely, it's this aspect of the character that McGregor leaned into with regard to his Halston performance.
"It was just fun to play Roman. I liked that he could lose his temper in the blinking of an eye," McGregor continued. "Really, he goes from zero to a hundred within a split second." Though McGregor only got one movie to play the DCEU villain, he certainly made the character his own in "Birds of Prey," and it would seem this unlikely inspiration played a big part in that.