The Bones Scene That Makes Even Longtime Fans Cry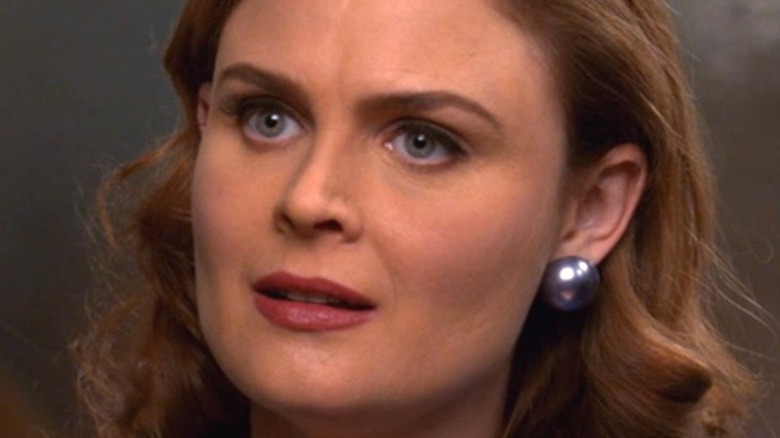 Fox
Crime dramas have taken over and been all the rage for a few decades at this point and don't show signs of slowing down any time soon. This makes for a lot of good television, but also for a lot of television shows doing the same thing, only with a different cast. The popularity of these types of series means that show creators have the challenge of coming up with a unique take on an already saturated genre.
That's exactly what fans were given in 2005 when "Bones" first aired. The series takes the classic FBI crime drama series and adds a unique twist by placing a forensic anthropologist, Dr. Temperance "Bones" Brennan (Emily Deschanel), in the mix to analyze human remains from old FBI case files and find out what may have happened to victims.
"Bones" won over the hearts of fans with its comedic touch and charming characters whose storylines developed naturally over each season. Some fans are so invested in the series that even years after the show's ending in 2017, there's still a scene that brings some to tears. However, the reason why these longtime "Bones" fans have complaints about that scene is surprising.
Seeley Booth really tossed an engagement ring into a lake
Season 12 of "Bones" contains a scene that's still upsetting fans today. Redditor u/NotoriusB_i_queen created a thread calling out the iconic scene. "YEARS after it happened, every single time I see it I want to CRY. SEELEY BOOTH WHY WOULD YOU THROW AN ENGAGEMENT RING THAT WAS THAT EXPENSIVE INTO A LAKE???? SHE SAID NO I GET IT BUT YOU COULD HAVE RESOLD IT AND GOT YOUR MONEY BACK," they wrote.
Yes, it's true. Seeley Booth (David Boreanaz) did, in fact, toss an engagement ring into a lake "Titanic"-style after he faced disappointment. The dramatic effect looks great for television, but it's clear fans are still upset years after the fact. User u/EmeraldDesert commented on the thread to remind us of one simple thing — "Money doesn't exist on television." This may be true, but the tossing of the ring appears to be distracting fans from what was meant to be the sad part of the scene, which was Hannah Burley (Katheryn Winnick) turning down Booth's marriage proposal.
By this point, fans of the show already know that the heartbreaking storyline surrounding episodes with Hannah, the rejected proposal, and the engagement ring that most likely became fish food was all necessary for Booth to end up with his co-worker and fellow main character, "Bones" herself. The relationship was teased throughout the whole series, and the two ending up together was the ending fans needed. 
Behind the scenes, Boreanaz and Emily Deschanel remain as close as ever, too. In an interview with Entertainment Tonight, Boreanaz recalled how it was so easy to create successful on-screen chemistry with his co-star. "We kind of really opened our hearts to each other, and we really trusted each other, which gave us some really great material to work with," he said. Happy ending aside, if it wasn't a television show, that ring would have hopefully been returned for a full refund instead of sitting in a lake.