Breaking Down Furio's Amazing Style On The Sopranos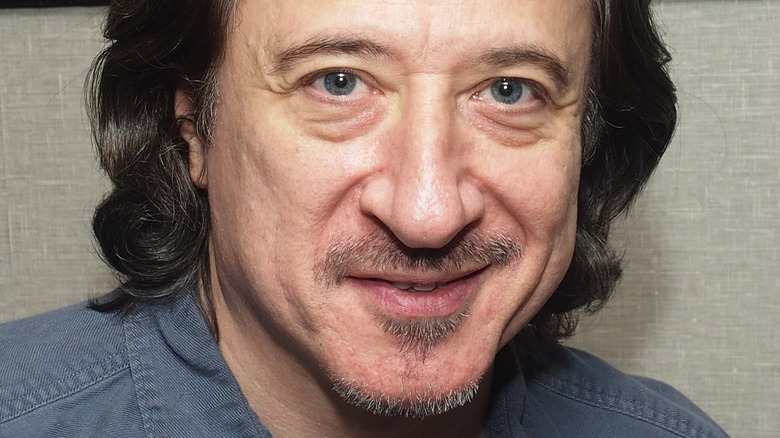 Bobby Bank/Getty Images
When it comes to style, Tony Soprano (James Gandolfini) and his mob crew know what they like and stick to the status quo. Throughout "The Sopranos," the majority of Tony's mobster crew members aren't overly particular about their respective senses of style.
But in Season 2, Episode 4 ("Commendatori"), one man brings a vibrant sense of fashion to the series — Furio Giunta (Federico Castelluccio). Tony, Paulie "Walnuts" Gualtieri (Tony Sirico), and Christopher Moltisanti (Michael Imperioli) first encounter Furio during a visit to Naples, where their goal is to sort out a deal involving smuggled cars. In exchange for reduced-price vehicles, acting boss Annalisa Zucca (Sofia Milos) agrees to let her top guy Furio go to America with Tony's crew.
Furio is a tough-as-nails addition to the DiMeo crime family, one who always manages to secure money from those who don't want to pay up. Despite his oftentimes brutal exterior, Furio isn't afraid to show off his flashy attire in any kind of situation, whether he's celebrating his housewarming party or helping Tony dispose of Richie Aprile (David Proval).
Let's take a look back at Furio's unforgettable style on "The Sopranos" and what Castelluccio thought about his character's distinct wardrobe.
What exactly did Furio wear on The Sopranos?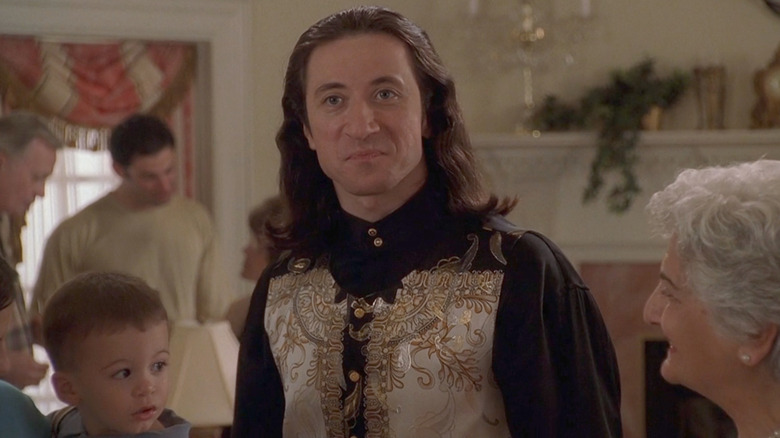 HBO
When Tony heads back to New Jersey with his brand new associate, he naturally wants to give Furio a big American welcome. At the Soprano household, a party is held for Furio, who sports an eye-grabbing button-down. The shirt features a black collar and sleeves, which are offset by a golden front inlaid with various patterns and details. To add to the overall look, Furio ditches his signature slicked-back ponytail in favor of letting his locks flow freely.
During his tenure on "The Sopranos," which lasts until Season 4, Episode 12 ("Eloise"), black and gold is a common palette for Furio, who even rocks these colors in a tiger print button-down. Being the fashion-forward man that he is, Furio also occasionally wears patterns of red, blue, and other tones. Sometimes, Furio opts for the more Jersey-esque mob look of a black leather jacket and shirt. Yet he's never spotted looking sloppy. 
A prime example of this is in Season 2, Episode 12 ("The Knight in White Satin Armor"), when Tony calls on Furio and Christopher to get rid of Richie's body after Janice (Aida Turturro) shoots him. Even when tasked with such a dark deed, Furio shows up at Janice's residence in a silk black, gold, and blue number, though he trades this for a white T-shirt when things get messy at Satriale's Pork Store.
Is Furio's wardrobe inspired by Italian fashion?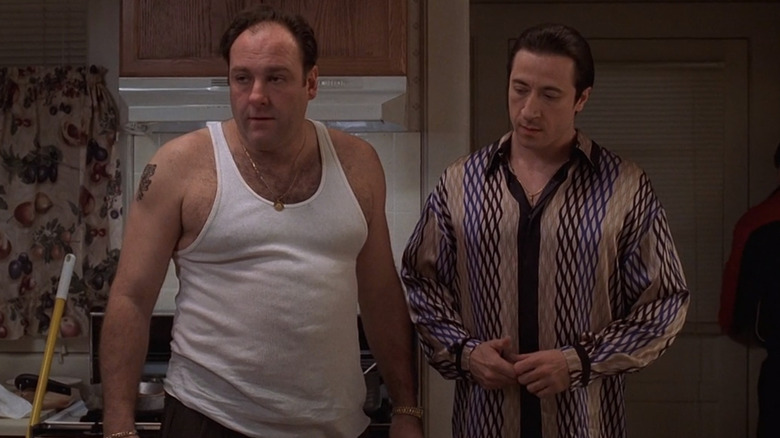 HBO
It's no secret that the character of Furio hails from Italy, but what about his clothes? According to GQ's Rachel Tashijan, a fashion journalist and critic, "The power of these shirts comes down to their bold ability to combine two elements which would be entirely opulent on their own — wild scrollwork borrowed from Italian Renaissance/baroque architecture and silk fabric."
As for the brand of the shirts, Juliet Polcsa, who served as costume designer for "The Sopranos," revealed in an interview with GQ that several of them were true Versaces. When Polcsa couldn't get her hands on the real deal, Castelluccio was dressed in a knockoff of the Italian brand. Tashijan explained the symbolism behind this creative choice and why it perfectly defines Furio. "For Gianni Versace, the printed silk shirt represented an entirely new definition of masculinity, totally modern and liberated, with little regard for bourgeois male fashion standards like the tie and the traditional suit," she said.
It's a stark contrast to the Fila tracksuits often worn by Christopher, Paulie, and friends, but the guys never poke fun at Furio's flashy attire. A possible reason for this is because they know how tough he can be and don't want to be on the receiving end of his anger. Another possibility is that they simply understand that his style comes from his Naples roots, which they have an extremely deep respect for.
What does Federico Castelluccio think of Furio's wardrobe?
Furio confidently dons an array of silky duds, but the actor behind Tony's most feared associate doesn't boast the same affinity for them. During his GQ interview, Castelluccio even admitted, "Those loud Versace shirts were not my taste, obviously, but they totally worked for the character." The actor may not have loved Furio's wardrobe, but the same can't be said for many fans. 
On Reddit, when u/dcee101 asked, "Is Furio the worst dressed character in all of TV?," Furio fans fiercely defended their favorite character. In response, u/reformedsinner countered, "What are you, threatened by the fact that he has a sense of style?," while u/fnuggles said, "I suppose you'd prefer to be buried in a jogging outfit." Furio may run back to Naples in Season 4 when his feelings for Carmela Soprano (Edie Falco) become too powerful, but it's evident that his signature shirts made a lasting impact on "The Sopranos." 
According to Castelluccio, the color scheme also features subtly hidden themes that explain a lot about mob life. "I would think the black is there because, subconsciously, it's a dark thing that they're doing. The underworld of the mob is very dark," he told GQ. "And then the glitzy part of it was the gold. It makes sense with an underlying tone. There was a duality to Furio."