James Caan's Hilarious Inspiration For The Godfather's Sonny Makes Too Much Sense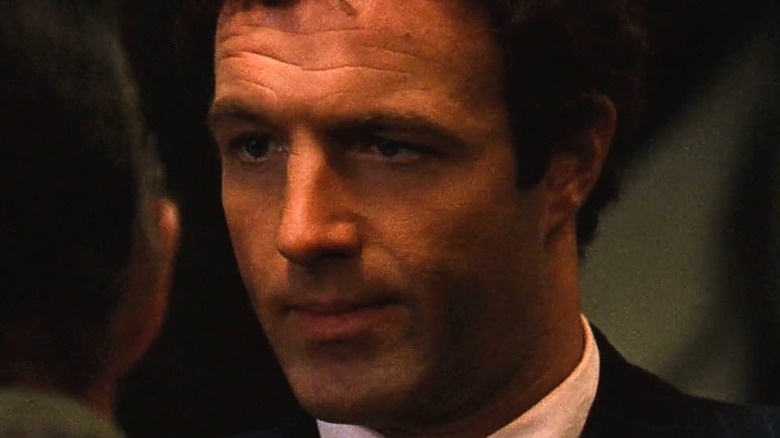 Paramount Pictures
In his long and storied career, the late great James Caan brought his unique spin to a variety of cinematic tough guys, playing criminals, sailors, and football players with a uniquely notable charisma. Sure, Caan could throw a punch, but he also brought a streetwise sense of humor and an emotional core to his most hardened roles.
Nowhere is this more evident than in "The Godfather." Based on Mario Puzo's gripping novel of the same name, the 1972 classic marked Caan's second collaboration with Francis Ford Coppola following the 1969 road drama "The Rain People." By the time the pair reunited for "The Godfather," Caan had already worked with some of the finest auteurs of the day, including Robert Altman and Howard Hawks. But it was his turn as the hot-headed Sonny Corleone that solidified Caan's tough-guy persona that he would repeatedly embody and subvert in the subsequent decades.
As the eldest brother of the Corleone clan, Sonny is well known for his unabashedly fiery temper, but he is also often noted for undeniable charm and gregariousness. Here's the unlikely source of inspiration that Caan brought to his performance as Sonny.
Sonny Corleone was inspired by Don Rickles
When the cast of "The Godfather" convened for the first day of shooting, James Caan admitted that he hadn't quite settled into the role yet. That night, Caan channeled his inner Don Rickles, the famed stand-up and insult comedian, and ruminated on his biting bits. "That next morning I went in and ... I just started busting everybody's chops," he said (via KUSH Comedy). The actor elaborated on this story in a later interview with CBS Sunday Morning, saying, "It wasn't imitating Don Rickles. It was having that drive, that thing, you know? I was just locked into that."
Caan not only borrowed Rickles' cutting sense of humor, but he also picked up on Mr. Warmth's improvisational nature as well. The sharp-tongued comic famously didn't write down his jokes, preferring to work off the cuff (via Los Angeles Times). With Rickles as his lode star, Caan's Sonny worked in a similar vein, delivering ad-libbed verbal jabs that rivaled his physical jabs. Notably, one of Sonny's most memorable lines in the movie ("Bada-bing") came courtesy of this style (via Vanity Fair).
Of course, Caan also had more conventional sources of inspiration in "The Godfather." While the film was in production, Caan reportedly became friendly with Carmine "Junior" Persico of the Colombo crime family. According to the New York Times, the two became so close that undercover government agents assumed Caan was an aspiring mobster. Caan, it seems, was just committed to his craft.