Why James Caan Called Himself Marlon Brando's Clown On The Godfather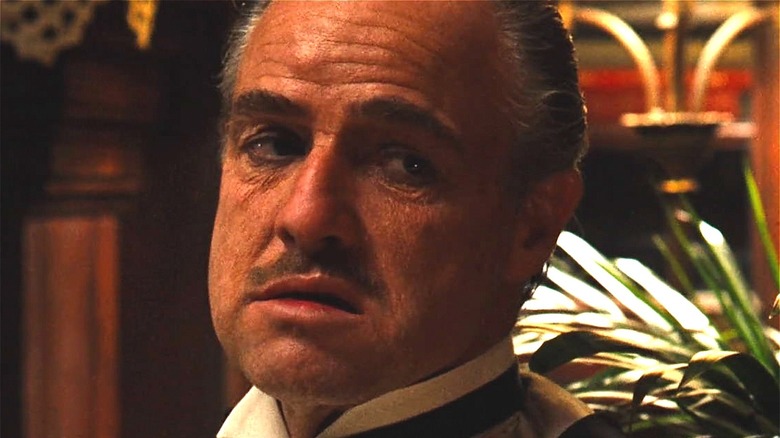 Paramount Pictures
James Caan passed away today at the age of 82, and while the world mourns his passing, we'd like to look back on some moments from his incredible career.
Caan started his acting career in the 1960's with television roles, but his star-making performance was of course his role as Santino "Sonny" Corleone in Francis Ford Coppola's 1972 classic "The Godfather." As a character, Sonny is brash, volatile, and violent–just rewatch the scene where he gives his sister's husband Carlo (Gianni Russo) a brutal beatdown. Sonny solidified Caan's image as a tough guy, one that would continue for the rest of his career.
However, behind the scenes Caan was anything but serious. He credits his lack of self-seriousness as one reason why he became an actor. "I guess I enjoyed being a clown," he told The AV Club. "And I was big enough that I could be silly and not worry about fighting every day."
On the set of "The Godfather," most of the cast joked around and played pranks on each other to keep the mood light. When it came to co-star Marlon Brando, Caan was the unofficial on-set jester.
Caan regularly made Marlon Brando laugh on the set of The Godfather
Caan described his working relationship with Brando in an interview with The AV Club. "He was the greatest, and I in turn served as his f****** clown because he laughed—everything I said, everything I did, he laughed. All day! I mean, it was hysterical," Caan said.
That mirrors what co-star Robert Duvall remembers about the "Godfather" set. "Brando loved Jimmy Caan, because Jimmy's the funny guy," Duvall told The Huffington Post. "Jimmy would tell a joke, and it'd take Brando three seconds to get it and then he'd [laugh]. We were always joking around."
Caan went on to tell a story about a time when he inadvertently made Brando crack up. It was during the scene about the aftermath of the infamous horse's head incident, when Tom Hagen (Robert Duvall) updates Vito (Brando) and Sonny on the situation. While Brando was delivering his lines, Caan absentmindedly picked up a walnut still in its shell and started opening it. Distracted, Brando stopped and waited for Caan to finish shelling the nut. With everyone staring at him, Caan slowly removed the shell and nibbled away. Then, when Coppola called "cut," Brando burst out laughing.
Not only did Brando find the moment hilarious, he also thought it fit Sonny's character. Sonny is the firstborn and rightful heir to the Corleone crime family, but his hotheadedness and impulsiveness make him ill-suited for the job. While Vito is trying to discuss serious business, here's Sonny preoccupied with a walnut.
Caan's performance in "The Godfather" is full of small improvisational moments done on an impulse. Knowing he was so in tune with his character just makes the performance all the more special.