Ms. Marvel Fans Have A Big Complaint About Episode 5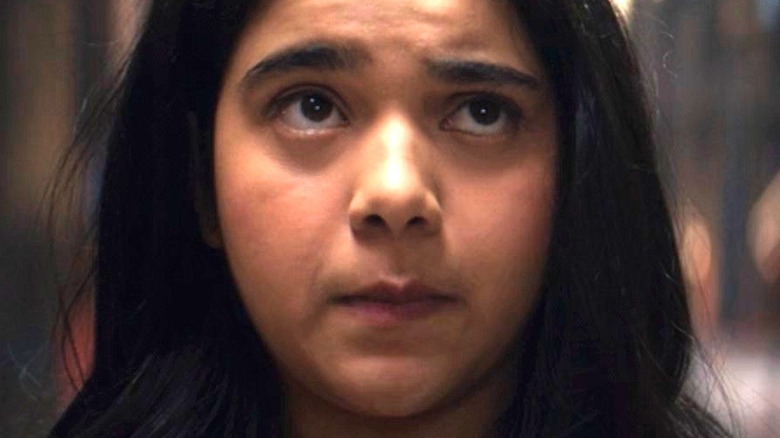 Marvel Studios/Disney+
The following article contains spoilers for "Ms. Marvel" Episode 5.
"Ms. Marvel" Episode 5 provides something different from what fans are used to in a Marvel series. This is evident from the opening moments when the Marvel logo changes, so we know we're in for a history lesson. The episode starts off with a rundown of the British occupation of India and the formation of Pakistan as a country. This leads nicely into a love story between Aisha (Mehwish Hayat) and Hasan (Fawad Khan), as Aisha struggles to adapt to a new life while avoiding conflict with her old compatriots.
There's a lot going on as viewers discover that Aisha called out to Kamala Khan (Iman Vellani) in the present to go back in time to see her. And on top of all that, we get a glimpse of what's going on back in New Jersey, as it appears Damage Control is still on the hunt and has located Bruno (Matt Lintz) and Kamran (Rish Shah). It's a lot to cram into the span of 40 minutes, and based on one Reddit thread, it seems that not everyone was a fan of this particular "Ms. Marvel" outing.
Fans found the episode underwhelming
Everyone's reaction to "Ms. Marvel" Episode 5 will differ, but there's certainly a consensus on one Reddit thread that suggests a lot of people felt the same way in believing the episode was a bit of a letdown compared to what's been built up before. During a discussion thread, Redditor u/ConditionalDew wrote, "Only the first half was good [in my opinion]. Underwhelming villain unfortunately and they hyped up the veil way too much." Others felt that the show ultimately needs more room to breathe. 
Redditor u/PersonFromPlace suggested "Ms. Marvel" would've been better as a nine-episode series rather than six, writing, "I kinda feel like the series could've had more time to breath with the 9-episode structure since the pace and focus is so much more on character growth and seeing their character play out on screen than plot progression. Episodes 4-5 kind of felt rushed since they focused on those larger high stakes plot."
These kinds of comments aren't just from fans, either. Critics have had a lot to say about the show as a whole, and Kirsten Howard from Den of Geek wrote, "Ideally, this series would have been a few episodes longer so those parts of the story could have been given room to breathe." Everyone's entitled to their opinions, and hopefully, "Ms. Marvel" has a more positively-received finale.