How Bruce Horak Landed His One-Of-A-Kind Role In Star Trek: Strange New Worlds
The latest "Star Trek" series — and the eleventh overall — is "Star Trek: Strange New Worlds," which was created by Akiva Goldsman, Alex Kurtzman, and Jenny Lumet. The series premiered on Paramount+ on May 5 and earned praise from numerous critics (via Rotten Tomatoes). Not only has the show already been renewed for a second season, but production on the next has actually wrapped as well (via Trek Movie).
A direct spin-off of "Star Trek: Discovery," "Star Trek: Strange New Worlds" follows the crew of the starship USS Enterprise, led by Captain Christopher Pike (Anson Mount), as they explore various new worlds throughout the galaxy. The series takes place about a decade before "Star Trek: The Original Series." Other major characters include Enterprise science officer Spock (Ethan Peck), civilian nurse Christine Chapel (Jess Bush), and chief of security La'an Noonien-Singh (Christina Chong).
Another major player in "Star Trek: Strange New Worlds" is Hemmer, the chief engineer of the Enterprise, played by Bruce Horak. Hemmer is an Aenar (an albino subspecies of the Andorians), a species generally depicted as blind — Horak, a survivor of eye cancer, is blind in one eye and has limited sight in the other eye (via Trek Movie).
In a recent interview, Horak discussed how he landed his one-of-a-kind "Star Trek" role.
Horak was totally in to play a Star Trek character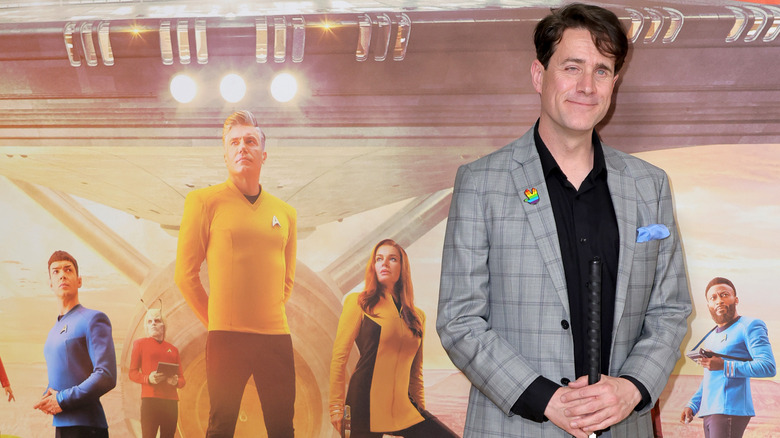 Michael Loccisano/Getty Images
During an interview with The Hollywood Reporter, Bruce Horak was asked about how he landed the role of Hemmer for "Star Trek: Strange New Worlds." Horak explained that, at first, he and his agent didn't know much about the role besides the fact that it was for a "Star Trek" project. Horak added, "As soon as I found out it was 'Star Trek,' I was totally in." Horak explained that, once he found out that they were looking for a blind or visually impaired actor to play the role of a blind alien, he became even more excited about the prospect of landing the role.
Going more into detail about the audition process, Horak said, "I think there were three or four auditions. I just couldn't believe it during the whole process. When I did the camera test in the full makeup, standing on the bridge of the Enterprise, that was the point I took a huge breath in and had this incredible feeling of climbing to the top of a huge mountain and looking at the vast expanse in front of me while thinking, 'This is going to be a heck of an adventure.' And it sure was."
Horak also discussed what it meant to him to get to portray a well-written blind character, using one scene, in which Hemmer insists his blindness is not a handicap, as an example. Horak said, "When I read that scene, I just immediately connected to it. In terms of the contribution, I added nothing to the text, it was all in the playing of it. It was really just about finding the way he moves and how he interacts in the world and bringing the physicality and the poise to it."
Horak says Hemmer is a bit of an outsider
Horak discussed his character, Hemmer, further in a different interview with Trek Movie around the time that "Star Trek: Strange New Worlds" premiered in early May. Interviewer Laurie Ulster pointed out that Hemmer initially comes across as having a bit of an off-putting personality, even describing him as cranky.
Horak explained his understanding of the character, stating, "I think it's a confidence [of knowing] what he knows. And that can I think sometimes come across as a bit of a curmudgeonliness. He's also, you know, I think he's a bit older. So there's experience and wisdom to that. And he's been a bit of an outsider his whole life, I think, I think in the Trek lore, they say that there's only 1000 Aenar left in the galaxy. So that sense of being an outsider, being alone, and you get a bit of a hard edge when that happens sometimes."
In order to prepare for the role, Horak told Trek Movie that (aside from sitting in the makeup chair for hours every day), he rewatched the "Star Trek: Enterprise" episodes where the Aenar are introduced and tried to find out as much information about the species as possible. He added, "There's not a lot about the Aenar. So I felt like I kind of had free range to build a little bit ... [I] just kind of crossed my fingers, and leapt off the bridge."
The finale of "Star Trek: Strange New Worlds" Season 1 airs on July 7 on Paramount+.