Thor: Love And Thunder's Taika Waititi On Bringing The Superhero Back And The Truth About Love - Exclusive Interview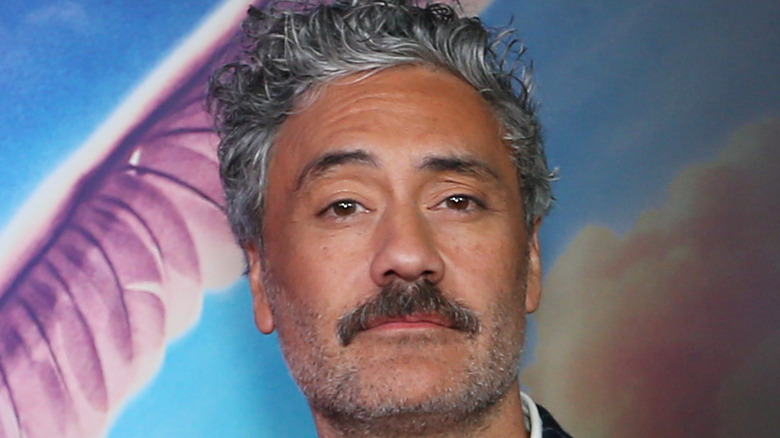 Lisa Maree Williams/Getty Images
This interview contains mild spoilers for "Thor: Love and Thunder."
It seems like Taika Waititi is everywhere these days. Starring in the HBO series "Our Flag Means Death," voicing Mo Morrison in Pixar's "Lightyear," executive producing acclaimed series like "Reservation Dogs" and "What We Do in the Shadows," and writing and directing an upcoming "Star Wars" film — Waititi does everything, but of all the exciting projects Waititi has coming to screens this year, there may be none as highly anticipated as "Thor: Love and Thunder," which he co-wrote, directs, and co-stars in as Korg.
The fourth film in the "Thor" series, "Love and Thunder" is a follow-up to Waititi's first foray into the Marvel Cinematic Universe, 2017's "Thor: Ragnarok," which revitalized the Viking space god superhero played by Chris Hemsworth, injecting him with a fresh perspective and a needed blast of humor. "Thor: Love and Thunder" is a welcome follow-up, featuring the same quirky sensibility as its predecessor in a story that's full of colorful battles, a rollicking metal soundtrack, and thrilling adventures across space.
The movie also has a surprisingly poignant side, as Thor reunites with his ex-girlfriend Jane Foster (Natalie Portman), who becomes the Mighty Thor and fights by his side for the first time. Its combination of action, humor, and heart makes this "Thor" installment stand out, and by the time the credits roll, the title "Love and Thunder" takes on meaningful new dimensions. In an exclusive interview with Looper, Waititi discussed directing Hemsworth for a second time, wooing Portman back to the franchise, and why love is a key theme in "Thor: Love and Thunder."
The character Waititi voices that he's most protective of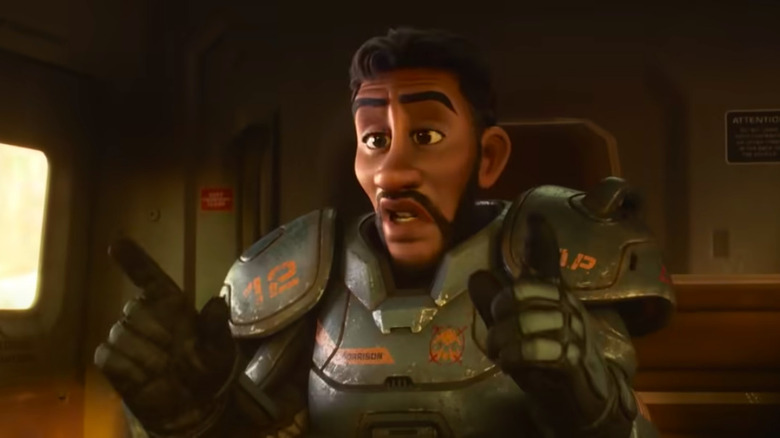 Disney/Pixar/YouTube
This movie involves a lot of space travel. If you were on a space adventure, which of the space-bound characters that you've voiced — Korg from the "Thor" films, IG-11 from "The Mandalorian," and Mo Morrison from "Lightyear" — would you want as your traveling companion?
I also voiced [Glootie] from "Rick and Morty," who was an alien, so he was from outer space. [In Glootie voice] "Anyone want to make an app?" "There's an app for that."
Until "Lightyear," I was probably most attached to Korg because he was such a fun and sensitive character, and now, in "Lightyear," Mo is probably a little bit more like me when I was young, a little aimless. I'm more protective of Mo. Korg can look after himself. I would take care of Mo and make sure that he's found some direction in his life.
The beginnings of Love and Thunder goes back to Ragnarok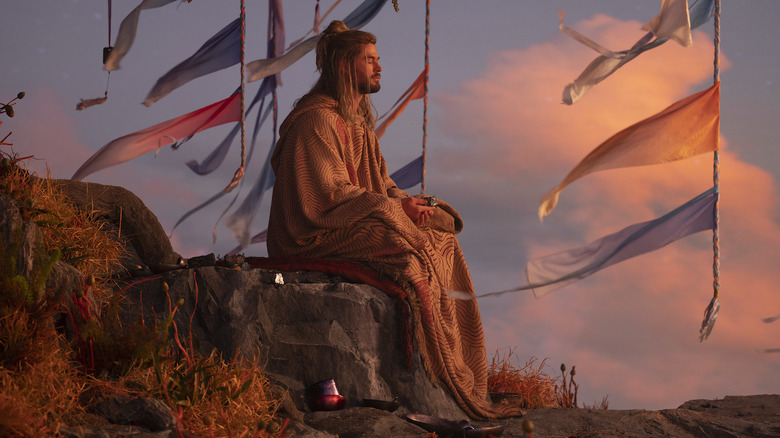 Jasin Boland/Marel Studios
"Thor: Love and Thunder" emphasizes storytelling and how it impacts our understanding of events, whether it's Korg explaining the story of Thor or the play performed for tourists on New Asgard. Why did you include that element in the film?
[With] that [play], I wanted a call back to "Ragnarok" where we had the actors playing the events of the last time Loki died. It was nice to bring back Matt [Damon] and Luke [Hemsworth] and Sam Neill, and also to bring in Melissa [McCarthy] as well, to do that. It was a fun little moment to bring us in, but it's also underneath it. The reason for that is it also reminds the people about the death of Odin, who turns into a godly stardust, and also to remind everyone about what happened to the hammer in the last movie with Hela breaking it. This is a fun way to recap what happened last time.
Five years ago, we released ["Thor: Ragnarok"], and the night that it first opened, we all went around to some of the cinemas in LA, and then we went to dinner. It was me, [president of Marvel Studios] Kevin Feige, [executive producer] Brad Winderbaum, Chris [Hemsworth], Tessa [Thompson], and a couple other people. Over dinner, we started talking about what would be next, and we came up with the whole idea of the montage [at the beginning of "Thor: Love and Thunder"] of, "This is where we left off with Thor and this is what he's been up to. This is what some of the adventures he'd been on over his life."
That whole idea of storytelling, of telling stories about these characters, it came also from the comics. Marvel takes all of these movies — they're all made from existing storylines and ideas that have come before in classic comic runs.
Directing Chris Hemsworth and Bringing Back Natalie Portman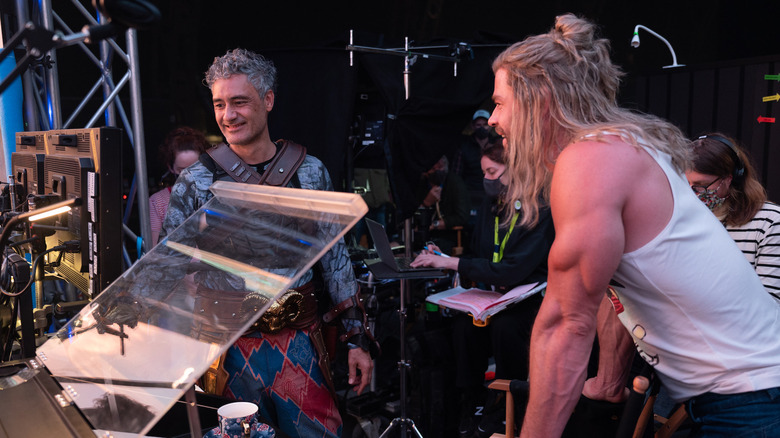 Jasin Boland/Marel Studios
What was it like to direct Chris Hemsworth for a second time? Is there a shorthand at this point?
There is a shorthand. We really understand each other. He's very willing to try new ideas because there's a lot of trust with us. The only reason I'd come back is to work again with Marvel and with Chris. He's a close friend now and we understand each other and we're on the same wavelength.
A lot of people were really surprised that Mighty Thor was going to be introduced into this story. How did you present the idea of coming back to the franchise to Natalie Portman?
It was about telling her that she no longer has to be on the sidelines as the girlfriend of Thor in a "Thor" movie and can be an active member of the team and be a superhero and now can have the hammer. To prove it, [we showed her] these comic books, which are one of the best stories of all comic books of all time, and it's about that character. It was that and promising her that she'd have a good time.
We'd already met a couple of times anyway, in passing and stuff. We both had wanted to work together.
Thor's search for love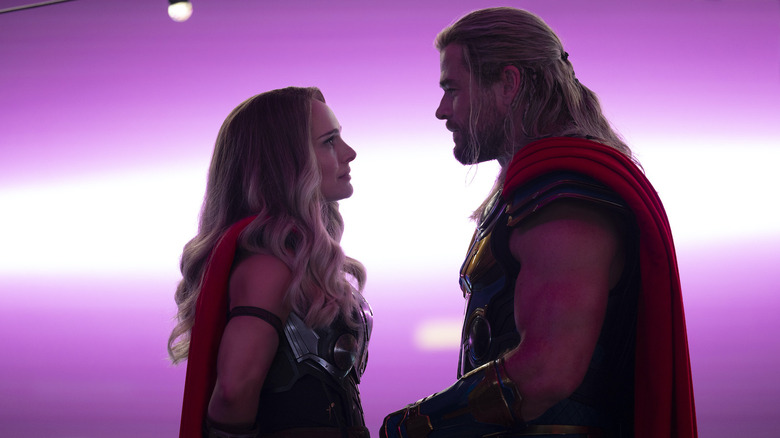 Jasin Boland/Marel Studios
As the film's title suggests, the story puts a lot of emphasis on love and how it drives us. What did you want to say through that theme in the film?
With love driving us, it's a really important thing, because it's true. What drives humans is this need of love, and this need to be loved. The other part of this whole thing is, Thor's going through a midlife crisis, and he's alone. Essentially, he's looking for family, he's looking for a purpose and looking for someone to love and for someone to love him.
He hasn't really found it with all these adventures and all of these worlds he's going to [and saving] all these different aliens and stuff. He knows how to be the hero, but that's a lonely existence. A big part of that for him is experiencing love, and what does love actually mean? There are different forms of love in this film, and the title is a little deceiving.
"Thor: Love and Thunder" opens in theaters on July 8.
This interview was edited for clarity.