The R-Rated Drama You Likely Forgot Starred Twilight's Kristen Stewart As A Child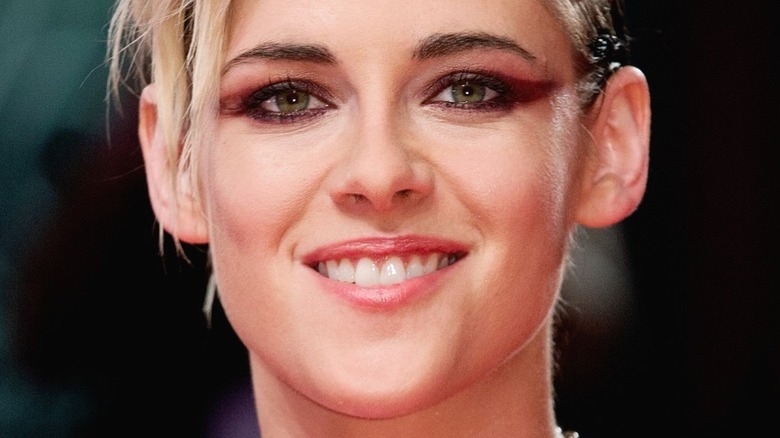 Andrea Raffin/Shutterstock
These days Kristen Stewart is widely seen not only as one of the most talented actors of her generation, but also one of the most daring (per The New Yorker). Stewart's stellar reputation is well-earned and built on the back of a 50-plus film resume that would be the envy of most performers twice her age. As she's gotten older, Stewart's movies have been the very definition of adventurous — running the gamut in genre from moody art flicks ("Personal Shopper") to big-budget actioners ("Underwater") and charming rom-coms ("Happiest Season"). She even earned her first Academy Award nomination for her bravura turn as the late Princess Diana in 2021's "Spencer."
Even still, it's almost easy to forget Stewart's first legit taste of pop culture iconography came amid her starring as Bella Swan in the "Twilight" franchise. It's just as easy to overlook that she had been an actor for nearly a decade before portraying the vampire-loving teen. As an ambitious child, Stewart had a clear inclination toward appearing in more adult cinema. That includes her first big-screen credit, which came in a decidedly R-rated indie released in 2003.
The Safety of Objects is a star-studded, and R-rated indie featuring a young Kristen Stewart
Adapted from A.M. Homes' short story collection by Rose Troche ("The L Word"), "The Safety of Objects" is an introspective indie film tracking the various dramas unfolding in the households of four suburban families.
The sprawling film found Kristen Stewart portraying Sam Jennings, the tom-boyish elder child of Annette Jennings (Patricia Clarkson) and Bruce Jennings (Andrew Airlie), who are struggling through an ugly divorce. Stewart doesn't get much screen time in "The Safety of Objects," mainly because the film's overlapping narrative structure doesn't allow one character to dominate the action. Still, the young actor makes the most of her moments, more than holding her own.
Despite boasting a cast featuring Glenn Close, Joshua Jackson, and Dermot Mulroney, "The Safety of Objects" proved divisive amongst critics, earning a mere 50% Fresh rating on Rotten Tomatoes. Still, the film undoubtedly bolstered the profile of the then Hollywood upstart, who followed it with a starring role opposite Jodie Foster in David Fincher's underrated home-invasion drama "Panic Room." Stewart's increasingly impressive body of work proves that she hasn't made many career missteps.