Whatever Happened To Rugged Maniac After Shark Tank?
"Shark Tank" claims to be a show that helps small businesses take the next step by giving them a chance to attract high-dollar investors. Problem is, viewers only get a snapshot of the business' story. A "Shark Tank" appearance often comes several years after the business has been up and running, and the show only occasionally gives updates on how the business is doing afterwards.
Former lawyers Rob Dickens and Brad Scudder appeared on the show in 2014 to pitch their company, Rugged Maniac. Inspired by Tough Mudder-style messy athletic events, the company hosts a 5k race full of mud and other obstacles, followed by a party afterwards. Dickens and Scudder started Rugged Maniac in 2010, and by 2014 they were hosting events in more than 20 cities. During their pitch, Scudder and Dickens also revealed they were working on an event business that sets up runs with bulls, called Great Bull Run.
After the pitch and the requisite haggling, Dickens and Scudder had to choose between two offers. Kevin O'Leary and Robert Herjavec combined to offer $1.5 million in exchange for 33% of Rugged Maniac, while Mark Cuban offered $1.5 million for 25% of both Rugged Maniac and Great Bull Run. In the end, Dickens and Scudder made a deal with Cuban for $1.75 million for 25% of both companies (via Boston Business Journal). At the time, that made it one of the most lucrative deals in "Shark Tank" history.
Since then, the company rebranded as "Rugged Races." Here's how it's doing today.
Rugged Races made Mark Cuban a nice chunk of change in 2018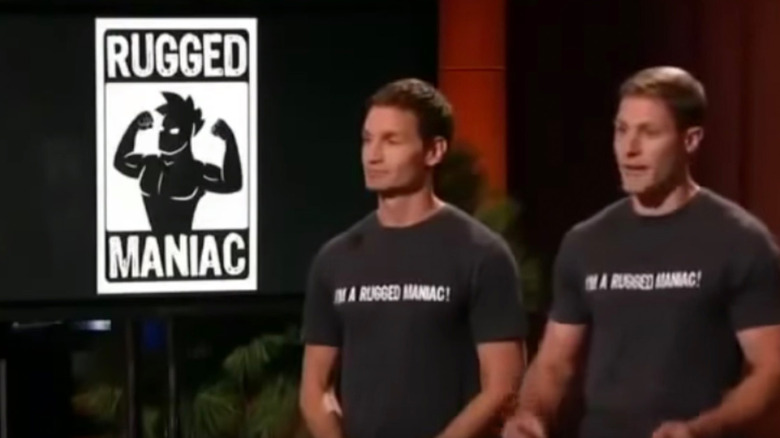 ABC
The "Shark Tank" appearance was a shot in the arm for the business. The investment and the exposure led to 100% yearly growth from 2014 to 2018 (via CNBC).
That year, New Media Investment Group purchased 80% of Rugged Races in 2018 for $10.4 million, with Dickens and Scudder keeping the rest. At that point, Mark Cuban sold his 25% stake for around double what he paid for it four years earlier. 
After the sale, Dickens told The Boston Globe that Rugged Races had already been acquiring other race- and event-hosting companies, and that the sale to New Media would allow them to continue to do the same. At the time of the sale, Rugged Races had expanded to about 60 races nationwide. 
As of 2022, Rugged Races continues to thrive. In addition to Rugged Maniac, it hosts several other kinds of races including road runs, trail runs, cycling, a chocolate-themed race, and award shows for high school athletics. According to the company website, Rugged Races hosts more than 100 events a year, with more than 1.5 million annual participants. 
Not bad considering Dickens and Scudder didn't even want to appear on "Shark Tank" in the first place  (via CNBC).