James Cameron Makes Two Shocking Admissions About Avatar 4 And 5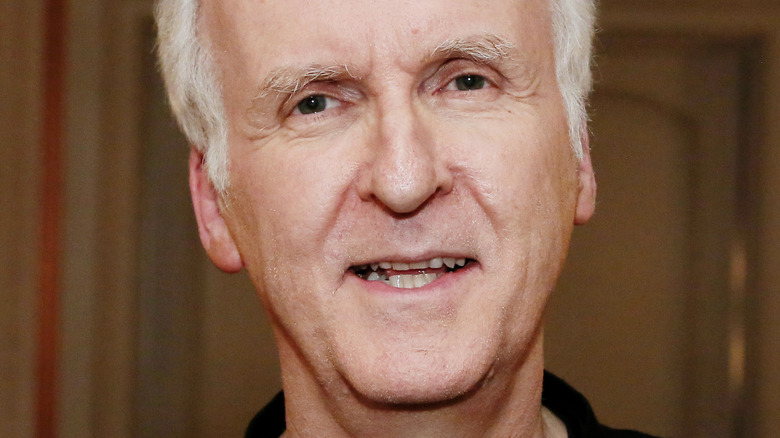 Gabriel Olsen/Getty Images
At the end of this year, the world will finally be getting a return ticket to Pandora after an unthinkable 13 years since we first visited the unobtanium-laced planet. "Avatar: The Way of Water" is the long-anticipated sequel to James Cameron's 2009 Oscar-gobbling blockbuster that is still in the number one spot as the most successful film of all time (against eight other IP-linked blockbusters, and the other being "Titanic"). It marks the first notch in the director's master plan that will expand on the world of the Na'vi and their fight against the space invaders (hey, that's us) that can't take no for an answer.
While the project was hit with a barrage of delays when principal photography began in 2017, Cameron's goal of accomplishing his biggest endeavor to date hasn't wavered. Five is still the magic number for his "Avatar" movie entry count, but as revealed in a recent interview, there's a chance that he'll only be going so far with Jake Sully (Sam Worthington) and Neytiri (Zoe Saldana, who was moved to tears after seeing footage of the new film). 
Yes, it turns out that the self-proclaimed king of the world has other plans that could take him elsewhere, and if they clash with his big blue-colored billion-dollar franchise, he's considering a very bold move for his massive movie projects.
James Cameron might hand the keys to Avatar to a new director in the future
Speaking to Empire, Cameron acknowledged while his scope is broad for the characters, creatures, and cultures inhabiting Pandora, he still has a to-do list that doesn't involve oversized Smurf warriors. Describing the "Avatar" films as "all-consuming," he suggested that after a certain point, a fresh pair of hands might handle proceedings. "I've got some other things I'm developing as well that are exciting," the all-seeing "Avatar" head teased. "I think eventually over time — I don't know if that's after three or after four — I'll want to pass the baton to a director that I trust to take over, so I can go do some other stuff that I'm also interested in. Or maybe not. I don't know."
While it's clear that he's entertaining the idea of taking his hand off the wheel in the franchise's future, that hasn't stopped his excitement levels for whoever ends up with it, with him highlighting the storyline of the upcoming "Avatar 4" as being something he's particularly excited about. That said, he does acknowledge the realities of the market, as while "Way of Water" and the third "Avatar" movie are already shot and scheduled, the two movies to come after those are not quite so nailed down. As Cameron says, "I really hope that we get to make four and five because it's one big story, ultimately." 
For now, we can see how "The Way of Water" runs first when it arrives in theatres on December 16.