Zoe Saldana's Response To Seeing 20 Minutes Of Avatar 2 Heightens The Hype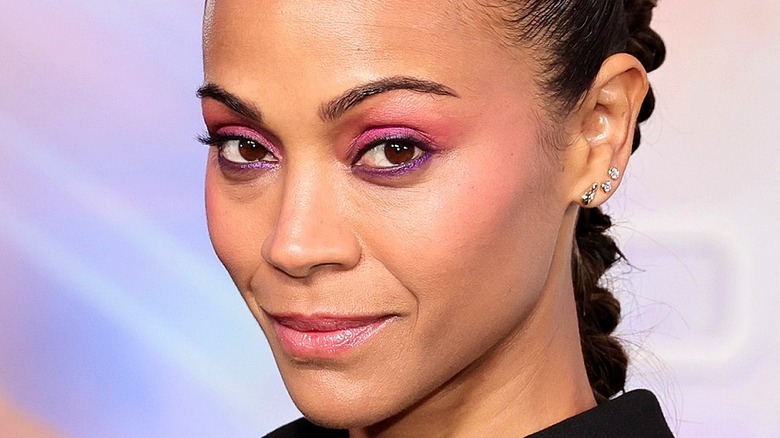 Jamie McCarthy/Getty
The year is 2009, the United States is in the throes of a recession, Captain Phillips has defended his ship from pirates, and Michael Jackson has shuffled off his mortal coil. When the holiday season came around, the world needed something magical, and they got it with James Cameron's "Avatar." After a decade's wait, fans may have their first reaction to the anticipated set of planned sequels.
A little over ten years after Cameron broke the world with "Titanic," he reached the same heights with the futuristic epic drenched in green and anti-war social commentary. The film set on the fictional world of Pandora grossed $232 million worldwide on opening weekend. It went on to be the highest-grossing movie of all time, globally, with a staggering $2.84 billion. Until "Spider-Man: No Way Home" surpassed it last month, it was third all-time domestically, behind "Star Wars: The Force Awakens" and "Avengers: Endgame," according to Deadline.
With that kind of success, it was only a matter of time before fans, and the studio began clamoring for a sequel. According to a timeline collected by Vulture, Cameron began teasing the "Avatar" faithful as soon as the film crossed the $1 billion mark in early 2010. Since it reportedly took Cameron five years to finish the original "Avatar," it shouldn't come to much of a surprise that the first in a group of sequels took a decade to complete. But Avatard fans everywhere got their first reaction from the Pandorian herself, Zoe Saldana.
Zoe Saldana was moved to tears
In an interview for her new film "The Adam Project" on Netflix, Saldana was asked about the "technical stuff" (something Cameron shows a regular pension for in movies like "Aliens," "Terminator 2: Judgement Day," "Titanic," and of course "Avatar"). "He was finally able to crack that challenge," the actress said. "The whole thing that you can't imitate water virtually through performance." She continued to give us some insight into the long wait. "It was a challenge that he took upon himself, and it took him years, and he did it."
Saldana portrayed the female lead, Neytiri, in "Avatar," and represents the essence of the people of Pandora. She serves as the bridge between her people and the humans. She shows her connection to the character and the movie when discussing her first look into the sequel. "I was able to see just twenty minutes of the second installment right before the year ended, and I was speechless. I was moved to tears." Saldana continues, "You really have to brace yourself for it, but it is an adventure you will not forget."
Fans have waited 13 years for the sequels to arrive, and what Saldana promises is a technological marvel along with a powerful story. Her words instill a hope that fans will be treated to a profoundly satisfying experience over a decade in the making when the movie releases later this year.