Why Christian Bale Still Hasn't Watched The Batman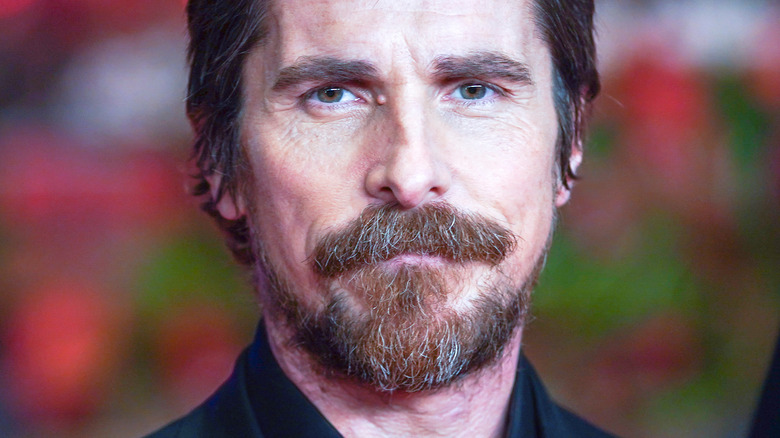 Denis Makarenko/Shutterstock
Christian Bale is famous for his dedication to the craft of acting and the often-rigorous physical transformations he undergoes for his characters. From "American Psycho" to "The Machinist" to "Vice," Bale can both look and act the part for any number of different roles. Whether he's losing a ton of weight for "The Machinist" or transforming himself into Dick Cheney for 2018's "Vice," Bale always turns in an unforgettable performance — and of course, one of his most famous will always be playing Caped Crusader in Christopher Nolan's "Dark Knight" trilogy. 
Today, there is a new actor wearing the cape and cowl of Batman, and that performer is Robert Pattinson. Starring in Matt Reeves' "The Batman," Pattinson has made the iconic roles of Bruce Wayne and his shadowy alter ego very much his own, much like Bale did in the past. Naturally, one would think that given how closely associated Bale is with the role of Batman that he would have seen the recent update on the character and have some strong opinions on Pattinson's choices, but surprisingly, this is not the case, as an interviewer discovered at a premiere event for the release of Marvel Studios' "Thor: Love and Thunder."
Christian Bale watches surprisingly few movies
Christian Bale plays the villain Gorr the God Butcher, in Taika Waititi's "Thor: Love and Thunder," but it's pretty likely that Batman will forever be the role he is remembered for. And at an event for the Marvel film, when an interviewer asked Bale about what he thought of Robert Pattinson in the role, and the actor admitted he has yet to check it out (per YouTube). "I still haven't seen it," Bale said. "I will see it."
As for why, though, the reasons appear to do with Bale's lifestyle — and his passion for film — rather than any trepidations about seeing another actor under the mask. "Listen, mate, it's amazing how few films I see. Every director I work with, I've seen a couple of their films and they're always looking at me going, 'Are you kidding?' I like to really savor films and I don't watch too many. But I will, I certainly will." Bale was supportive of Robert Pattinson in the role of Batman and seems to genuinely be looking forward to seeing what he's done with the part. "Robert is an absolutely wonderful actor," Bale weighed in. "We bumped into each other, talked a little bit about it ahead of time, and I heard wonderful things."
However, one thing Pattinson learned from Bale about the role was more practical than technical. Bale confirmed that he also taught Pattinson how to pee in the iconic bat-suit, which he admitted appears to be the most popular story about their interactions.