Jacob Bertrand Reveals The Challenges He Faced With Hawk's Character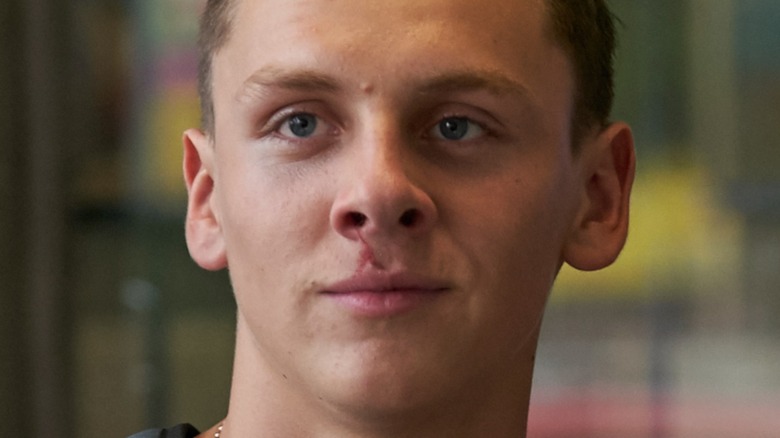 Bob Mahoney/Netflix
There have been plenty of transformations through "Cobra Kai" so far that have seen victims become heroes, or in some cases, heroes become villains. One person who has checked all those boxes since the series began is Eli Moskowitz, aka Hawk (Jacob Bertrand), who went from being a punching bag to punching bags or anyone else that crossed him after finding confidence and a killer tattoo. He's one of the few stars of the show with his own theme tune (that eagle call with a shoulder roll never gets old), and last season finally saw him straighten up and fly right after joining Johnny (William Zabka) and Daniel (Ralph Macchio).
Of course, for Hawk, it was a transformation that had been long overdue, but for his former classmates, it was an act of betrayal that could not go unpunished. It led to Eli's iconic mohawk being shaved off against his will, which, while traumatic, led him to rise like a phoenix and become a totally different fighter. By the Season 4 finale, Eli and Hawk had become one, with one of the show's best fighters finding a balance that allowed him to take on Robby (Tanner Buchanan) at the All-Valley Championship and win. For fans, it was one of the best comebacks the show had given us, but for the man responsible, it turned out to be a greater challenge than he had ever anticipated.
Clipping Hawk's wings proved to be a test for Bertrand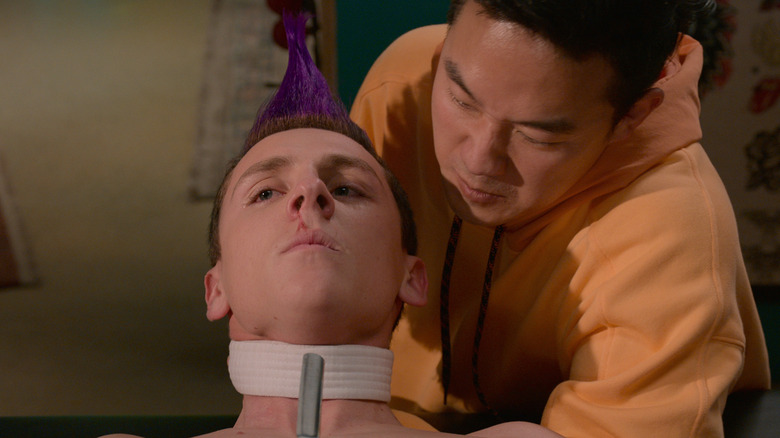 Netflix
It turned out that Hawk's/Eli's loss of identity in Season 4 was as much of a struggle for our favorite wild-haired hero as it was for the actor who played him. Speaking to Collider following the end of last season, Jacob Bertrand revealed just how much of a test it was handling a character he'd been since 2018 without his iconic hairstyle. Having gone as far as to get the buzzcut for real, Bertrand admitted, "To go from having a cool-a** mohawk to getting buzzed, it was hard to muster the same energy and ambiance for Hawk as I had before."
Even so, with this new trim came a new chapter for the character whom Bertrand had fun breaking down, finding that this new Hawk seems to have things in order. "One thing I really liked about this new Hawk is that he's somewhere in the middle," he said. "He's not full rage anymore. He's accepted who he is a little bit. He's feeling good about himself and has good people backing him, who are really there for him." As it turns out, though, there was one particular character in the world of "Cobra Kai" whom Bertrand wished could've been present for more of this transformation and who might be back in time to see it in full effect next season.
Bertrand wished Johnny had been around to see the new Hawk fly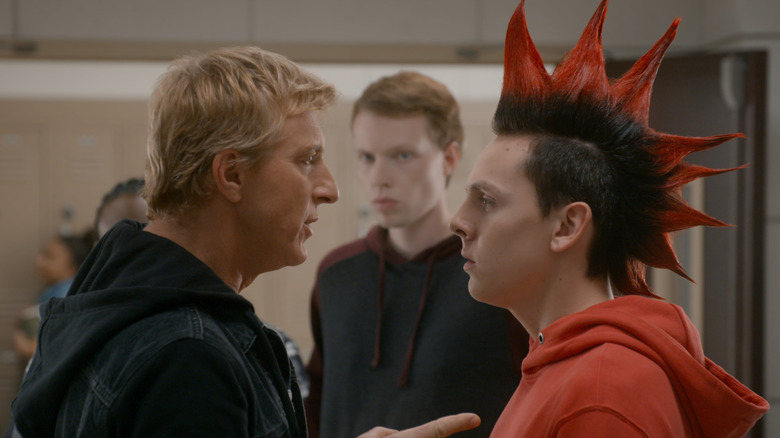 Netflix
While it was great to see Eli's reawakening of sorts during his fight with Robby, Jacob Bertrand himself had a bittersweet reaction over one person in particular not being as involved in it. As far as he sees it, while plenty of other characters on the show have helped him along his path, Hawk would've never gotten off the ground had Johnny not been there to give him the boost.
"It's super brief, but he has little scenes with Johnny where Johnny's giving him s***, and I wish there was more of that," said Bertrand, praising the blunt but good-hearted teacher who still has his own issues to overcome. "Johnny was his first sensei and knows him the best in his broken state. I wish we had more scenes together because he's the guy who birthed [Hawk]. I definitely credit him for a lot of Hawk's success."
It could be a while before we see the inked-up student and his mentor share scenes again, given that the head of Eagle Fang is away on family business. Following the events of last season, Johnny headed off to Mexico to retrieve Miguel (Xolo Maridueña) with his son, Robby. Here's hoping they make it back in time to see Hawk spread his wings in a new way when "Cobra Kai" returns for Season 5 later this year.