The One Kreese Detail That Has Cobra Kai Fans Absolutely Stumped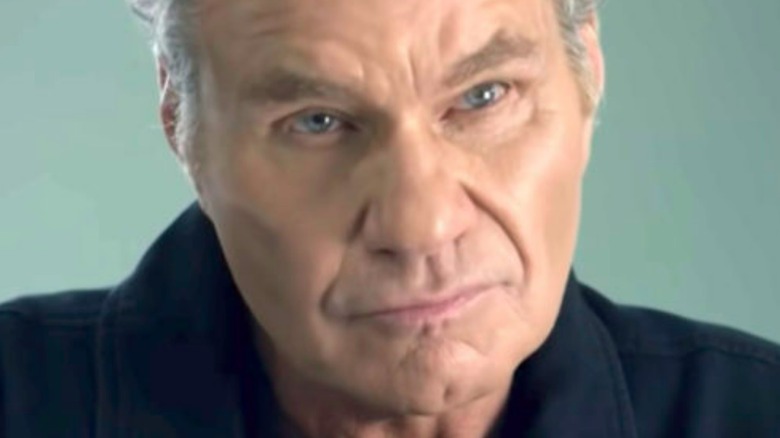 Netflix
Throughout its time on the streaming scene, Netflix's "Cobra Kai" has proven how to do a legacy sequel properly. Since taking the baton from the long-dormant "Karate Kid" film series in 2018, it has largely struck a perfect balance between new ideas and nostalgia. For as often as newcomers like Sam LaRusso (Mary Mouser) and Eli "Hawk" Moskowitz (Jacob Bertrand) take the spotlight, fan favorites like Johnny Lawrence (William Zabka) and Daniel LaRusso (Ralph Macchio) get some time to shine alongside them. However, this formula hasn't necessarily held true for the show's villains.
Instead of coming up with new overarching threats to our heroes, "Cobra Kai" has brought back some sinister faces from the franchise's past. Aside from Terry Silver (Thomas Ian Griffith), longtime Cobra Kai figurehead John Kreese (Martin Kove, who doesn't see his character as a villain) has endured as the biggest threat to Johnny, Daniel, and more. As ruthless and scheming as ever, he returned at the tail end of Season 1 to share in his dojo's resurrection. As one could imagine, however, he's still not much of a team player, hence why he took Cobra Kai over for himself to once again run it with an iron fist — power he eventually lost at the end of Season 4.
While John Kreese's return, rise to power, and fall from grace have kept "Cobra Kai" fans tuning in, they've also wound up with more than a few questions along the way. This one, in particular, pertains to a detail about Kreese's past that just doesn't add up.
Why, where, and how did Kreese hold onto the 2nd place trophy?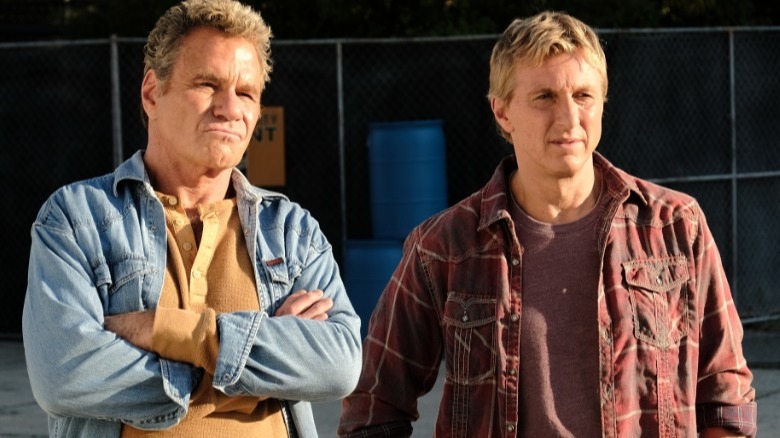 Netflix
In June of 2022, Redditor u/Ok_Royal6056 brought up an interesting point about John Kreese's life between "The Karate Kid III" and his "Cobra Kai" comeback. He reveals that he struggled to find his place after the Cobra Kai dojo shut down, resulting in him trying and failing to re-enlist in the United States military and later ending up homeless. Therefore, if this is true and he genuinely fell on hard times, how and why did he lug around Johnny's 2nd place trophy from the 1984 All Valley Karate Tournament through it all? Better yet, where did he store it since he didn't settle down in one place?
Folks in the comment section attempted to reason how Kreese hung onto Johnny's trophy for so long while living such a tumultuous life. One of the most compelling replies questions whether Kreese actually lived the sad life he told Johnny he did or if he was just trying to manipulate his former pupil — just like he did using the trophy. After all, the tenured Cobra Kai sensei is no stranger to mind games, which has impacted Martin Kove's life in an interesting way. Though he wouldn't call himself a method actor, he did tell The Wrap that it's hard to shake Kreese's personality behind the scenes.
"You think you will overcome them because you're Martin Kove, you're not John Kreese, you're not the character — but they're still in there very subtly. They're still in there," he said of his character's values, adding that his real-life relationships have been strained because of them. Nevertheless, Kove manages to keep his head on straight, just as Kreese managed to carry around a large trophy for decades despite moving from place to place.