The Book Lucas Reads To Max In Stranger Things 4 Vol. 2 Means More Than You Think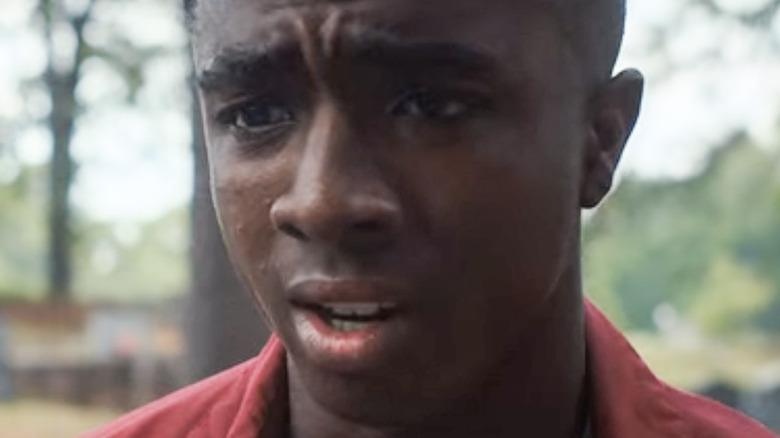 Netflix
Contains spoilers for "Stranger Things" Season 4, Episode 9
The "Stranger Things" Season 4 finale, "The Piggyback," is a roller coaster of danger, mayhem, and emotion. Max Mayfield (Sadie Sink) falls victim to Vecna (Jamie Campbell Bower) before her friends fight him off — with an assist from the adults in the Soviet Union — and Eleven (Millie Bobby Brown) brings her back to life. But Max stays in Vecna's grasp long enough to suffer a few broken bones and some significant oxygen deprivation, resulting in her being in a coma and clinging to life when the episode ends.
Her hopefully soon-to-be-ex ex Lucas Sinclair (Caleb McLaughlin) is literally right by her side as she struggles against Vecna, even fighting off Hawkins High School basketball team captain Jason Carver (Mason Dye) to protect them both. Two days later, Lucas is by Max's side again as she lies unconscious and fighting for her life in the hospital. However, we only hear one short passage of the novel he is reading to her before the California cohort of their adventure party interrupts him for a reunion hugfest.
Lucas reads to Max from Stephen King and Peter Straub's The Talisman
Netflix
Lucas is reading to Max from "The Talisman," a 1984 collaboration between legendary horror writers Stephen King and Peter Straub (the two also joined forces for a sequel, "Black House," published in 2001). "The Talisman" is the story of a 12-year-old boy named Jack Sawyer who sets off from New Hampshire on a quest for the mystical titular object he hopes can save his cancer-stricken mother. Jack travels to California, alternating between the real United States and a parallel existence called the Territories where people and places are dark and twisted fun-house mirror images of their real-world counterparts — imagine the Upside Down with more human-ish beings and less menacing overgrowth.
Given its placement, "Stranger Things" creators Matt and Ross Duffer are obviously fans of the novel. In fact, they'll be bringing "The Talisman" to Netflix as executive producers alongside Steven Spielberg. Ross shared with Variety that he thinks Spielberg, who has owned the rights since before it was published, is the perfect fit for King and Straub's epic. "He loves the joy of storytelling," said Ross. "And specifically with this story of 'The Talisman,' again, there's a lot of supernatural things ... but at its core, it's really about a mother and a son and their relationship and their love for one another." 
While "Stranger Things" certainly belongs in Netflix's horror category, it is also primarily about the complex and loving relationships between the characters. Hopefully, the Duffers will take an active role as EPs and "The Talisman" will turn out to be every bit as terrifying, moving, and entertaining as "Stranger Things."