Why It Looks So Real When The Blacklist Sets Actors On Fire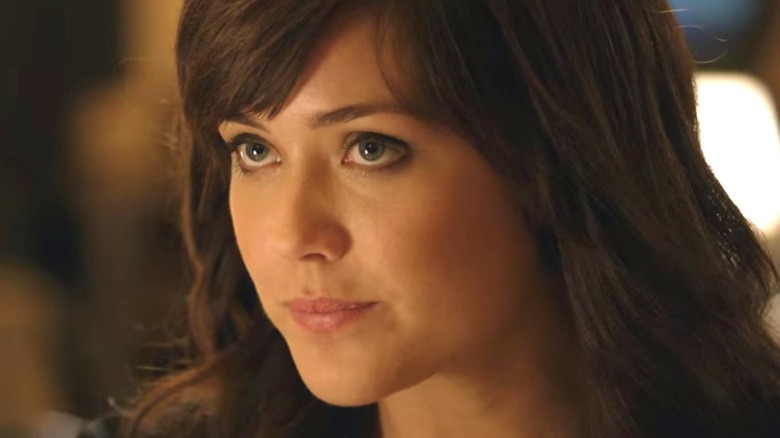 NBC
For nine years, viewers have followed Raymond "Red" Reddington (James Spader) and agents of the FBI as they track the world's most dangerous criminals on NBC's "The Blacklist," a show replete with drama and action. It's not uncommon for an episode to feature car chases, explosions, shootouts, and stunts worthy of a large-budget feature film. 
For example, one memorable episode from Season 5 titled "The Cook" saw the team hunting a homicidal arsonist by teaming with another serial arsonist for his expertise. The episode's opening showed The Cook, doused in flame retardant, casually sitting in a chair and sipping a beer while the room he'd rigged went up in flames around him. Such scenes have seemed so authentic, they have earned show stunt coordinator Cort Hessler numerous nominations and one Emmy Award. In an interview with FanSided, Hessler revealed there's also a good reason "The Blacklist" scenes look realistic when characters are set on fire — because they are.
The show's stunt coordinator prefers not to use CGI
"The Blacklist" often uses fire in its action sequences. The episode "The Cook" also saw a character douse himself in gasoline, and set himself aflame. When asked if such scenes rely on CGI for safety, the show's award-winning stunt coordinator Cort Hessler admitted it was mostly real. "Now, we'll use a little bit of CGI enhancement flame," he told FanSided. "I have like a Nomex hood put on them to protect their face. So the only flame that's CGI is around their face and is more of a cover-up. But all the flame on the body, everything is completely real."
He further explained that the production company considers risk management and insurance prior to approving the show's dangerous stunts. Fire is one of the most dangerous stunts he oversees. "They all get involved and figure out, 'Okay, I need to do it' and they'll be like 'Nooo, show me a different way you can do this' or something like that. But fire's very dangerous because it's not just getting burnt that can hurt you, breathing can hurt you. If you breathe in the flame, you can drop down dead instantly. You burn your lungs out."
The show's stunt team knows how to play with fire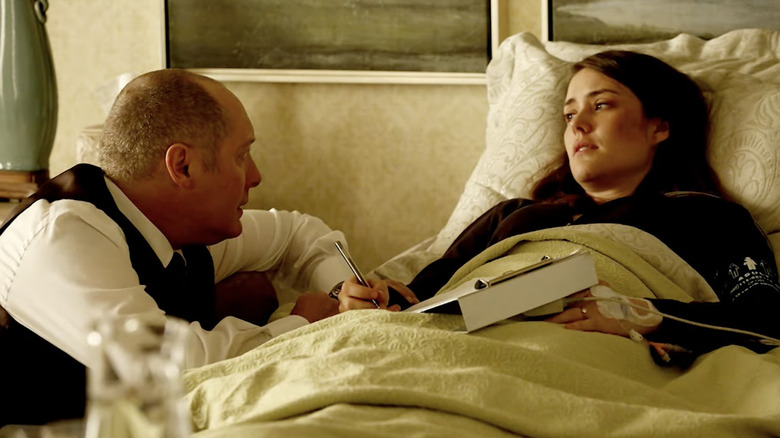 NBC
Stunt coordinator Cort Hessler revealed he keeps his team of stunt workers safe on the set of "The Blacklist" by using multiple methods and materials when dealing with fire. "So we use all kinds of stuff: Nomex, special gels on our skin," he said. "If it's going to be a longer burn, we wear a breathing apparatus around our ankle which goes up to our mouth so you can breathe."
Whether they're staging an explosion, fight, or car chase, the stunt team seems to have won the admiration of "The Blacklist" fans, even if many are conflicted about the future of the show. While some fans believe the show has already jumped the shark, there seems to be one thing everyone can agree on: the stunts are fantastic. Not long after actress Megan Boone left her role as Liz on the series, a Reddit appreciation thread was started for her stunt double, Ashley Pynn. A fan wrote, "For all of the grief that we give the writers about the Liz character, it's nice to see a good story about one of the unsung members of the crew who is an unwitting beneficiary — all of those years of Liz getting into crashes and bopped on the head have meant lots of work for the obviously talented Ms. Pynn. So thank you, Ashley Pynn."
The show has already been renewed for Season 10.