The Brave Controversy Disney Probably Doesn't Want You To Remember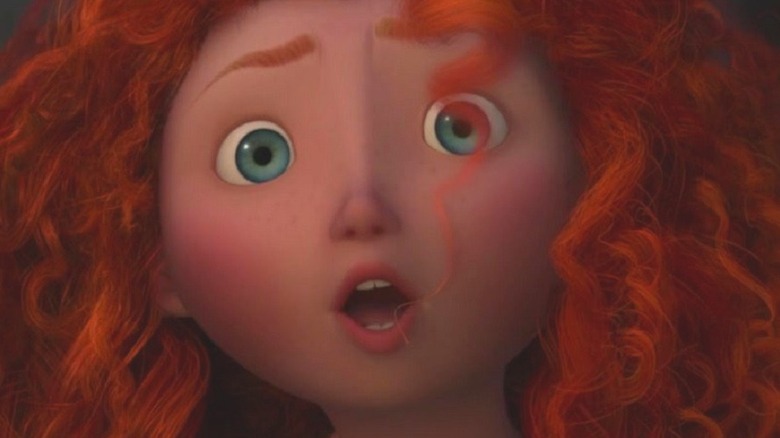 Walt Disney Studios Motion Pictures/Pixar
The Disney and Pixar film "Brave," which was directed by Mark Andrews and Brenda Chapman (who both co-wrote the screenplay with Steve Purcell and Irene Mecchi), centers on Princess Merida (Kelly Macdonald), a skilled archer and the daughter of Scottish King Fergus (Billy Connolly) and Queen Elinor (Emma Thompson). After Merida defies tradition and refuses to marry, causing chaos in the kingdom, she runs into an elderly witch (Julie Walters). The witch gives Merida an enchanted cake to change her fate, as Merida requested. But Merida finds herself in an unexpected predicament when, after Queen Elinor eats the cake, she finds that her mother has turned into a bear. The film was released in theaters on June 22, 2012.
"Brave" was a big deal when it came out, as it was a first for Pixar on a few different levels. Not only was it the first Pixar-created Disney princess, but Merida was also the first female protagonist of any Pixar film. Seeing as "Brave" is Pixar's 13th film, it was definitely about time that we get a female-centered storyline from the animation studio.
However, the release of "Brave" wasn't all smooth sailing and Disney faced a controversy that they probably don't want you to remember — here's what happened.
A Merida makeover faced backlash
In mid-2013, Disney was preparing to officially induct Merida into the Disney Princess collection when they released a new image of the Pixar character on their website. The image immediately received backlash for giving Merida's design a makeover that made her slimmer (with a noticeably smaller waist), more mature, and had her wearing a dress that was noticeably lower cut than in the film. For many, this new look contradicted the themes of the film, which showcases Merida rejecting traditional femininity and patriarchal ideas. Unsurprisingly, over 200,000 people signed a petition on Change.org for Disney to remove the image. 
Further, co-director Brenda Chapman condemned Disney for the decision to glam up Merida in an email to the Marin Independent Journal, writing, "Subconsciously, [young girls] are soaking in the sexy 'come hither' look and the skinny aspect of the new version. It's horrible! Merida was created to break that mold — to give young girls a better, stronger role model, a more attainable role model, something of substance, not just a pretty face that waits around for romance."
In the aftermath,  The Guardian reported that Disney made the decision to remove the image of the new Merida from their website. According to a Disney spokesperson, the makeover version of Merida was intended to be a one-time thing (although, that didn't address the key aspects that were changed, such as Merida's figure). The spokesperson gave a statement: "The artwork used on Merida's official social media sites has always been the imagery from the movie. We routinely use different art styles with our characters and this rendition of Merida in her party dress was a special one-time effort to commemorate her coronation."
There was more controversy surrounding Brave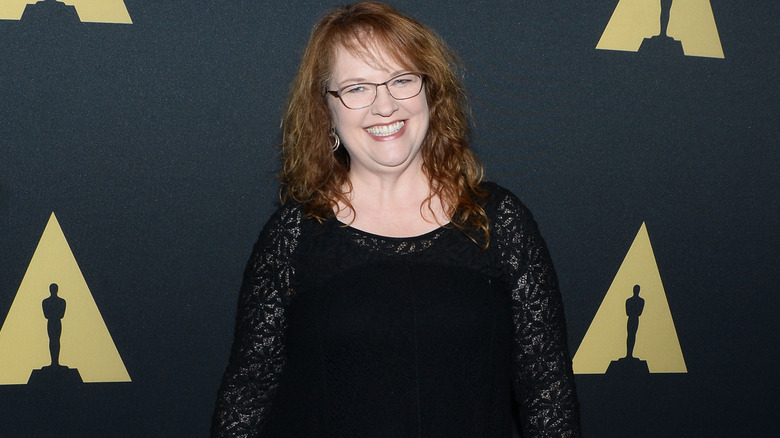 Matt Winkelmeyer/Getty Images
Seeing as "Brave" is the first Pixar film with a female protagonist, it makes sense that the company would have brought in a female director — which they initially did, when they announced Brenda Chapman as the director of "Brave" in September of 2010 (via The Hollywood Reporter). Chapman was a natural choice — after all, she has the sole story credit on the film and co-wrote the screenplay. However, Pixar then replaced Chapman during production with Mark Andrews, citing creative differences (Chapman still received a co-director credit). In 2011, Chapman told the Los Angeles Times, "I think it's a really sad state. We're in the 21st century and there are so few stories geared towards girls, told from a female point of view."
There's no denying that it was a big deal when Chapman was tapped as the studio's first female director. Thus, it wasn't exactly the best look when Pixar decided to replace Chapman with a male director. In October of 2010, The Wrap published a piece outlining the backlash that Pixar had begun receiving in the wake of the replacement news, with commenters and even some of Chapman's colleagues pointing to the studio's sexism. Chapman's firing was also discussed in a 2015 Buzzfeed article that delved into the sexism within the animation industry. Former Pixar animator Emma Coats told Buzzfeed that, from her perspective, Chapman's behavior wouldn't have led to alleged creative differences if she had been a man because her actions would have been perceived differently.
Finally, Chapman weighed in again in a New York Times op-ed, writing, "Sometimes women express an idea and are shot down, only to have a man express essentially the same idea and have it broadly embraced. Until there is a sufficient number of women executives in high places, this will continue to happen."