New Avengers: Infinity War Logo Revealed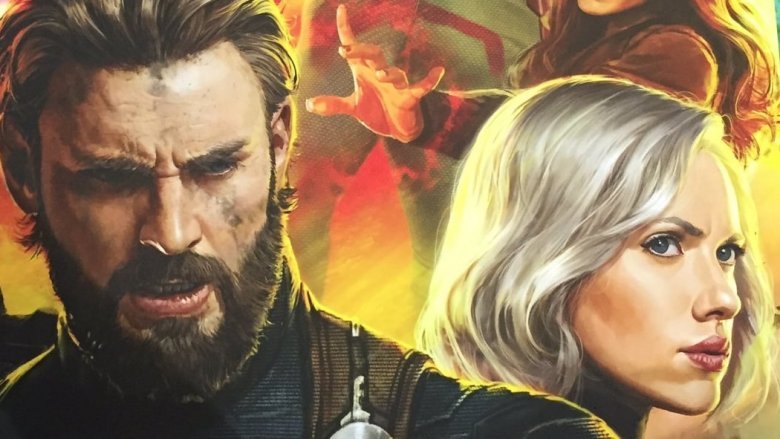 Marvel/Twitter
It isn't a trailer, but at least it's something.
Marvel Studios unveiled a brand-new logo (shown at the bottom of this article) for the hotly anticipated Avengers: Infinity War on Tuesday evening, giving fans a glimmer of hope for what's to come. 
The image comes courtesy of Marvel Comics' solicitations for its publishing line coming in January 2018, which includes the first issue of the Avengers: Infinity War – Prelude comic set to release that month (via ComicBook.com). Essentially, the new logo isn't all that different from what fans had seen during San Diego Comic-Con and in the promotional snaps already rolled out. We now, however, have a clearer look at the logo's font, golden hue, and spacing, and the curve and arrow of the signature Avengers "A."
But sadly, while the comic cover revealed a new logo, it doesn't include any new original art to get excited about. Instead, it features the Avengers: Infinity War poster that was released in three separate sections during San Diego Comic-Con earlier this year. Depicted on the front are the major players of the upcoming pic, including a bearded Captain America (Chris Evans), a blonde Black Window (Scarlett Johansson), Scarlet Witch (Elizabeth Olson), Vision (Paul Bettany), the entire Guardians of the Galaxy gang, Iron Man (Robert Downey Jr.), Thor (Chris Hemsworth), Loki (Tom Hiddleston), Falcon (Anthony Mackie), and, of course, Thanos (Josh Brolin) standing center stage. 
Written by Will Corona Pilgrim and Tigh Walker, the two-issue Avengers: Infinity War – Prelude series will center around the events leading up to the new movie, witH the first comic refreshing readers' memory on what happened in Captain America: Civil War. Issue one will also explain just what happened to Captain America, Black Widow, and the Falcon after Civil War ended, and will give fans an exclusive glimpse at Tony Stark's new Iron Man armor for Infinity War. 
Here's the synopsis for Avengers: Infinity War – Prelude #1 (via ComicBook.com): "When a terrorist puts the Avengers at odds, Captain America and The Winter Soldier go rogue to find him–but Iron Man isn't far behind. Will the Avengers survive the fallout? Then, find out where Captain America, the Falcon, and the Black Widow are headed next–because the world needs heroes, whether it wants them or not. And get a sneak peek at Tony Stark's brand-new armor! Get ready for Marvel's The Avengers: Infinity War in part one of this special prelude!"
Fingers crossed we'll get to see the Infinity War trailer before we get our hands on the prelude comic.
Avengers: Infinity War is set for release on May 24, 2018.