New Avengers: Infinity War Poster Revealed At Comic-Con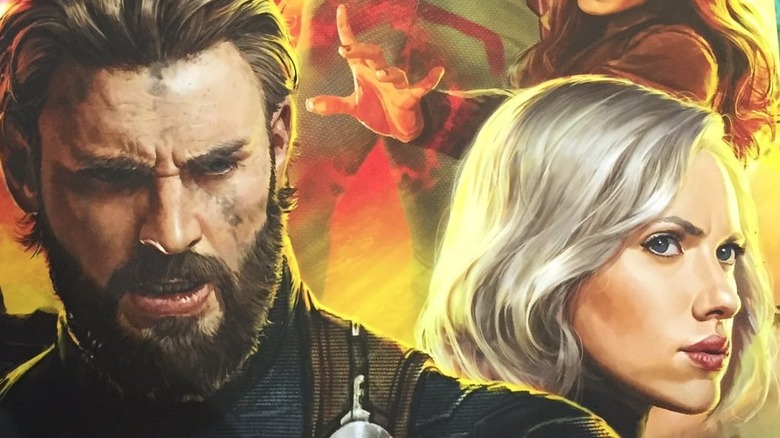 Marvel/Twitter
The gang's all here.
A San Diego Comic-Con-exclusive poster for Avengers: Infinity War has made its way online, and boy, does it look incredible. 
The poster, which popped up on Twitter in a photo tweet by user BossLogic, features a bearded Captain America (Chris Evans) and a newly blonde Black Window (Scarlett Johansson). Two of our favorite heroes sporting new looks hints that Infinity War will explore both Cap and Widow's fugitive status. 
Also shown are Scarlet Witch (Elizabeth Olson) and Vision (Paul Bettany) in an embrace, the Guardians of the Galaxy ready to get their bad guy-bashing on, Thor (Chris Hemsworth) and Loki (Tom Hiddleston) looking pensive, and Falcon (Anthony Mackie) staring at something in the distance. And in the top left-hand corner, we get our first look at teenage Groot (voiced by Vin Diesel).
At past Comic-Con events, Marvel Studios has released posters promoting Avengers films. This year, the studio has clearly followed suit, but what's interesting (beyond the cool new look at the upcoming movie) is that Marvel rolled out a series of posters for Infinity War. Those in attendance who snagged these select posters can put them together to form a super-sized banner that gives a sample of what Infinity War will entail. 
This new Nomad-inspired, Cap-centered poster for Infinity War is the third in the series, following after the first that focused on Black Panther (Chadwick Boseman), Doctor Strange (Benedict Cumberbatch), Hulk (Mark Ruffalo), and some of the Guardians of the Galaxy and the second that centered around Thanos (Josh Brolin) and his newly announced Black Order. 
With the final piece of the puzzle now out and in the hands of the public, the mega poster has come together. When combined, the three posters feature a staggering 28 cast members, which isn't even the entire Infinity War team. Other Marvel Cinematic Universe characters have been rumored to appear, including Wong (Benedict Wong), Okoye (Danai Gurira), and Nick Fury (Samuel L. Jackson), Ant-Man (Paul Rudd), and Captain Marvel (Brie Larson). Mantis (Pom Klementieff), Nebula (Karen Gillan), James Rhodes/War Machine (Don Cheadle), and Bucky Barnes/Winter Solider (Sebastian Stan) are also expected to appear.
Avengers: Infinity War is set to hit theaters on May 4, 2018. In the meantime, take a look at the other movies we can't wait to see next year.
I just want a beard like @ChrisEvans for Christmas #SDCC pic.twitter.com/FsytSxMFGt

— BossLogic (@Bosslogic) July 23, 2017
#SDCC2017 exclusive @marvel @Avengers #InfinityWar poster gives first official look at new Iron Man & Spidy suits, confirms casting! #marvel pic.twitter.com/iK3k3kc0MI

— Wes & Nelly @SDCC (@weshardeniv) July 20, 2017
DROOOOOL...Thanos #InfinityWar Poster/Wallpaper for your phone! #SDCC17 #ComicCon @Marvel pic.twitter.com/3D81CFdrFb

— Brian Tong (@briantong) July 23, 2017
Full #AvengersInfinityWar poster revealed! pic.twitter.com/6P0Rdas7eZ

— About Tom Holland (@abouttomholland) July 23, 2017