Andrew Lincoln Is Open To The Walking Dead Killing Off A Major Character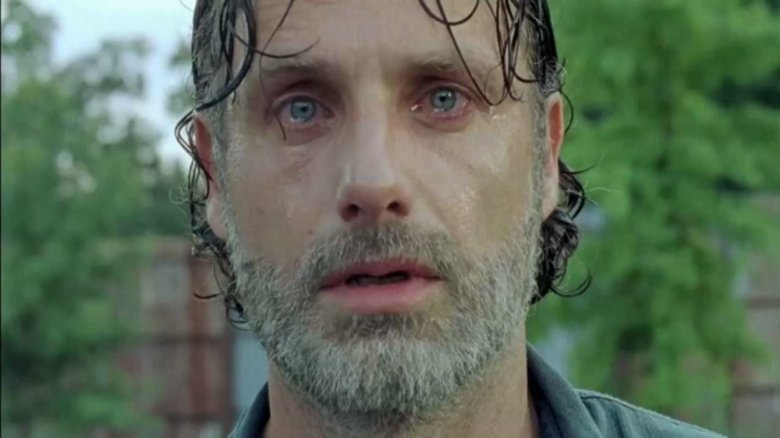 Warning: This article contains spoilers for The Walking Dead comics.
The stars of AMC's The Walking Dead are about to walk into full-on warfare in the series' upcoming eighth season, but it seems that the chaos, gunfire, and inevitable death doesn't scare lead actor Andrew Lincoln. In fact, he's completely open to the show killing off a major character: his very own Rick Grimes.
Speaking in an interview with The Daily News, Lincoln stated that no one is safe in the next season of the well-loved series, not even Rick. And the actor doesn't think he should be. As Lincoln explained, evading death time and again, even as the protagonist, is in no way an exciting or particularly enjoyable prospect. Thus, the actor admitted that he is comfortable with watching a main character (particularly Rick) bite the bullet in the near future. 
"There comes a point where there are too many gray hairs on your chin. I think the audience deserves an end game. It's a lot of time to invest in a story without some kind of resolution," Lincoln said before offering Rick as a sacrifice for definitive story development. "If I was watching it I would want some answers, something, and if that means the demise of a central character or a principal character, then I'm willing to take the medicine."
These comments come not long after Lincoln revealed that he believes The Walking Dead could (and should eventually) continue on without Rick Grimes. 
"I think that there's an innate feeling and certainly in me that I love doing a play or doing the film because you get to put a period on the end of it and you get to do it nightly, which is really exciting. TV is different. The format is different because it is about sort of a continuum. But, you know, there is a sense to me that really needs some... it sounds like I'm in a shrink's head, but there is a completion thing that I think I deserve for doing it for so long. And also probably the audience would like some completion," the 44-year-old actor said. He described the show moving on sans-Rick as "an opportunity to change."
Lincoln later mentioned that The Walking Dead could definitely end up being a series about Rick's son, Carl (Chandler Riggs), surviving the zombie apocalypse. "Absolutely. It's beautifully set up for that—for the camera to be certainly his story, and then it just shifts off," Lincoln remarked. "If ever there was a landscape or an environment to do that, it's our show. But whether or not that's this season... well, you have to find out, don't you?"
The Walking Dead showrunner Scott M. Gimple assured fans that they won't have to worry about Rick dying "anytime soon," but when the moment does come, Rick will get a proper send-off. "As the show goes on and on and on, who knows? But I'm... certain that we will do it in a way that only adds to the narrative and only makes the story richer for losing these incredible people," said Gimple. 
The eighth season of The Walking Dead will focus on Rick establishing an insurrection against Negan (Jeffrey Dean Morgan) and The Saviors, though comic book fans already know how that storyline plays out on paper. "All Out War" featured Negan defeated, held in a secret cell in Alexandria, before joining up with Rick and his survivor group. 
While it doesn't seem likely (at least at the time of writing) that fans will have to say goodbye to Rick just yet, especially given the whole "old man Rick" mystery we've yet to decode, all signs point to big changes ahead. 
The Walking Dead will return to AMC for season 8 on October 22.