The Walking Dead Could 'Absolutely' Continue Without Rick Grimes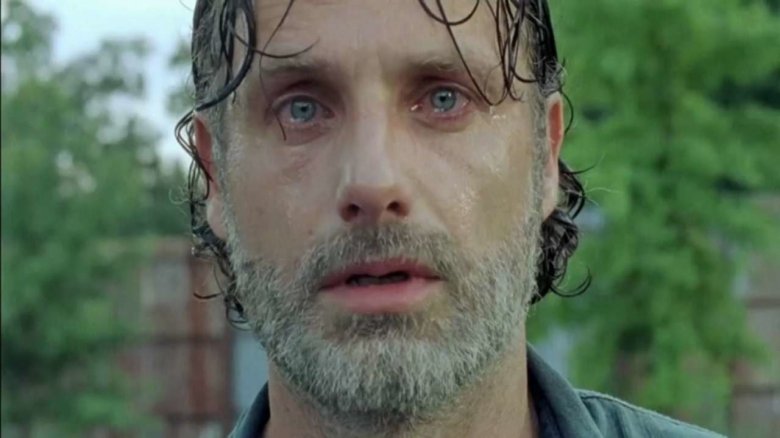 Would The Walking Dead without Rick Grimes be blasphemy or a beautiful transition into another chapter of a long and winding story? According to Andrew Lincoln, the actor behind everyone's favorite former sheriff turned zombie-fighting leader, the show could (and should) continue without him. 
Speaking in an interview with Entertainment Weekly, Lincoln discussed how he has remained firmly attached to the acclaimed AMC series throughout the years, even when the most committed of actors have become restless and their characters fallen to the wayside. The 44-year-old actor gave an anecdote on how he feels the Walking Dead audience would "like some completion" to his character and overall storyline. 
"I think that there's an innate feeling and certainly in me that I love doing a play or doing the film because you get to put a period on the end of it and you get to do it nightly, which is really exciting. TV is different. The format is different because it is about sort of a continuum. But, you know, there is a sense to me that really needs some... it sounds like I'm in a shrink's head, but there is a completion thing that I think I deserve for doing it for so long. And also probably the audience would like some completion," said Lincoln. 
Here, Lincoln wasn't discussing the show ending sooner than planned, but rather was stating that the show can and should go on without him. He described that as "an opportunity to change at some point."
Lincoln then said that he "absolutely" thinks that The Walking Dead could end up being a show about Rick Grimes' son, Carl (Chandler Riggs), surviving in the zombie apocalypse. "Absolutely. It's beautifully set up for that—for the camera to be certainly his story, and then it just shifts off," Lincoln stated. "If ever there was a landscape or an environment to do that, it's our show. But whether or not that's this season... well, you have to find out, don't you?"
Even The Walking Dead comic creator Robert Kirkman thinks the series could go on without Lincoln's Rick Grimes. "I think it could," Kirkman admitted when asked about that possibility. "We have a very strong ensemble, and there's a lot of characters that could carry the show. The Walking Dead is a story very much about a world and a bunch of people inhabiting that world." Showrunner Scott M. Gimple agrees: "Absolutely. We've just scratched the surface of this world."
But before any Walking Dead fans get too worked up, Kirman said no one has to worry about that "any time soon." Gimple also said that the creatives "don't want to go on without Rick Grimes," but it could happen again in "year 20 [or] in year 30."
When that time does come, Gimple said that the creatives will use past deaths as a way to inform them on how to navigate the loss of Rick. "We lose terrific actors and terrific characters because that's part of the narrative, and we're always forced to go on and figure out a way to make the narrative work and to make it the best show possible after losing people. So I don't think any show is more prepared, sadly, to lose people than The Walking Dead is," he said. "As the show goes on and on and on, who knows? But I'm also certain that we will do it in a way that only adds to the narrative and only makes the story richer for losing these incredible people."
For now, Rick will be alive (but maybe not entirely well) on the upcoming eighth season of The Walking Dead, set to premiere on AMC on October 22.