What Steve Carell Loves Most About The Despicable Me Franchise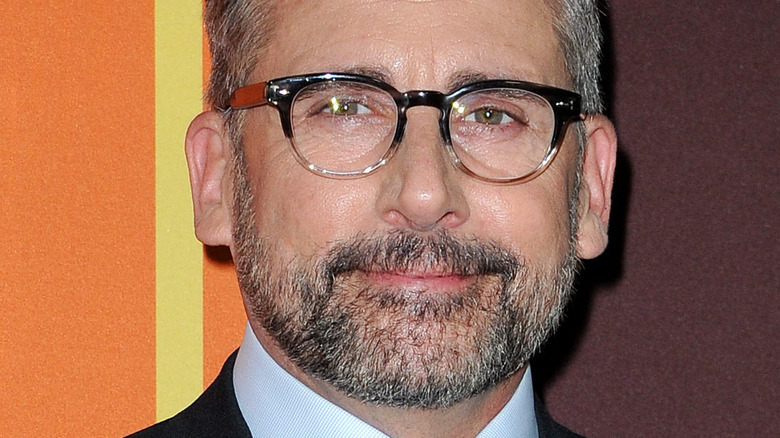 Tinseltown/Shutterstock
Steve Carell means different things to different people. For most, he is infinitely and inextricably linked to his career-defining role as Michael Scott in "The Office." For others, he will always be the man who yelled "Kelly Clarkson" while getting his chest waxed in "The 40-Year-Old Virgin." The actor's longest-running role to date, however, remains his voice performance as Gru in the "Despicable Me" franchise.
Carell has been voicing Gru since "Despicable Me" was released in 2010. He then reprised the role in the 2013 and 2017 sequels. On July 1, Carell will return to play the beak-nosed, rehabilitated supervillain in "Minions: The Rise of Gru." A 1970s-set sequel to "Minions," the animated feature will trace Gru's suburban upbringing and fixation on the Vicious 6, a supergroup of villains. 
With its steady groove of visual gags and familiar story beats, the "Despicable Me" films have become one of the highest-grossing animated franchises in history (via IndieWire) — a feat that might not have been achieved without Carell's talents. Here's what the actor loves most about the "Despicable Me" franchise.
Carell loves how the franchise isn't afraid to be dangerous
A father of two children himself, Steve Carell is especially attuned to what kids look for when they sit down to watch an animated movie. He took that insight into account when he first joined the cast of "Despicable Me." "They're not condescending to children," Carell said at CinemaCon's Universal Pictures panel (via ComicBook.com). "That's one of the reasons I signed on to do these." He even used his kids as a mini-test audience, settling on the Gru voice that made them laugh.
Carell also appreciated that the films weren't overly sugar-coated. "There's a little danger here, and kids love that," he added. "Not too much, but just enough to be exciting and new and different."
The actor has also spoken on the importance of showcasing villains on film, an exploration that he thinks shouldn't be limited to adults. "Do you admire them? Do you fear them? Are you charmed by them?" he asked WGN. The "Minions: Rise of Gru" actor will have more opportunities to consider those questions when he returns for "Despicable Me 4," which is set to premiere in theaters on July 3, 2024 (via Variety).