First Look At GLOW Season 2 Revealed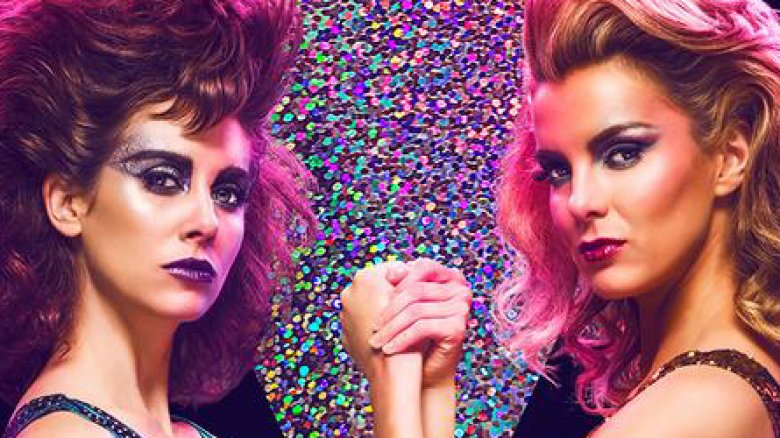 YouTube
The Gorgeous Ladies of Wrestling are hopping back in the ring for round two. 
Over on Instagram, GLOW star Alison Brie, who plays the out-of-work actress turned wrestling enthusiast Ruth Wilder in the critically acclaimed Netflix series, gave fans the first look at the series' second season. 
"We're back...," Brie wrote in the caption of a snap that shows her and co-star Betty Gilpin in hair and makeup for their on-screen alter egos. Gilpin stars as former soap opera actress (and Ruth's ex-best friend) Debbie Eagan, who transforms into the all-American wrestler Liberty Belle when the cameras start rolling, where Brie turns into the "noble Soviet bear" Zoya the Destroya. 
Co-created by Liz Flahive and Carly Mensch, and executive produced by Orange Is the New Black creator Jenji Kohan, GLOW centers around an eccentric group of women searching for their place in the world. The first season documents the ladies' journey toward strength and friendship in neon spandex outfits and a dirty wrestling ring as they become actresses on the all-female wrestling show GLOW (the series within the series). 
GLOW was renewed for a second season on Netflix back in August following positive reception from fans and critics alike. Co-creator Flahive recently opened up about what it was like to create the women of GLOW and how the storytelling process shaped a narrative so many have connected with. "Part of what we talked about as storytellers is that once the women know how to wrestle, you can't go back in time. The women learning how to wrestle was a big part of the show. There is so much comedy in the women learning something new," Flahive explained. "Taking our time and being able to craft stories that we felt inclined to tell, like the women getting to know each other and that they didn't know wrestling at all, felt really rich to us."
Prior to the season two pick-up, Brie predicted that GLOW would find a home on Netflix for many seasons to come. "You see how rich this show is, just full of different characters, and you can mine those characters for years," the actress said. "The real GLOW was a slight revolving door in terms of some women being on the show for years and years, and other new characters coming in."
Joining Brie and Gilpin for GLOW are Sydelle Noel as Cherry "Junkchain" Bang, Britney Young as Carmen "Machu Picchu" Wade, Marc Maron as Sam Sylvia, Jackie Tohn as Melanie "Melrose" Rosen, Kate Nash as Rhonda "Britannica" Richardson, Britt Baron as Justine "Scab" Biagi, Chris Lowell as Sebastian "Bash" Howard, Bashir Salahuddin as Keith Bang, Rich Sommer as Mark Eagan, Kimmy Gatewood as Stacey "Ethel Rosenblatt" Beswick, Rebekka Johnson as Dawn "Edna Rosenblatt" Rivecca, Sunita Mani as Arthie "Beirut the Mad Bomber" Premkumar, Kia Stevens as Tammé "The Welfare Queen" Dawson, Gayle Rankin as Sheila the She Wolf, Ellen Wong as Jenny "Fortune Cookie" Chey, and Marianna Palka as Reggie "Vicky the Viking" Walsh. 
A release date for GLOW season 2 hasn't yet been set, but we'll update you once we know more.