Hayden Christensen Worked With A Very Specific Specialist For Obi-Wan Kenobi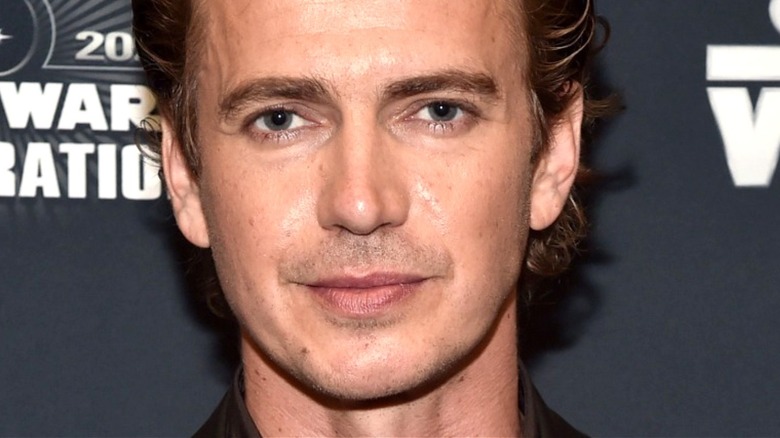 Spoiler warning: Major details from "Obi-Wan Kenobi" are revealed in this article.
Seventeen years after making the final transformation from the Jedi Knight Anakin Skywalker into the Sith lord Darth Vader in "Star Wars: Episode III — Revenge of the Sith," Hayden Christensen made his triumphant return to the "Star Wars" universe opposite Ewan McGregor in the Disney+ series "Obi-Wan Kenobi." The limited streaming event, of course, not only allowed Christensen to film flashback scenes — featuring Anakin as a Padawan learner, still training under his Jedi master Obi-Wan — but the actor also got the golden opportunity to suit up again as Vader, the iconic villain introduced to first audiences in "Star Wars: Episode IV — A New Hope" in 1977.
Like his Vader predecessors, Christensen shared the role with two stunt actors. Dmitrious Bistrevsky, a 6'7" actor, stepped in for the star to bring an imposing presence for the full body shots of Vader, while Tom O'Connell performed the character's lightsaber fighting scenes. Christensen most prominently appeared as Vader in the scenes where the character's helmet was removed or damaged (in the final episode) — revealing the devastating scarring Anakin's body suffered after his confrontation with Obi-Wan on the volcano planet of Mustafar in "Revenge of the Sith."
As Christensen discovered during the "Obi-Wan" production, though, looking like Vader is one thing and acting like Vader is another. This led to a specific type of training for the actor.
A Vader movement specialist trained Christensen during Obi-Wan Kenobi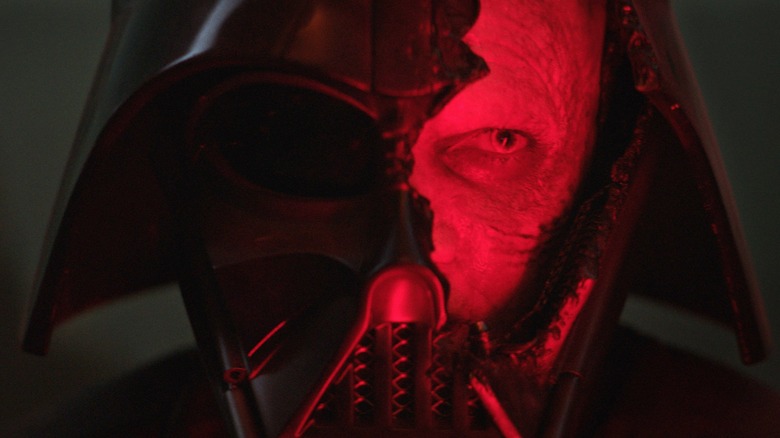 Lucasfilm/Disney+
While Darth Vader has been voiced since the beginning by screen legend James Earl Jones, the suited character originated with actor David Prowse for the original trilogy from 1977 to 1983, while Spencer Wilding stepped into play the fearsome villain for pivotal scenes throughout "Rogue One: A Star Wars Story" in 2016. As such, Vader's movements throughout the entire "Star Wars" saga need to be consistent, from the way he walks to the vital hand movements when he's executing the powers of the Dark Side of The Force.
In an interview with Entertainment Weekly, Christensen said a "Vader movement specialist" was brought aboard "Obi-Wan Kenobi" to ensure the actor was doing the role justice. As Christensen told EW, "Certainly, we wanted to make sure that we were staying true to how Vader moves and how we perceive him, and wanting to keep all that relatively consistent."
Under the tutelage of choreographer Olga Sokolova, Christensen added that mastering Vader's movements took focused time and effort, while noting that the presence of the iconic suit had a big impact on his choices. Christensen did add, as well, that "Obi-Wan Kenobi" wasn't the first time he was challenged by wearing Vader's suit.
Christensen recalls how Vader's armor was 'extremely rigid' when he wore it for the first time
Not surprisingly, Christensen's movements in Vader's suit in the past were a lot different than they are in "Obi-Wan Kenobi." After all, Anakin's final transformation into Vader came in the final scenes of the third act in "Revenge of the Sith," where the character took his first steps, quite literally, wearing the menacing Sith Lord's armor.
"I remember when we were doing 'Episode III' and I put on the suit for the first time," Christensen recalled for EW, contrasting it to his more recent appearance. "I was really having a tough time moving around in it, and it was all extremely rigid. And I said that to George [Lucas], and he said, 'It's okay. This is your first time in this suit. So, it should feel very mechanical and maybe not very natural.'"
Christensen noted that his Vader in "Obi-Wan Kenobi" has, by that time, had a decade to get used to his cyborg body, accounting for why his movements now seem more natural — and definitely far more like the Vader we eventually see in the original "Star Wars" trilogy.
All six episodes of "Obi-Wan Kenobi" are streaming exclusively on Disney+.